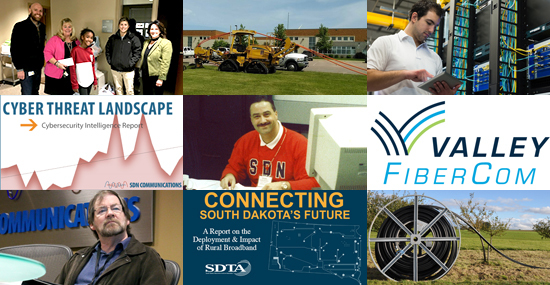 ---
I found this tidbit of data rewarding, personally as well as professionally: The most viewed blog published by SDN Communications in 2018 was a column that gave readers an inside look at how company experts responded to an equipment failure at a bank in South Dakota.
The column reviewed how a team of SDN employees responded quickly and effectively to replace a bank-owned router that had failed. The company was Dakota Prairie Bank, which is based in Fort Pierre and has branches in Presho and Draper. Ultimately, bank executives were pleased because SDN had the network up and running the next day and then signed on to become a customer.
Dealing with equipment failures in pressing circumstances isn't a problem SDN technicians have to deal with very often. But it's the type of challenge that reflects the good work they do.
I wrote the blog about the router incident, but I didn't write all of last year's Top 10 blogs. Vernon Brown, who is my boss and the vice president of marketing and community relations for SDN, wrote three of them.
No. 8 on the most-viewed list also told an inspiring story about SDN staffers coming to the rescue - this time to an elementary school in Sioux Falls. The blog recounted how SDN employees have generously assisted Garfield Elementary, a school in SDN's area that lacked an active parent-teacher group to provide volunteer and financial assistance for special activities.
With one exception, I think the overall list of SDN's Top 10 Blogs for 2018 offered a great mix of subject material and insight, thanks largely to the marketing staff at SDN. (More on the exception later.)
Columns about regional technology news and telecom trends are popular with readers. At least half of the blogs in the Top 10 focused or touched on timely, regional developments related to connectivity, cybersecurity or telecommunications trends.
No. 2, for example, recapped fourth-quarter and 2017 findings in SDN's quarterly Cybersecurity Intelligence Report, a valuable resource available to readers at no charge.
No. 4 reported on Valley Telecommunications Cooperative's expansion to the underserved Volga area. Valley Telecommunications, which is an SDN member company, is based in Herreid, S.D. It has created an expansion-minded subsidiary called Valley FiberCom, which is based in Volga.
Another good example of a newsy blog was No. 10, which talked about SDN projects in southern Minnesota, which is an expanding market for SDN and its partner companies there.
No. 3 on the list was a review of CEO Mark Shlanta's 20 years at SDN by Vernon. The blog overlapped into more than one topical category. In addition to discussing two decades of changes at SDN and the telecom trends that Shlanta has witnessed, the column provided interesting insights about Shlanta, who is one of Sioux Falls' most highly regarded business and civic leaders.
The blog exception I referred to previously was a column about me that Vernon also wrote. The column was published in recognition of the 500th blog that I had done for SDN as a contract employee. The blog was published late last spring, nearly six years after I'd started writing for the company. Since then, I've written more than 50 additional blogs for SDN.
As a former newspaper reporter and editor, reporting and writing blogs for SDN continues to be a great opportunity for me. It's highly educational, thanks to my colleagues at SDN. In addition to helping businesses, schools and other institutions with telecommunications and civic needs, they patiently help me understand the complexities of what SDN and its people do.
The importance of what the company does is evident to anyone who pauses for a moment to reflect on how widespread technology is counted upon in modern communications. SDN's blogs try to provide some insight into the processes and people who help make it all possible.
Top 10 Blogs of 2018
Here's a list of SDN's most viewed blogs of the past year. Check them out.
---
With the help of Rob Swenson, SDN publishes about two blogs per week, which you can receive directly to your email. Just use the form below to subscribe. Don't worry, we won't share your information or fill your inbox.