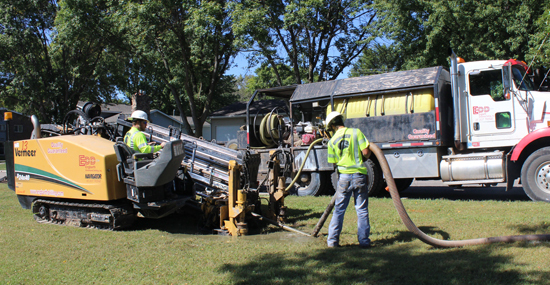 ---
Engbarth Directional Drilling overcame a nearly catastrophic start in business 19 years ago to become a prominent provider of underground construction services.
These days, the respected firm based in Canistota is a regular vendor of Sioux Falls-based SDN Communications and its member companies in the region.
Brad Engbarth had a few years of experience in the utility construction business when he started his own business in 1999. He bought a new boring machine, hired a couple of employees and took off late one winter night to work on a project in Florida.
Engbarth was in a pickup, following a semi that was hauling the boring machine on a trailer. But in the Omaha area, a car pulled in front of the semi, prompting the driver to swerve to avoid a collision. The chain holding the boring machine broke, and the big piece of equipment fell off the trailer.
"It didn't hit anybody, luckily," Engbarth said. "I always say they don't build equipment like they used to because the machine slid down the highway, but it was a very well built machine."
They got the machine reloaded and headed to Lincoln, Neb., where the equipment had been purchased. A mechanic met them at 5 a.m., repaired the machine, and the crew resumed their journey to Florida. They spent the next four months working there, flying back to Sioux Falls once a month for visits.
"In the early years of my company, I traveled all over the county. I worked in a lot of states," said Engbarth, president and owner. Now the company works mostly in South Dakota, Minnesota, Iowa, Nebraska, and occasionally in North Dakota.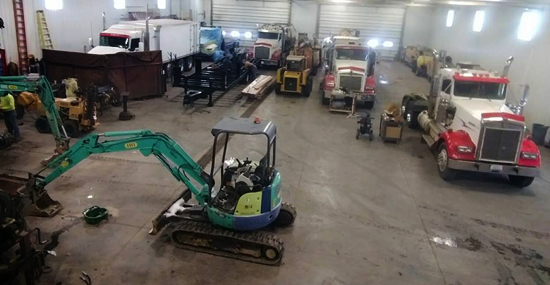 Engbarth Directional Drilling, or E.D.D. Inc., employs 20 to 25 people during the busy season and has 15 to 18 substantially sized pieces of equipment. The company provides a range of construction-related services, but installing and repairing fiber optic cabling has become its specialty.
Engbarth, 45, grew up on a farm in southwest Minnesota. He got started in construction by working for a company in Sioux Falls that laid cable for US West. Before starting his own company, he worked for a few years in other construction jobs.
E.D.D. got connected with SDN about 15 years ago, after working for TrioTel Communications, an SDN member company in Salem. After traveling around the country for work, connecting with the SDN and its network was a "breath of fresh air," Engbarth said.
SDN is an aggressive, well-run company that makes things happen and steadily creates new work, he said.
"One of the great things about SDN is they include us from the start to finish. They ask our opinion. They involve us in the meetings. It helps with our scheduling. We know in advance, a lot of times, some of the bigger projects that are coming. It's been a great relationship," Engbarth said.
"They are by far the best people in the industry that I've ever worked with in all my years of doing this."
Typically, E.D.D. has multiple crews working throughout the region. Engbarth takes pride in doing high-quality work and not overpromising how quickly a project can be completed.
"I'm very conscious about not taking on more work than what we can handle," he said.
The company grows a little every year but takes a cautious approach to expanding.
"In today's construction environment, it's very hard to hire qualified employees. It's an ongoing problem for companies our size," Engbarth said.
Construction-related work slows during the winter months, and E.D.D.'s workforce shrinks. But Engbarth doesn't let go of any employees who don't want time off. He keeps them busy, maintaining equipment that, like employees, work long, hard days throughout the construction season. Off-season crew members also respond to emergency work.
E.D.D. has a strong family feel to it. Engbarth's wife, Malinda, is the office manager. His brothers, Justin and Nathan, and a son-in-law, Jake Raymon, also play key roles in the business. The company is deeply involved in the community, too. Engbarth is the chief of Canistota's Volunteer Fire Department, and his brother, Justin, is the town's mayor.
Engbarth stays busy in other ways, too. In addition to running his company, he farms 600 acres and does some land-development work.
The close, family nature of E.D.D. is evident, said Chris Haiar, senior outside plant engineer at SDN. He's worked with Engbarth and E.D.D. for about 13 years.
When Haiar thinks about Engbarth, words such as desire, integrity and hardworking come to mind.
"But it's more than that. The work he does for SDN comes from the heart," Haiar said. "The way he treats others is the way he'd like to be treated. That's why he's so successful."
Engbarth and his company also can be counted on to do their work well, Haiar said.
"No matter what we give him, he will always get it done, and he will get it done on time."
Watch Engbarth's crews in action in the short video below as they install small cell poles.