When we began searching for locations for this multi-million dollar data center - our second facility - we did a lot of research. The 65-acre site has easy access to both major South Dakota Interstates (I-29 and I-90). The National Oceanic and Atmospheric Administration (NOAA) also provided insightful information to help choose the best location based on historical weather patterns.
Features of this high-tech data vault include:
Redundant power feeds
High-tech electronic identification security measures 24x7x365
A concrete facility with 12-inch walls built to withstand tornadic conditions and other weather hazards
A temperature-controlled environment that is monitored 24x7
Battery back-up and generator power
Access to SDN's network and Internet service
Superior redundancy and self-healing circuitry
State-of-the-art fire protection
The building serves as a switch site location, co-location facility, data center, disaster recovery site, and point of presence.
Co-location suites can be leased in 2,500 square foot increments.
Want more information about SDN's state-of-the-art data bunker?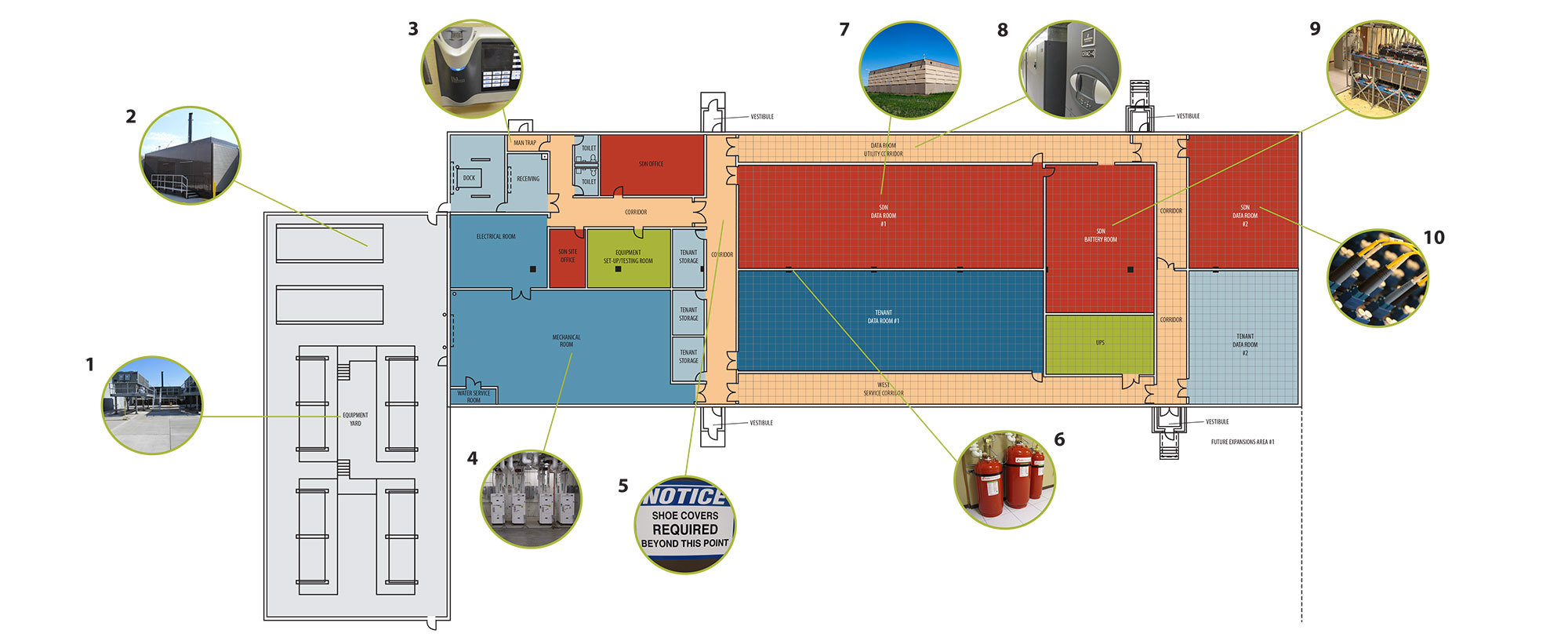 1. The system is equipped with two 275 Ton cooling system 9 chillers and redundant piping to all Computer Room Air Conditioning (CRAC) units.
2. A 2MW generator will provide AC power backup in the event of service interruption from the commercial power supply.
3. Stringent, multi-layer security procedures include dual authentication access and biometric systems with mantraps.
4. SDN's Carrier Hotel features a cooling system designed with 1+1 redundancy throughout the building, allowing service to be performed on the offline unit with no impact to the cooling system.
5. Allowing less dust and dirt into our environment ensures that the filters on the equipment remain clean, cooling fans function properly and equipment runs smoothly.
6. A dry fire suppression system located under the raised flooring and in any of the data spaces protects the facility.
7. The building offers 10,000 square feet of raised floor space, with power densities of 200+ watts per square foot. Colocation suites can be leased in 1,000 square-foot increments.
8. CRAC units are designed in 1+N configuration with redundant piping to all units to ensure data protection in the event of equipment failure on one of the units.
9. Beyond the utility feeds and 2 megawatts (MW) of critical power, SDN's colocation center houses an Emerson NetSure 802 -48 VDC Rectifier System with multiple EnerSys GU-45 battery strings for hours of quality and efficient DC power to carrier equipment.
10. Collocating at SDN's Carrier Hotel not only allows you a secure, top-of-the-line location to connect but also the ability to link to SDN's regional network. Contact SDN today to learn more about leasing a colocation suite.
Resources
Learn more about our Data Center