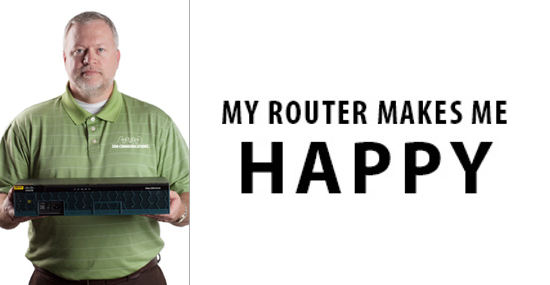 Shari Lund is thrilled with the fast and effective service that SDN Communications provided to replace a key piece of networking equipment at her bank.
Lund, the IT operations officer for Dakota Prairie Bank in central South Dakota, was confronted one workday in early January with the challenge of replacing an old, bank-owned router that suddenly failed. Routers are networking devices that direct electronic traffic.
She tried rebooting the router, but that didn't work. Meanwhile, the worn-out device was preventing bank branches in Presho and Draper from getting live data from the main office in Fort Pierre.
Lund called SDN's a network account executive who's based in Rapid City, to see if he might be able to help. That's when SDN's technical experts in Sioux Falls got involved and had the bank's network up running smoothly the next day.
"SDN saved me, big time," Lund said. "They did a wonderful job."
The SDN staffers took on the chore before terms for the work were discussed. Those details could be worked out later. The immediate challenge was getting an operational router in place because the bank was dealing with a time-sensitive, service-impacting problem.
Gary Fischer, a sales engineer for SDN, rounded up the bank's router configurations. Bill Tetrault, supervisor of managed services, got a temporary router prepared and sent it by overnight delivery to Fort Pierre. Lund installed the router, and Josh Ecklein, a managed services engineer, worked remotely with her to get it properly configured.
"As soon as we fired it up, it was golden. We haven't had any issues with it since," Lund said.
Dakota Prairie is a third-generation, family-owned bank. The business got started in Draper in 1906 and expanded by acquisition to Presho in 1985. The company built a new bank in Fort Pierre in 2010, and the facility became the main office.
Stephen Hayes, president and CEO of Dakota Prairie, considers the banks' customers his neighbors and friends, and he strives to develop long-term relationships with them, Lund said.
"Being a smaller bank gives us the opportunity to customize services for customers. It seems like we're always changing to better serve people who do business with our organization," Lund said.
Lund said she knew the bank system's three routers were a weakness in the bank's network and that the devices needed to be replaced. However, the router failure in Fort Pierre happened before she had finalized an option to replace them.
At the time of the router incident, SDN was serving Dakota Prairie with a MPLS broadband connectivity to link the bank's three branches. SDN had previously sought the bank's router business but didn't have it. Now, the bank is becoming a customer of SDN's Managed Router Service, too, Lund said.
All of the bank's routers, including the temporary unit in Fort Pierre, will be replaced.
With a Managed Router Service subscription from SDN, clients enjoy reliable service for a fixed monthly cost. SDN provides the routers from a vendor, configures the devices and keeps them patched and up to date. SDN also will trouble shoot problems, if necessary, and monitor monthly use reports to look for signs of trouble. Clients may review the performance reports, too.
Lund was asked if there was anything else that SDN could have done to help the bank during its router crisis. No, she joked, unless SDN could provide her with a crystal ball to help predict the date of any future problems.
On second thought, she added, SDN's Managed Router Service should help on that front by monitoring equipment and reducing the potential for future problems.
"I think that will reduce the likelihood of this happening again," she said. "So I'm kind of excited about it."
---
How do your IT pros feel about your company's network equipment? Connect with SDN's experts to chat more about the possibilities.