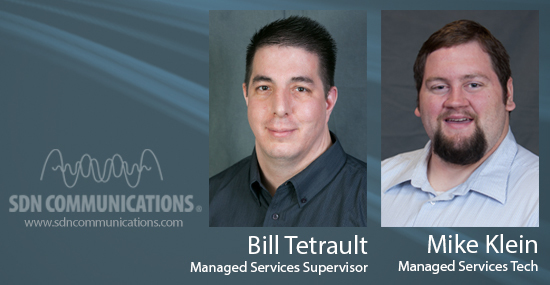 SDN Communications' sales representatives often talk to business clients about their companies' cybersecurity needs. When the discussion turns to the technical aspects of cyber risks and the products and services to combat them, the sales rep is likely to call Bill Tetrault or Mike Klein into the conversation.
Tetrault and Klein are experienced, cybersecurity experts who understand how to deploy SDN products and services to enhance cybersecurity. Tetrault is the managed services supervisor at SDN, and Klein is a managed service technician.
With cyberattacks on businesses and other organizations multiplying, Tetrault and Klein increasingly are called upon to share their expertise. They've become important team members among the sales, communication and technical experts who interact with business representatives.
Tetrault, Klein and two other managed service technicians – Josh Ecklein and Tim Adams – comprise a strong team that helps SDN effectively deploy cybersecurity products and services. SDN's Network Surveillance Center (NSC) backs them up. The NSC staff remotely monitors clients' networks for signs of trouble 24 hours a day, every day of the year.
Bill Tetrault
Tetrault started at SDN in January 2014 as a managed service technician and advanced to managed services supervisor. He reports to Jake VanDewater, director of network operations.
Tetrault grew up in Minot, N.D., and was inspired to get into technology by his Boy Scout Leader, who repaired a B-52 flight simulator at the Minot Air Force Base. He graduated from the North Dakota State College of Science with an Associate of Applied Science Degree in information technology.
He initially worked on the help desk for Sykes Enterprises in Bismarck. He moved to Sioux Falls in 1998 and worked at Sencore, which made medical test equipment. Then he moved on to StarMark Cabinetry to work as network administrator, and then to Norcraft Companies as network manager.
He has earned several professional certifications, has taken classes in areas such as ethical hacking and is active in the Sioux Falls Cybersecurity Consortium.
Tetrault and his wife, Paula, have three sons, ages 16 to 23. Away from work, he enjoys photography.
Mike Klein
Klein started at SDN in March 2014 as a managed service technician. He reports to Tetrault.
Klein attended O'Gorman High School and credits Joe Hurley, director of IT for Sioux Falls Catholic Schools, for serving as a technology mentor.
Klein earned a bachelor's degree in computer and network security and a master's degree in information assurance from Dakota State University in Madison. He worked for the South Dakota Bureau of Information and Telecommunications for about two years before joining SDN.
He stays in touch with DSU by helping organize an annual, collegiate, cyber defense competition. It's a practical contest. Contestants try to keep their networks operational while keeping attackers out, Klein says.
Away from work, he enjoys motorcycling.
Today's threat environment
"The bulk of our time is probably project-based," Tetrault says. Technicians might be setting up a managed router or configuring a firewall for a client.
SDN offers a suite of managed cybersecurity services to help businesses protect their networks and electronic assets. That includes:
Managed Firewall
Managed Routers
Remote Network Monitoring
Managed DDoS Protection
Managed hardware solutions, such as Managed Firewall, allow clients to fully or partly outsource the maintenance of their network infrastructure. Managed DDoS Protection screens out Distributed Denial of Service attacks that are designed to make online services unavailable. Cyber Rx is tool that helps companies assess and manage cyber risks.
One of the biggest cybersecurity trends today is helping business deploy advanced firewalls to achieve the ability to mechanically inspect encrypted traffic for infected payloads. Encrypted telecommunications used to be considered safe, that assumption can no longer be made because cyber thieves have upped their game.
Fortunately, SDN and its cybersecurity team operate at a high level, too.
For more information about SDN security products and services, read more of SDN's Cybersecurity blogs.