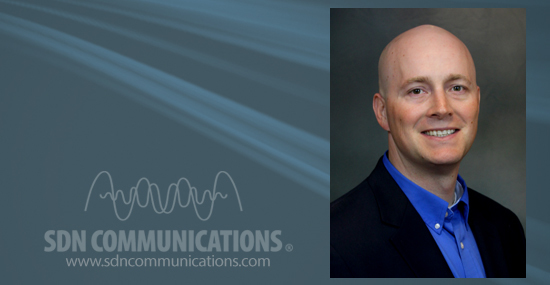 Cybersecurity is a big and growing concern in telecommunications, and it should be. News reports constantly remind us of the frequency of data breaches, cyberattacks on businesses and institutions, and the need for organizations to take better care of electronic information.
Jake VanDewater is among the experts at SDN Communications who spend their workdays making sure the Sioux Falls-based company's business and organization clients have access to effective cybersecurity services.
VanDewater is SDN's director of network operations, a position that includes oversight of the company's managed service offerings, surveillance center and some technical crews. He oversees 33 employees, including five supervisors and managers.
"My job is really working with managers to make sure our customers are getting the services and support they need and want," he says. "The big thing now is cybersecurity."
Making sure that SDN has a good understanding of the threats facing customers' networks will continue to be a big focus in 2017, VanDewater says.
"I work on the long-term vision and building our expertise to put us on the forefront of where we need to be on cybersecurity," he says.
Current SDN services designed to enhance cybersecurity for clients include Managed Firewall, Managed Routers, Remote Network Monitoring and Managed DDoS Protection, which filters out Distributed Denial of Service attacks on clients' services.
DDoS and ransomware attacks are two of the biggest threats currently facing businesses, VanDewater says. DDoS attacks are designed to clog or damage targeted services with malicious electronic traffic. Ransomware is used for digital extortion. Cyber thieves use malware to lock up targeted computers or files and then demand payment from the victim for the information to be saved. But even if the ransom is paid, there is no guarantee the information will be restored.
VanDewater expects DDoS attacks to continue to increase in frequency. Ransomware attacks are harder to quantify.
VanDewater brought more than a decade of experience in telecommunications and computer networking with him when he joined SDN as director of managed services in November 2015. His duties expanded in September 2016 to director of network operations.
He had interacted extensively with SDN in some of his prior jobs and thought highly of the company. He knew before joining SDN that the company has good reputation in the industry.
Before coming to SDN, VanDewater was the chief operating officer of Sioux Valley Wireless, which used to be part of Sioux Valley Energy in Colman, S.D. He worked for Sioux Valley Wireless for about five years.
Before that, he was the director of network operations and engineering for DigitalBridge Communications in Ashburn, Va. He worked there for more than four years.
He also worked for a year and a half as director of Internet services for Teton Wireless in Idaho Falls, Idaho, and for three-and-a-half years as a field technician and IT specialist for an engineering firm in Bath, S.D.
Born and raised in Hot Springs, S.D., VanDewater graduated in 2003 from Northern State University in Aberdeen with a degree in management information systems.
He and his wife, Sommer, have two girls, ages 3 and 4. In addition to spending time with his family, VanDewater enjoys bicycling, especially on gravel roads and during the winter. He has six bikes in his garage. He also likes to camp.
For the past three years, he's participated in the Gold Rush Gravel Grinder, a 110-mile summer ride in the Black Hills. Riding on gravel roads is appealing because there typically is less automobile traffic than on hard-surfaced roads, he says, and the scenery is often better, too.
SDN is the leading provider of broadband connectivity and related telecommunications services for businesses and institutions in the Sioux Falls region.