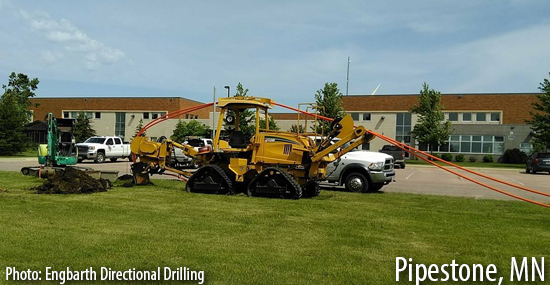 ---
Crews working for SDN Communications are digging away, steadily expanding and improving the company's regional, fiber optic footprint.
They've installed more than 50 small cell poles in recent months, most of which SDN owns and leases to wireless carriers. The company has also stood up a few poles that are owned by a major wireless carrier.
Although small cell poles pick up wireless communications, they're all tied together by fiber into a core, underground network.
They're now being used to significantly improve services in several cities in the region. However, SDN's biggest project this year involves providing broadband services to about 50 schools, libraries and agencies affiliated with the Southwest West Central Services Cooperative (SWWC) in Minnesota.
The cooperative, based in Marshall, Minn., provides educational and administrative services, including technology, to schools, cities, counties, and other government agencies in an 18-county area in southwestern and west-central Minnesota.
The cooperative selected SDN and its partner companies in Minnesota and South Dakota earlier this year to provide internet and digital transport services to schools and libraries. It also includes Wide Area Network connectivity to schools, libraries and data centers as well as some managed router services.
SDN is handling the work for 21 of the locations. Partner companies that are providing other connections to cooperative members include:
NU-Telecom (New Ulm, Minn.)
Woodstock Telephone (Ruthton, Minn.)
Alliance Communications (Garretson, SD)
Interstate Telecommunications Cooperative (Clear Lake, SD)
---
Related Blog: SWWC Service Cooperative Chooses SDN, Local Internet Providers to Connect Schools for Broadband Services
---
In addition to its work for SWWC in Minnesota, SDN is extending fiber toward St. James and into Montevideo.
"We've placed up to 350 miles of fiber in a year, but that was a huge year," Jerry P. Andersen, outside plant engineer manager for SDN, said. "It seems like 100 miles is getting to be the norm."
SDN interconnects independent phone companies in South Dakota (17), Minnesota (six) and Iowa (one) to create a strong, regional network. In South Dakota alone, the network spans approximately 45,000 miles. SDN, itself, owns about 3,000 miles of fiber, and the total is increasing.
"We continue to expand on our regular customer base," Andersen said.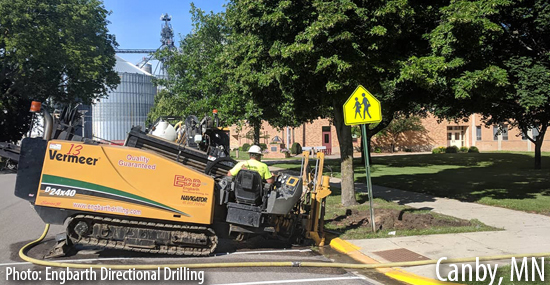 Back to those small cells, SDN is in the finishing stages of standing up and installing fiber for 47 poles in the region. Work on that project started in 2017.
They're strategically deployed in busy areas, such as on college and retail campuses, to improve data flow. The increasing use of video technology is consuming bandwidth and, in some cases, clogging existing telecommunications infrastructure.
The poles often resemble street lights and the small cell technology attached to them are designed to relieve congestion on the bigger, macro towers that serve such areas.
The demand for small cells is expected to increase as the world moves toward 5G mobile technology in the coming years. Five communities in the Sioux Falls region are already benefitting or will soon benefit from them. Take a look at the communities and the number of small cells being deployed:
Brookings, 12.
Sioux City, 12.
Aberdeen, nine.
Yankton, eight.
Sioux Falls, six.
SDN also put up five units in the Buffalo Chip Campground near Sturgis for a private carrier.
The broadband company's growing network increases maintenance and construction duties for the company. After new fiber optic lines are installed, they have to be kept in top operating condition, Andersen said.
To help expand and maintain it, SDN relies largely on two subcontractors: Engbarth Directional Drilling and Wiltech Fiber Optics.
Take a closer look at SDN's latest fiber footprint using this interactive map.
Chcek out the two-minute video below to watch Engbarth Directional Drilling crews stand up small cell poles and deploy the equipment.