---
The subject might not come up often in everyday business conversations, but Sioux Falls is directly connected to one of the biggest and best data center networks in the United States.
TierPoint, one of the nation's leading providers of data center and secure, private cloud services for businesses, has a strong presence in Sioux Falls. Two of TierPoint's 42 data centers are located in the city.
To this point, the company's seemingly low-profile, local existence probably attests more to the relative safety of storing and backing up data in Sioux Falls than to the importance of the secure, disaster prevention and recovery work that TierPoint does for businesses across the United States.
To help serve clients in the Sioux Falls area, TierPoint partners with the region's premier provider of broadband connectivity and cybersecurity services: SDN Communications.
"TierPoint is a great business partner," said Ryan Punt, vice president of sales at SDN. "Their portfolio of products is very complementary to SDN and the delivery of high-quality, broadband connectivity solutions in the enterprise space."
The two companies help each other identify and serve customers in the region.
SDN actually owns the purpose-built, fortress-like building in the fringe of northwestern Sioux Falls that serves as one of TierPoint's two data centers in Sioux Falls. TierPoint leases building space from another company for a separate data center in northeastern Sioux Falls. The two are about six miles apart, which will be a plus for protecting electronic information in the event of a local disaster.
TierPoint strengthened its position in the Upper Midwest two years ago by acquiring Omaha-based CoSentry, a regional business that formerly operated data centers in Sioux Falls. Beyond Sioux Falls, TierPoint's data centers dot the country from Boston to Dallas to Seattle, with the heaviest concentration in the eastern two-thirds of the country.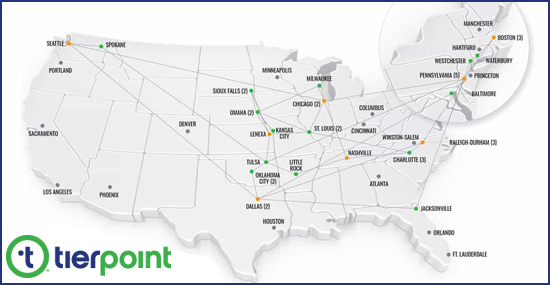 "TierPoint has really expanded and has a whole line of services that really add to the value of having them in our data center," Punt said.
St. Louis-based TierPoint offers services such as colocation space so that companies don't have to operate their own data center, managed hosting services so clients don't have to buy and maintain their own IT equipment, and disaster recovery services, including backup work space for people.
For about a month last winter, about 100 employees of a local financial services company worked out of TierPoint's data center in northeast Sioux Falls because of building problems at their regular workplace.
But from an environmental and natural disaster perspective, Sioux Falls is one of the safest places in the United States, said Jason Black, vice president and general manager of TierPoint.
SDN's 25,000-square-foot, windowless data center in northwestern Sioux Falls was built to withstand wind speeds exceeding 200 miles an hour, and it was located beyond the area's 500-year flood plain. It's equipped with security features such as redundant power feeds and backup generators.
Snow is essentially a nonfactor in operating data centers, Black said. In fact, cold weather is welcome. "Data centers like the cold," he said. Equipment inside data centers generate a lot of heat. So when it's cold outside, data centers can be operated at highly efficient rates.
"So bring on the snow. From a data center perspective, we love it. That means it's cool enough outside to run our economizers and manage the cooling in the data center without running the electrical bill up," Black said.
Businesses and consumers are consuming more data than ever before, creating a growing need to store data in facilities closer to users. That's one of the factors driving demand for data center space, Black said.
"Some of the security protections we have built in that we can make available to customers is something that most organizations cannot afford to build themselves," he said. "Since we leverage it across multiple customers, they can get the benefit of an enterprise-class security service at a fraction of the cost."
More information about TierPoint is available on the TierPoint website.
Businesses and organizations interested in exploring TierPoint's services also may contact an account executive at SDN. Call 800-247-1442 or reach out to one directly listed on the Our People section of this website.