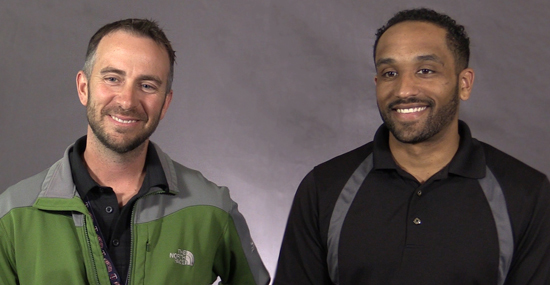 ---
Chris Haiar learned as much as he taught when he mentored a new employee at SDN Communications.
"It was kind of 50-50," said Haiar, senior outside plant engineer at SDN in Sioux Falls. In late 2017 and early 2018, he spent 100 days serving as the official mentor for Jon Clayborne, who had joined SDN's staff as a network account executive.
"As he was learning his job, he was passing information along to me, which was helpful in gaining a big-picture understanding of how the company works," Haiar said.
Typically, their weekly lunches, chats and email exchanges were informal and related to the big picture of working at SDN, including issues that had little to do with the company, such as best places to go for lunch.
SDN has had a mentorship program for three years, and it's going very well, said Amy Preator, director of human resources. More than 25 employees – mostly new hires – have gone through the program.
It's designed to provide new employees and some participants in leadership classes a contact who they can ask questions, gain corporate insight and even express concerns.
To encourage open discussions, mentors are not paired with employees they supervise. The mentor and mentee also come from different departments.
"Some of the pairs have become friends during the process," Preator said. That was the case with Haiar and Clayborne. They became friends.
When Clayborne came to SDN, he had prior sales experience but was new to telecommunications.
"Having someone to speak with during the transition of starting a new position at a fast-paced company was very helpful," Clayborne said. "Chris acted as a solid foundation when I was learning the basics of the telecom industry. Given my background in sales, I naturally interact well with people, but Chris and I clicked right away, and soon found out we had a lot in common."
In addition to gaining a friend, Haiar said serving as a mentor helped him develop his leadership and management skills.
Haiar has been with SDN for 13 years. When he started with the company, he wasn't sure what each department did. So, he made a diagram for Clayborne to help illustrate each department's responsibility and included a list of managers and their contact information.
"When I started, I would have liked to have something like that," Haiar said.
SDN is a business with a lot of teams. The groups might appear to be moving in different directions, but they have a common goal, he said.
"We're all dependent on one another to meet our customers' expectations, and I think it starts with our sales team. So when I had an opportunity to mentor a new member of the sales team, I enthusiastically said yes," Haiar said.
SDN launched its mentorship program in April 2016. Mentors and mentees are encouraged to meet for lunch the first week and every other week after that – on SDN. They may meet or talk as often as they like. They're expected to at least connect by email every week.
The duos may continue to meet after the program ends, but after 100 days they are on their own for lunch.
Mentors and mentees are encouraged to discuss topics that include SDN's products and services as well as the company's management organization. Goals of the program include:
Helping new employees get to know who does what, where departments are based, and what the company's products are.
Providing new employees with an on-site resource from a different department.
Assisting with interdepartmental communications.
Increasing employee understanding of customer service principles and expectations
Increasing employee retention.
Preator's open to suggestions from participants to improve the program and says it can be amended as needs change. "The program has been going great," she said.
SDN Communications is a regional leader in providing broadband connectivity and cybersecurity services to businesses in communities such as Sioux Falls, Rapid City, Worthington and the surrounding areas.
---
Take a look at our current job openings and apply to join our teams. We are also in search of several interns for the summer. You can find all of our available positions on the Careers page.