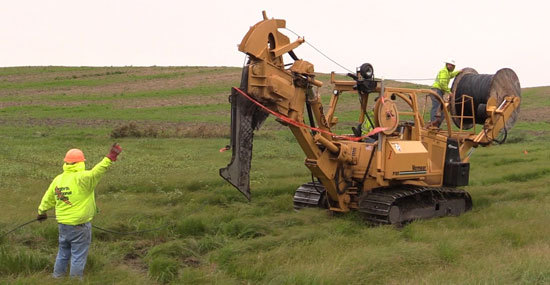 ---
A chance encounter with someone at a store in Sioux Falls led Jerry Andersen to a career of 44 years - and counting - in the telecommunications industry.
Andersen, a Sioux Falls native, has spent the past 10 years with SDN Communications, a regional provider of broadband connectivity and cybersecurity services for business. For the past five years, he has been the outside plant engineering manager.
He and his crew of outside plant engineers are responsible for keeping about 3,100 miles of company-owned fiber running smoothly. They also add new fiber, as needed.
Andersen's first job was with a company that installed TV cable. His job interview, which resulted from the store encounter when he was 17, consisted mostly of demonstrating that he could crawl up a pole. He'd never done that before. But he strapped on a climbing belt and shoe spikes and shimmied up a pole without much problem.
Coming down the pole proved to be a much tougher challenge, he recalls. He slid down too quickly, but avoided injury and got the job.
Before coming to SDN, Andersen worked in the multistate area for about 10 companies, including one that was sold several times and changed its name a lot.
At SDN, Andersen and his crew oversee subcontractors, deal with local regulators, and maintain and expand the company-owned portion of a vast and vital fiber network. They work with SDN's Network Operations Center and respond to problems and emergencies, such as accidental fiber cuts at construction sites.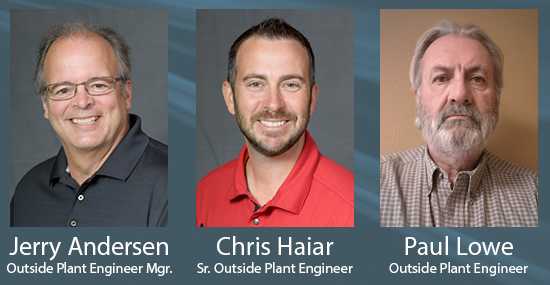 The crew includes Chris Haiar, senior outside plant engineer in Sioux Falls, and Paul Lowe, senior outside plant engineer in Rapid City. The other two members of the team are outside plant engineers Lawrence Escobin and John Mingo.
The crew has to let affected customers know what's going on within a few hours of a fiber issue, but it usually doesn't take that long. They also have to be thoughtful about adding new fiber routes.
"We have to be forward-thinking about how we build the network. We have to put a network in the ground that will be scalable, but we don't know where the next order will come from," Andersen said.
Maintaining precise maps of the mostly underground network is critically important so that fiber can be protected and, when necessary, efficiently replaced.
In some cases, a lot of advance planning is necessary to keep the network running smoothly, Haiar said. For example, the heavy traffic area of East 26th Street and Interstate 229 junction in Sioux Falls will be substantially rebuilt during the next two years. Construction work will require that some fiber running through the area be moved.
"Bad weather and rain always play havoc with construction," Haiar said.
Haiar, who lives in his hometown of Alexandria, S.D., commutes about 60 miles to work. He has been with SDN since 2006. Before joining SDN, he attended the Mitchell Technical Institute and worked for a year for an engineering firm in Mitchell that was doing work for SDN. So, his work duties didn't change much when he made the move.
Line-planning work used to be done in the field. Now a lot of it can be done on a computer screen, he said.
Haiar's counterpart in Rapid City is Paul Lowe. He's been with SDN for eight years and in the telecommunications business for 45 years. Lowe was born in Britton, S.D., and raised on a farm near Aberdeen. He got his start in telecom work while attending Northern State University.
After a couple of years in college, he moved to Watertown to be an area manager for US West. Similar positions with related companies took him to Rapid City and Minneapolis, and then back to Rapid City. He now works in SDN's Rapid City office along with two technicians and a sales executive.
The network-related challenges that Lowe faces in the Rapid City area differ from those in the Sioux Falls area, largely because of the topography of the Black Hills region. Lowe has to contend with more rock and hills in overseeing fiber placement and while making service estimates.
"I always tell people you don't know what you're going to get until you turn some ground," he said.
Lowe's initial introduction to telecom was similar to Andersen's. The foreman at his first telecom employer wanted to know if he could drive a truck and climb a pole. He landed a three-month job with the company "and 37 years later, my three months were up," he said.
Lowe has enjoyed his time with SDN, which he describes as small and nimble enough company to quickly adjust to change. He is also optimistic about the future of the telecom business.
"There's a lot of potential out here, a lot of untapped potential," he said.
SDN Communications is a regional leader in providing broadband connectivity and cybersecurity services to businesses in communities such as Sioux Falls, Rapid City, Worthington, and the surrounding areas. For more information, visit the SDN Communications website.
Take a look at the extensive fiber network using SDN's interactive map. Click on the image below.