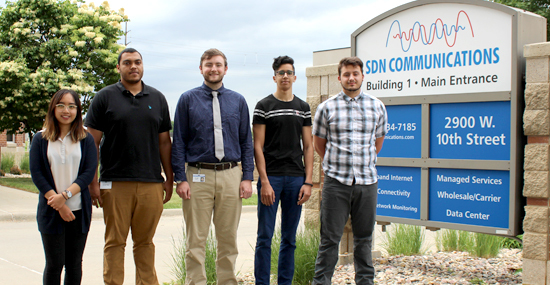 Giang Tran | George Rago | Wyatt Dickson | Aymane Sabir | Casey Bourque (Not pictured, Jacob Kulm)
---
A fresh class of interns is settling in at SDN Communications. Four new interns recently started work, and three previously hired interns are either staying on longer or wrapping up their time with SDN.
Meantime, former intern Conor Grevlos recently began work as a full-time SDN employee in business intelligence. Grevlos, who attended Dakota State University and South Dakota State University, spent the two prior years as an intern for SDN.
Sioux Falls-based SDN is strong supporter of internships and has been for several years.
"It's a great experience for the employees and the employer because it's a trial period," said Amy Preator, director of human resources at SDN. "Both sides get to see if it's a good fit. Plus, it helps students gain actual work experience that can help them in their careers."
Diana Randall, human resources assistant at SDN, points out that two of SDN's interns are foreign students, which provides special benefits to the company as well as to the interns. Foreign students can help the company learn about other cultures. And if foreign students return to their home countries, they will take valuable experience in American business with them.
Unlike interns at some organizations, interns at SDN are paid and do real work, Preator said. They are key members of the company's 160-member staff.
SDN's four newest interns, their work area and school are:
Wyatt Dickson. Marketing. Augustana University.
Casey Bourque. Network Operations Center. DSU.
Jacob Kulm. Warehouse / installation. Mitchell Technical Institute.
Aymane Sabir. Network Operations Center. DSU.
Two interns continuing in their positions are:
George Rago. Information Technology. DSU.
Giang Tran. Business Intelligence. Augustana.
Danial Madson, who started his internship as a New Technology High School student and now attends DSU, recently finished his internship with the Managed Services department.
The foreign students are Tran and Sabir. Tran is from Vietnam, and Sabir is from Morocco.
Just a few hours into his internship, Dickson, a recent graduate of Augustana, said he is looking forward to his experience with SDN. "I think it will be an interesting learning opportunity," he said.
---
Related blog: Internship season is coming, and the forecast is bright
---
SDN has built up its internship program in recent years, and the efforts have paid off, Preator said. A strong internship program has helped expose the company to promising students at colleges in the region and build a good workforce. SDN's internship program also has helped the company maintain a good reputation in its community and with member companies across South Dakota.
Several current SDN staff members began as interns.
Of course, maintaining a strong workforce also involves attracting and retaining a lot of other good workers through means such as competitive benefits, a positive work environment and ongoing training opportunities to help keep them engaged.
Job openings are plentiful in the growing, business-friendly Sioux Falls area. So finding good workers can be challenging, especially for businesses in specialized areas such as telecommunications.
Establishing and maintaining a good internship program helps SDN maintain a good workforce, and SDN is proud of that, Preator said.
SDN is a leading, regional provider of broadband connectivity and cybersecurity services for businesses. The company is not currently looking for additional interns. However, you can check out the current job listings on the SDN Communications Careers page.