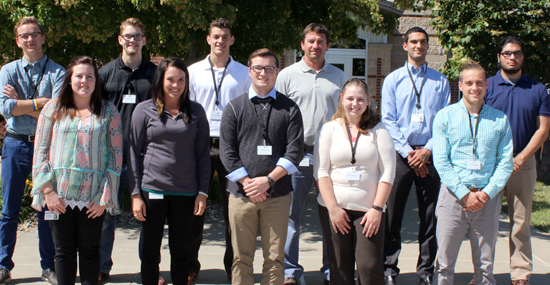 The Sioux Falls area has one of the lowest unemployment rates in the nation. The jobless rate in the four-county metro area has been running below 3 percent – well under the national rate of about 5 percent.
Low unemployment contributes to the ongoing challenges that new and growing businesses have in finding good, skilled workers.
SDN Communications, like some other established companies, has addressed the issue, in part, by expanding its internship program to help attract and groom future employees. Twelve college interns are working for SDN during coming months.
"This is the most we've ever had," says Human Resources Director Amy Preator. "With unemployment being so low, we thought we needed to grow more of our own."
CEO Mark Shlanta is a big supporter of SDN having a large and active group of interns.
"In the past five years we've really built up the program," Preator says. "We've had a lot of great interns."
SDN employs a total of about 180 employees. This year's class of interns will bring to the total to more than 190 people.
Members of the 2016 class of interns came from several South Dakota colleges. Dakota State University in Madison, which specializes in computer-technology programs, has the most (five). But SDN offers diverse business opportunities for interns and career-seekers.
Interns who joined the company for the summer or longer, their school and their assigned department at SDN include:
Shelby Christopherson, Marketing (South Dakota State University)
Jack Donovan, Business Intelligence (Dakota State University)
Conor Grevlos, Business Intelligence (DSU)
Trevor Lawhorn, Network Operations Center (National American University)
Daniel Muller, Warehouse / Installation (Southeast Technical Institute)
Alex Murillo, Network Operations Center (DSU)
Reid Nachtigal, Marketing / Analytics (SDSU)
Ivy Oeltjenbruns, Managed Services (DSU)
Chris Stapleton, Engineering (Mitchell Technical Institute)
Diamond Wartenbee, Application Development (DSU)
Tim Weber, Engineering (Augustana University)
Rylae Wientjes, Sales (SDSU)
Interns from South Dakota colleges have a special appeal to SDN because they're already in South Dakota and might be more likely to remain in the state after they graduate, Preator says.
SDN works hard to identify and attract a high level of interns. HR and department managers interviewed nearly 70 applicants this year. Interns typically come to the company with a good base of technical skills and can be trained to handle specific duties.
They're paid and assigned meaningful duties with SDN, which is the premier provider of broadband connectivity, managed cybersecurity products and remote network monitoring to build a more secure business network.
In a way, internships provide students the opportunity for a tryout with the SDN. The company, in turn, gets to take a close look at the student.
Brigid Hertaus, a human resources associate, is among past SDN interns who now work full time for the company. Hertaus, who attended Augustana University, began a three-month internship in April 2014. It was extended and eventually evolved into a full-time job.
Hertaus enjoyed her internship. She says the biggest take-away was the "real world experience" she gained. She completed her internship with a desire to work for SDN or a company like SDN, and achieved the goal.
Now she enjoys watching as new interns get to experience working for the company.
"The supervisors really take to their interns and are often sad to see them go back to school," she says.
For more information about internships at SDN, email Human Resources Director Amy Preator or call her at 605-978-3533.
You can find more information about other job openings at SDN on the Careers page.
---
Pictured above:
Back row: Conor Grevlos, Daniel Muller, Chris Stapelton, Trevor Lawhorn, Diamond Wartenbee, Alex Murillo
Front Row: Shelby Christopherson, Rylae Wientjes, Jack Donovan, Ivy Oeltjenbruns, Reid Nachtigal
Not Pictured: Tim Weber