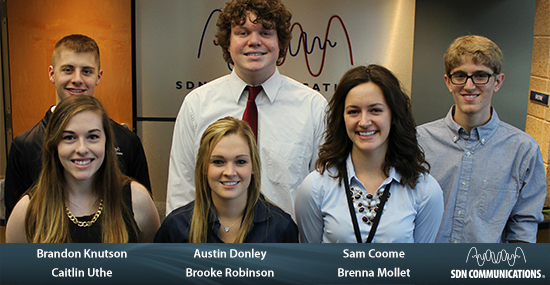 For many businesses in the Sioux Falls area, finding good employees – particularly workers in specialized fields - is a constant challenge. One good way to combat the problem is to hire promising interns and groom them into full-time employees.
SDN Communications is among the companies that has been making greater use of its internship program in recent years, and the company's director of human resources is pleased with the results.
"We've been much more active in recruiting interns in the last four years," Amy Preator says. "We've been ecstatic with the results as far as the interns that have come in and become very high-caliber employees."
About 180 people work full or part time at SDN, which is the premier provider of broadband connectivity and related telecommunications services for businesses in the region. In just the past three years, at least eight interns have transitioned into full-time employees at SDN.
Brigid Hertaus, a human resources associate, is among the interns who now work full time. Hertaus, who attended Augustana College, began a three-month internship in April 2014. The internship was extended on a part-time basis into the fall. She landed a full-time job with the company in February 2015, after she graduated from college with majors in business administration and psychology.
Hertaus says she enjoys working for the company and learned a lot during her internship. "I would say internships are a very good way to get people in the door and talking about SDN," she says.
Amanda Turner, who also attended Augustana, started with SDN as an intern in April 2014. She graduated from college in May 2014 and became a full-time employee in August. She works as a sales implementation specialist in the wholesale department, where she tracks projects and helps large phone carriers.
Turner majored in business administration and Spanish in college. She didn't know much about the telecommunications business until she began her internship. "They let me take on responsibility as I thought I could," she says. "It was actually a big learning process, but it went pretty quickly."
Not surprisingly, she gets along well with her colleagues. That's not just a coincidence. When Preator screens applicants at SDN, she places heavy emphasis on candidates' ability to get along with others. Preator tries to determine if candidates have the ability to work well with colleagues and customers, and if they will project a positive image for the company.
Good, qualified candidates can be trained in the specific technicalities of their duties after they are hired, Preator says, but their personalities are not likely to significantly change.
"This generation comes in with a very good understanding of technology," she says. "More than anything, we hire for personality. We can teach them everything else."
SDN presently employs seven interns from colleges across the state. Current interns, their areas of responsibility and their school are:
Austin Donley, application development, Dakota State University.
Caitie Uthe, marketing, South Dakota State University.
Sam Coome, Network Operations Center, DSU.
Brandon Knutson, Network Operations Center, DSU.
Gabe Cournoyer, warehouse/installation, MTI. (Not pictured)
Brooke Robinson, network engineering, South Dakota School of Mines & Technology.
Brenna Mollet, network engineering, SDSM&T.
Interns are paid and don't just do menial tasks. They do real work and help fill in for employees during the vacation season, Preator says.
"They do some huge projects for us. A lot of times, we save projects for the summer that our full-time employees don't have time for," she says. "We absolutely think that internships are the way to go as far as finding new employees."
For more information about internships at SDN, contact Human Resources Director Amy Preator via email or call her directly at 605-978-3533.
For more information about general job openings at SDN, visit SDN's career page.