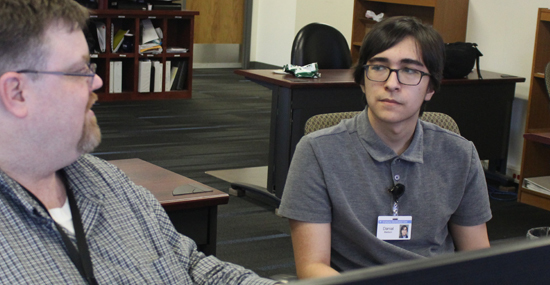 During the past several years, SDN Communications has really built up its internship program for college students. Sioux Falls-based SDN's internship program is more than a good corporate deed. It helps the company attract and groom good future employees.
In 2016, the high-tech company employed a dozen interns – the most ever - from universities and technical institutes in the region. SDN is ratchetting up its internship program another step in 2017. The company recently hired its first high school intern.
Expanding the internship program to high schools is potentially a way to establish good relationships with promising students earlier in their career-planning years, says Amy Preator, director of human resources for SDN.
"The earlier we can get someone connected and tied with SDN, the better it is for us and hopefully for them," she says.
Expanding the internship program to the high school level is a trial, at this point. SDN executives will assess the program when it's further along and collect input from the participant. The early results are encouraging, however.
The student with the honor of being selected as SDN's first high school intern is Danial Madson, a senior at New Technology High School in Sioux Falls. The 17-year-old tentatively plans to attend Dakota State University next year to study computer science. He started working part time at SDN in mid-January. He works three-hour shifts, two or three days a week.
"It's definitely a steep learning curve for me," he says. "It was definitely really daunting, at first. There was so much to learn to be on the level of the people I work with."
But Madson has been making a good impression on his boss, Bill Tetrault, supervisor of managed services at SDN.
"I've been very impressed with Danial's promptness, which is very important, and his willingness to learn," says Tetrault, whom Preator praises for his teaching ability.
Madson has even shown a willingness to hang around after completing his shift to learn more about the work, Tetrault says.
The intern's duties have included configuring routers in accordance with detailed instructions that he's provided. His work is double-checked, of course. He's also sat in on some sales meetings to hear first-hand discussions about clients' needs.
The confidence that Madson shows in his work helps Tetrault set the pace of learning and increases in responsibilities.
"What we're trying to do is teach him some things and apply it to the real world," Tetrault says. "By the time Danial leaves here, we hope to have him prepared to take an exam and receive a certification that we expect of our technicians."
SDN provides broadband connectivity, cybersecurity services and related telecommunications solutions to businesses and institutions. It's a growing, complex field and one of increasing economic value. So, competition for good, skilled workers can be intense.
The backdrop for many hiring managers in the Sioux Falls area is challenging because the four-county metropolitan area has added adding a few thousand new jobs to the regional economy annually, despite having a limited labor pool. Unemployment in December was about 2.4 percent, which was half the national rate.
SDN, which has about 160 employees, has hosted students in high school shadow programs before to help them learn about future career possibilities. But Madson is the first paid intern from a local high school. Many past interns from colleges in the region have gone on to work full time for SDN.
Madson says his experience with SDN is likely to reflect positively on the company in the future when he starts considering career opportunities.
"I'm excited that he's going to DSU," Preator says. "We get a lot of students from there."
SDN's internship program is full for 2017, but you can often connect with Preator at local job fairs, especially those focused on the telecom and tech industries. You can also keep an eye on the Careers page of this website for future openings.