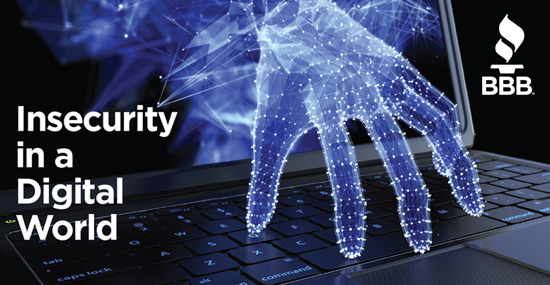 Businesses entrusted with personal and sensitive data can no longer consider cybersecurity a secondary support duty. Keeping information safe is more important than that.
Businesses of all sizes have to keep their guard up at all times to protect against constant attacks. Leaders throughout an organization have to devise and deploy effective strategies to keep electronic information safe. That requires them to stay informed.
The Better Business Bureau is hosting a free program designed to help keep business representatives up to date on the cyber threat landscape. The event, "Insecurity in a Digital World," is scheduled for Wednesday, Oct. 25 at the Avera Prairie Center in Sioux Falls. The program begins at 8 a.m. and is expected to last until 10 a.m.
Any interested business or organization representatives in the Sioux Falls region are welcome to attend, but they're asked to register in advance. Watch the presentations below.
They've scheduled a strong line of speakers:
Theron McChesney, business intelligence specialist with SDN Communications in Sioux Falls, will share the latest cyber threat landscape report.
Marty Jackley, South Dakota's attorney general and a recently-announced candidate for governor, will talk about the national Equifax data hack and other cyber threats facing South Dakota businesses.
Dr. José-Marie Griffiths, president of Dakota State University in Madison, will share the future of wireless technologies in the state.
The event is timely, considering the severity of the recent Equifax data breach, which exposed the personal information of more than 145 million Americans.
"Rarely does a week go by that we don't hear about another data breach," said Jessie Schmidt, BBB state director for South Dakota. "Breaches can really bring companies to their knees."
It's important that businesses know how to prepare for and react to attacks, Schmidt said. Businesses that don't act quickly enough or diligently enough are likely to face the negative consequences, she said.
Jackley said about 278,000 South Dakotans were affected by the Equifax hack, and that the breach should be a concern for anyone with credit activity.
"The perception of a lot of South Dakotans is, 'I've never done business with Equifax, therefore, I'm not affected by this.' But because it's a credit-monitoring service, it has gathered all your credit information, your home loans, your vehicle loans. So they've got your Social Security number, driver's license number, birthday, all the information that the bad guys need to steal your identify."
Jackley also plans to update the audience on scams going around the state that threaten businesses.
It's also worth noting that Jackley intends to push legislation during the 2018 session of the South Dakota Legislature that would require businesses to give consumers and law enforcement timely notification of data breaches. Federal rules apply to some industries, but South Dakota does not have a data-breach statute of its own. Jackley said he is working with stakeholders such as retailers and consumer groups to fill that legal gap.
Training cybersecurity professionals for the future is among the specialties at DSU. The head of the university, Griffiths, is leading a push for South Dakota to be one of the first places to deploy and test 5G, the next generation of wireless technology.
Griffiths also will talk about the need for infrastructure such as small cells that are needed to deploy technologies such as 5G
McChesney is very familiar with the cyber risks confronting businesses in South Dakota. He helps compile a quarterly Cyber Threat Landscape Report that SDN distributes to help keep businesses informed of current threats.
The event's supporting business partners include SDN, Avera McKennan Hospital & University Health Center and KELOLAND-TV.