Overall, rural Americans are vastly outnumbered by their counterparts in urban areas. However, as José-Marie Griffiths points out, 85 percent of all U.S. cities have a population of fewer than 10,000 people. That's significant, too, she says.
Griffiths is the president of Dakota State University in Madison, S.D., a city of fewer than 7,500 people. And she doesn't want the community or the mostly rural state of South Dakota to get passed over in a coming wave of telecommunications development.
Specifically, she wants DSU and South Dakota to be a test site for next generation of wireless networks, a proposed telecommunications standard commonly known as 5G. International standards for 5G still are being developed. U.S. businesses are competing with companies from around the world, particularly companies from Europe and Asia, to develop 5G. The economic consequences could be huge.
5G mobile systems are expected to be faster and have greater capability to serve connected devices than current 4G technology. While 4G has focused on transmitting video. 5G strives to more effectively tie together smart devices that comprise the so-called "Internet of Things."
Griffiths is among the educational and municipal experts scheduled to discuss 5G and small cell technologies Oct. 6 in Sioux Falls. She is one of the panel speakers during a three-day South Dakota Municipal League Conference at the Ramkota Hotel and Conference Center. Mark Cotter, public works director for the city of Sioux Falls, is among the other scheduled speakers.
Griffiths said during an interview prior to the Municipal League conference that that DSU is not developing 5G. Cybersecurity is DSU's specialty. But she envisions the state becoming a key demonstration site.
"We'd like South Dakota to be the first state to implement 5G statewide," she said. "We have a vision that we call SD5G. We'd like to see 5G tested at DSU and then spread out around the state."
Implementing 5G, as well as improving current wireless communications, will require better tower coverage, especially in high-use areas. That's where the deployment of small cell technology comes into play. More small cells are needed in the Sioux Falls region to accommodate current and future electronic communications.
But in many areas, 200-foot or 300-foot cell phone towers are not necessary to notably improve coverage. Small cell poles that stand 32 feet high will suffice. Smaller poles take some of the load off bigger macro towers and route data to the towers' underground network.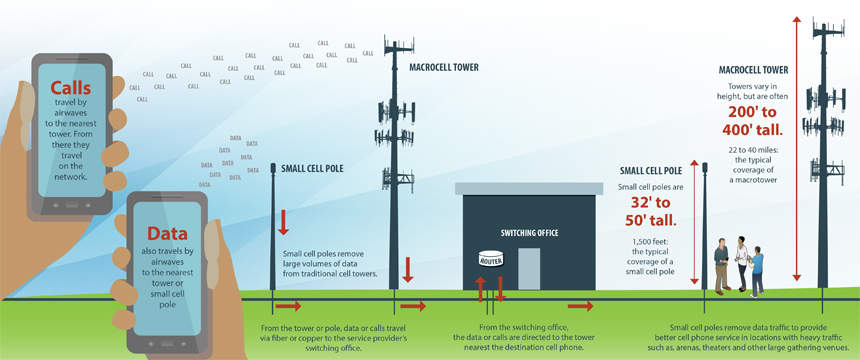 High-use areas such as fairgrounds, business hubs and college campuses are among the sites typically in the greatest need of supplemental coverage. In addition to helping businesses and consumers, faster and more reliable distribution of electronic information to wireless devices would improve public safety communications for first responders.
Improving telecommunications infrastructure is especially important to people who live rural in South Dakota, Griffiths said. Technology can help provide services that typically are more readily available to people who live in urban areas, she said.
As the Internet of Things becomes more advanced and the population of South Dakota ages, better communications technology could be used to deliver improved services to people in their home to help keep them healthy, Griffiths said. That could help people remain in their homes longer.
Griffiths will also discuss the importance of 5G technology and small cells on Oct. 25 in Sioux Falls at a free informational forum that the Better Business Bureau is hosting. The attention to such issues is welcome.
Visit the event page for more details and to register using the button below.