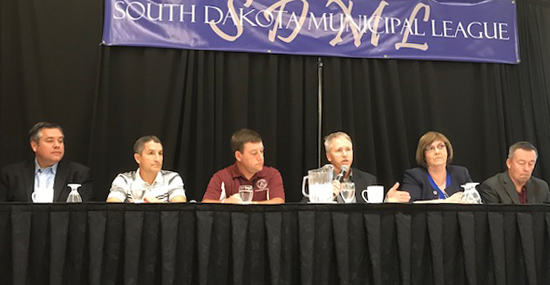 People living in cities expect broadband to be delivered as efficiently as water, says Sioux Falls Public Works Director Mark Cotter.
He and city leaders from Aberdeen, Brookings, Madison, and Lincoln, Neb., discussed the challenges and rewards of small cell
and 5G technology at the South Dakota Municipal League Annual Conference, where representatives of the state's 309 cities gather to discuss services and policies.
The panel encouraged cities to embrace the new broadband delivery methods. SDN Communications started deploying Verizon Wireless small cells this fall; Verizon contracted with SDN to deploy 50 in South Dakota and Sioux City. Aberdeen has nine which will be turned on soon. They improve data coverage in an area the size of a city block, which is much smaller than the more familiar 200-foot macro towers stretching connectivity up to 40 miles.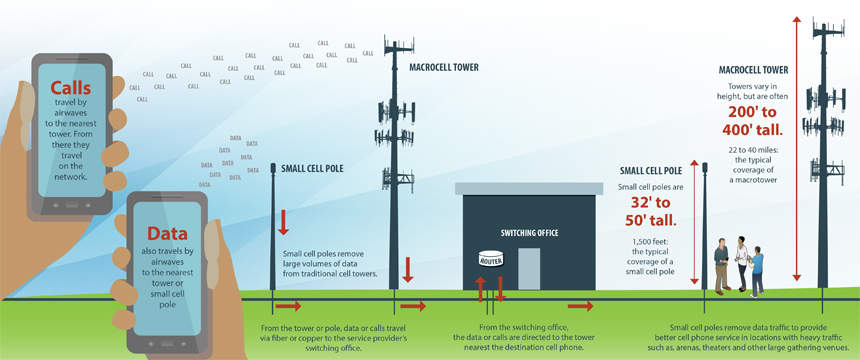 "We didn't know what these were and we were skeptical at first, but these small cells look exactly like a light pole with a couple of canisters on them," says Aberdeen City Planner Brett Bill.
Initially, Brookings will have a dozen small cells, Yankton will get six, and Sioux Falls will start with three. The numbers will only grow. Wireless providers have another 18 locations identified in Sioux Falls and over time could place as many as 500 in South Dakota's largest city, Cotter says.
Dakota State University President José-Marie Griffiths, a panelist there to explain the technology, wants to make South Dakota a testbed for implementing 5G, the next generation of wireless technology. Small cells are the precursor to 5G.
"It would give South Dakota the advantage to attract businesses and residents because people want to be where the connections exist," she says.
Griffiths uses images of the interstate to explain the 5G advantage: "Multiply the interstate lanes by 1,000. Now how much traffic can it carry? And then increase the speed ten times. Imagine the throughput."
Small cells and 5G will better serve the ever-expanding devices connected to the internet. Technologists refer to that phenomenon as the Internet of Things (IoT).
Griffiths uses the medical industry as an IoT example: an increasing number of wearable patient devices allows people to age in their home under the close supervision of remote medical staff. The devices can constantly track a person's vital statistics and even advise patients on what to do to immediately improve their health.
Madison City Commissioner Mike Waldner uses a real-life emergency to demonstrate the public safety aspects of increased broadband. In the moments following the 2016 Harrisburg school shooting, the network was so jammed with data traffic that the first officer on the scene couldn't use his cell phone to call for backup.
"What do you think the students did when that (shooting) happened? They were texting, calling, Tweeting, live streaming on Facebook and Periscope – all of it jamming the network," Waldner says.
Waldner, who is also a state employee for the Bureau of Information and Telecommunications, says citizens will be able to text to 911 within a year, and dispatchers will be able to track police and fire units and push photos and video out to first responders. Internet-connected devices will also alert dispatch and automatically activate body cameras when an officer pulls a gun from her holster. All that requires wireless connectivity and increased data coverage.
Brookings City Attorney Steve Britzman says he and his colleagues across the state are beginning to develop a comprehensive ordinance in which cities, large and small, could adopt to protect community aesthetics and still welcome and quickly deploy new technology.
Lincoln, Neb., Public Right of Way Manager David Young says his city has created a master agreement.
"The carrier signs one agreement and has access to 25,000 poles in our city," Young says. "They file a permit and in ten days, we say yes because we want this infrastructure deployed."
The current deployment by SDN are monopoles that can hold small cell equipment for two providers. Going forward the model will likely resemble Nebraska where SDN or others will replace aging incandescent street lights with energy-efficient LED lights and reinforced poles to hold the small cell equipment. That will help the public right of way from getting cluttered with additional poles.
Aberdeen City Planner Bill reminded the audience, while the technology might feel overwhelming, what municipal governments face with small cell and 5G infrastructure is not unlike a century ago when towns had to figure out policies for telephone, electric and street light poles.