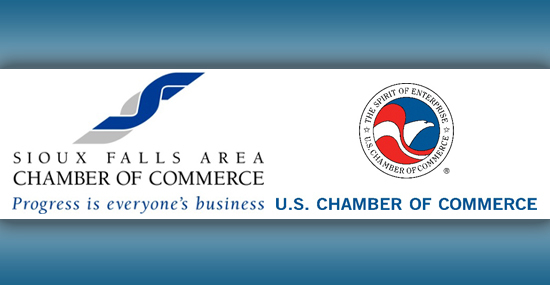 ---
FOR IMMEDIATE RELEASE February 12, 2018
SIOUX FALLS – The U.S. Chamber of Commerce and the Sioux Falls Area Chamber of Commerce will cohost a regional cybersecurity conference March 27 at the Holiday Inn City Centre in Sioux Falls.
The U.S. Chamber partners with local chambers and business associations around the nation to host high-level cybersecurity conferences to help businesses improve their online security.
"When businesses have secure digital networks they can innovate, grow, and thrive. Awareness, education, and public-private partnerships can help business owners of all sizes plan for the worst, but fare the best in a crisis," said Ann Beauchesne, senior vice president for National Security and Emergency Preparedness at the U.S. Chamber.
Their conferences feature national as well as regional experts and typically are held in larger cities. Sioux Falls is fortunate to have attracted one, according to business leaders.
"The protection of businesses' intellectual property has become mission critical for all of us," said Jason Ball, president and CEO of the Sioux Falls Area Chamber of Commerce. "Conferences like this help us gather together and find common needs and where to propose changes in state and local policies."
The Sioux Falls Cybersecurity Conference features a lineup of experts in the cybersecurity field, including FBI Supervisory Special Agent Jay Patel as the morning keynote and Ryan Manship, RedTeam Security Consulting in the afternoon.
Patel is a sought-after national speaker whose briefings provide key insights based on case studies and analysis of current and emerging cyber threats to U.S. companies. He will demonstrate why every business, big or small, needs a plan and ongoing vigilance. Manship and his team breach businesses for a living, offering a new perspective on how to start protecting your business.
---
Related Blog: Yikes! Video documents vulnerability of cyber infrastructure
---
Other featured topics and speakers at the Sioux Falls conference include the role of federal and state agencies in cybersecurity and practical steps you can take if your business is hacked
The Sioux Falls Cybersecurity Conference is designed for business managers throughout the multistate region.
The event is sponsored by SDN Communications as gold sponsor and Dakota State University, Eide Bailly LLP, KELOLAND Media Group, PREMIER Bankcard and Xcel Energy as silver sponsors.
The cost is $75 for general attendees and $40 for a limited number of student tickets. Registration is open.
About the U.S. Chamber of Commerce
The U.S. Chamber of Commerce is the world's largest business federation representing the interests of more than 3 million businesses of all sizes, sectors, and regions, as well as state and local chambers and industry associations. The U.S. Chamber's National Security Task Force is made up of more than 200 member organizations, and the Chamber's Cyber Working Group is made up of more than 200 companies.
About the Sioux Falls Area Chamber of Commerce
As the leading Sioux Falls area business advocate, we represent our members by advancing and promoting the economic health and quality of life of the region.