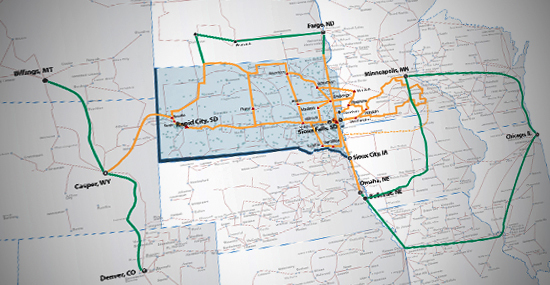 Leading businesses in Sioux Falls and across South Dakota generally are familiar with SDN Communications. The Sioux Falls-based company, along with its affiliates and partners, provides reliable broadband connectivity and telecommunications services to businesses, organizations and government, especially to clients with multiple locations in the city, state or region.
SDN's expanding network operates quietly in the background, however, so it's probably bigger and more diverse in size and potential than most people realize.
"While many think of SDN as a network provider that is relegated to South Dakota, we are much, much more than that. We are a large regional provider that delivers networking and transporting services across a nine-state region," says Ryan Punt, SDN's new vice president of sales.
The regional network, in turn, links with systems in other states and other countries to create a global system.
Punt previously worked as a wholesale account executive at SDN. He also has experience in commercial sales with the company. So he has a detailed understanding of the company's network, its capabilities and how customers use it.
Almost any small, midsize or large company doing business in the Sioux Falls area potentially could use SDN's network in some way, he says.
Financial institutions, health care facilities, agricultural plants, government offices, and schools and universities use the network to link multiple locations, for example. Buried SDN fiber-optic lines also carry calls from national wireless carriers' cell towers to switching stations. SDN's network provides the base for a variety of communications, equipment and security services.
It starts with a 30,000-mile, MEF Certified network of fiber that crisscrosses South Dakota and connects with systems in eight other states. That leads to network connections in other states and ultimately to other countries.
Beyond South Dakota, SDN's network has direct connections to Montana, Wyoming, Colorado, Nebraska, Iowa, Minnesota, North Dakota, and Illinois.
Major connecting points, known as carrier hotels or Point of Presence locations, are in multiple locations in Sioux Falls. They also are located in eight cities outside of South Dakota:
Minneapolis, Minn.
Omaha, Neb.
Denver, Colo.
Chicago, Ill.
Fargo, N.D.
Sioux City, Iowa
Caspar, Wyo.
Bellevue, Neb.
In addition, SDN has smaller connecting points in town such as Spearfish, Sturgis, Rapid City, Pierre, Huron, Aberdeen, Mitchell, Madison, Watertown, Brookings, Yankton, Vermillion and Sioux Falls in South Dakota, and in Marshall, Pipestone, Windom and Worthington in Minnesota.
In South Dakota, SDN has 17 member phone companies that collectively serve 80 percent of the state's geography. In addition, the network is expanding deeper into Minnesota.
SDN formed a more recent partnership with six independent telephone companies in southern Minnesota and one in northern Iowa. Some of the Minnesota cities included in that newer market area include Albert Lea, Blue Earth, Mankato, Owatanna, Red Wing, Rochester, and Winona.
The new partnerships extend SDN's fiber network across southern Minnesota, from South Dakota to Wisconsin, and from northern Iowa to near the Twin Cities.
Meanwhile, SDN's network also is enhanced by being part of the Indatel Group, which unites independent telecom carriers and statewide networks similar to SDN. The group helps simplify connection processes for providers and users.
It adds up to a service footprint that business clients such as national carriers find attractive, Punt says.
"We're looked at very highly by a lot of the national providers because of our reach," he says.