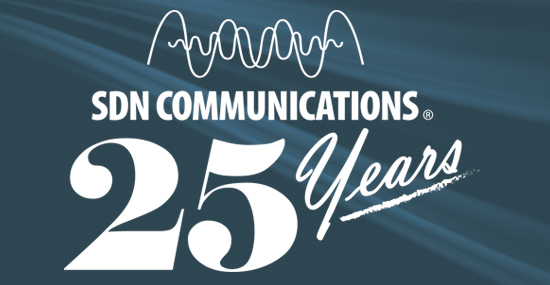 The technology of business communications certainly has changed since 1989, when independent phone companies in South Dakota started connecting their networks to offer customers better long-distance service options.
The creation of the South Dakota Network 25 years ago marked the start of the company that does business today as SDN Communications.
SDN has become the premier, regional provider of broadband connectivity and related technology services for businesses. Sioux Falls-based SDN and its member companies operate a fiber-optic network more than 30,000 long. The network extends across South Dakota and into seven other Northern Plains states.
Despite SDN's success and continuing growth, the company has been celebrating its 25th anniversary without a lot of fanfare. That low-key approach is consistent with the way SDN quietly and efficiently serves clients – all day, every day – to keep their networks running more than 99 percent of the time.
Nevertheless, SDN's 25th anniversary is a fitting time to pause and reflect on how SDN got where it is and where the company is headed.
Mark Shlanta has been with SDN for in key leadership positions for 16 years – the first two as planning and operations director and the last 14 as chief executive officer. He was asked to share his opinion on highlights of the company's first quarter-century.
"The technology is always changing, so I'd say the lasting impact comes in the expansion of the network footprint," Shlanta says.
One game-changer, from his perspective, came in 2007, when the state of South Dakota asked SDN to build a Research, Education and Economic Development Network. The REED Network is a significant research tool that connects the state's six public universities, the EROS Data Center near Sioux Falls and the Sanford Underground Research Facility in the northern Black Hills.
"Not only did it increase the network capacity within South Dakota to the universities, state government and research institutions, but over a series of years it also expanded our network to metro markets such as Minneapolis, Omaha, Denver, Fargo, and Caspar," Shlanta says. "That allowed us to interconnect with our peer statewide networks across the country."
In 2009, SDN received a $20.6 million federal broadband stimulus grant and the company contributed $5 million to extend SDN fiber network to more than 300 additional institutions in South Dakota, including hospitals, schools, libraries and public safety offices. Completion of the project in 2012 substantially improved connectivity in South Dakota, especially in rural areas.
SDN continues to expand its footprint today.
The company recently announced it is partnering with six independent telephone companies in southern Minnesota and one in northern Iowa to extend SDN's network across southern Minnesota, from South Dakota to Wisconsin, and from northern Iowa to beyond the Hutchinson, Jordan and Prior Lake, Minn. areas.
The Minnesota project represents the company's largest expansion in more than a decade in terms of fiber miles and businesses opportunities.
"As time progresses, I think that will be a pivotal point in our historic timeline," Shlanta says.
Understandably, Shlanta also is proud of the SDN Data Center built just northwest of Sioux Falls. Work on the protective, bunker-like structure was completed in 2011.
The 25,000-square-foot data center backs up SDN's networking equipment. It also provides leased space for two other businesses: CoSentry and Avera Health.
The data center is full. But, as Shlanta points out, it was built with growth potential. There is enough land available for up to three more data centers.
What challenges lie ahead for SDN?
"With the Internet-of-Everything mentality, where cars, refrigerators, irrigation systems and who knows what else all need a connection to the Internet, staying ahead of the broadband demand will always keep us busy," Shlanta says.
Externally, the challenge is to help businesses and consumers understand there are costs related to serving demand, he says.
Internally, the challenge is to manage growing pains. The company had nine employees when it opened its Sioux Falls office in 1992. Now it has a staff of 180 people, who are based mostly in Sioux Falls.
"We're working very hard to maintain our culture and customer service focus as we grow," Shlanta says.
Overall, the challenges the company faces are positive. That makes for a nice anniversary.