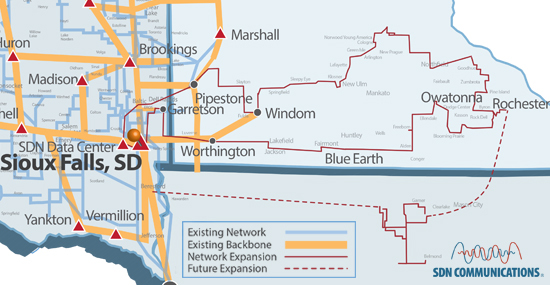 ---
SDN Communications' broadband network is about to become a significantly bigger and more widely available vehicle for regional business communications.
Six independent telephone companies in southern Minnesota and one in Iowa are partnering with South Dakota-based SDN to improve connectivity and Internet options for business customers in both states.
The partnership will extend SDN's network entirely across southern Minnesota, from South Dakota to Wisconsin, and from northern Iowa to beyond the Hutchinson, Jordan and Prior Lake, Minn. areas.
Some of the Minnesota cities that will be included in the new market area include Albert Lea, Blue Earth, Mankato, Owatana, Red Wing, Rochester, and Winona.
The southern fourth of Minnesota, which has a population of approximately 500,000 people, will enjoy improved access to SDN's growing network.
"This is SDN's biggest expansion in more than a decade in terms of territory, in terms of fiber miles, and in terms of business opportunities," says Mark Shlanta, SDN's chief executive officer.
SDN, which has its headquarters in Sioux Falls, primarily serves commercial markets. So the expanded potential for business connectivity in the region is real significance of the development.
Bill Otis, president and CEO of NU-Telecom of New Ulm, Minn., says the partnership will pay participating companies dividends in the form of network solutions and efficiencies in serving business customers.
"It allows all our partners to extend our reach by working together and utilizing existing resources," Otis says. "If we all come together and work together, we can have something we might not otherwise have."
Otis chairs the entity implementing the plan. SDN is the managing partner of the group.
In addition to SDN, companies participating in the deal are:
SDN's 30,000-mile fiber network already serves businesses across South Dakota and part of western Minnesota. In total, the company's network reaches from South Dakota into seven other states and connects businesses with metropolitan areas such as Minneapolis, Omaha, Chicago, and Denver.
Fiber construction needed to connect the Minnesota companies will begin immediately and is projected to be finished in the fourth quarter of 2015. SDN will sell the connectivity to businesses.
The southern Minnesota market, like much of South Dakota, is heavily agricultural. But in addition to extending networking access to businesses that serve the agriculture sector, the expansion will create improved telecommunications access to industries in important fields such as banking and health care.
As Vernon Brown, vice president of marketing and community relations for SDN, points out, the expansion also will create new opportunities for conducting business at the wholesale level with national and wireless carriers.
To me – and this is not a particularly profound observation – the deal also underscores the largely irrelevant nature of artificial borders, such as state lines, in improving telecommunications services and the ability to conduct business.
Political boundaries serve important roles in areas such as local regulation, of course. But it's refreshing to see that jurisdictional lines do not block visions of progress for businesses trying to better serve customers.
Like the 17 South Dakota companies that own SDN, the seven Minnesota companies that are part of the agreement are independent phone companies.
"They have seen how our South Dakota members and business customers have benefitted, and they want to follow that successful model in their southern Minnesota service area," Shlanta says.
The SDN network began forming in 1989 when telephone companies began linking their networks together to offer better long-distance service options to their customers. Today, in addition to long distance, SDN owner companies, or members, provide their customers with services such as cable TV, Internet and home monitoring/surveillance equipment.
SDN provides government offices as well as businesses with Internet and inter-office connectivity. The company also offers services to monitor and protect networks, and help clients manage and maintain equipment such as routers and firewalls.
For more information about SDN, including the company's history, products and services, see www.sdncommunications.com.