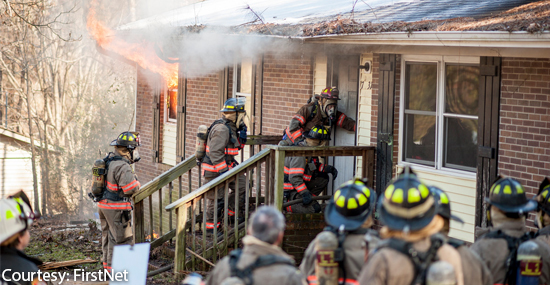 The development of a robust, wireless broadband network for America's first responders is expected to reach a significant milestone in June.
The First Responder Network Authority, or FirstNet, is developing the first high-speed, nationwide, broadband network dedicated to public safety.
Draft plans for segments of the network in each of the 50 states, District of Columbia and five U.S. territories are expected to be released for review in mid to late June.
"That's a huge milestone," says Mike Waldner, FirstNet project manager for the state of South Dakota.
There may be small changes to the state plans before final versions are submitted to governors for final consideration, probably in September. Then, South Dakota and each of the other jurisdictions will have 90 days to decide whether to opt into the national plan or build a compatible network to plug into the national system.
Waldner is guardedly optimistic about the prospective plans for South Dakota.
"It's looking good. I hope they haven't dropped the ball with the state plan. I don't think they have," he says. "I think things are, indeed, going good. But we still have work to do."
Waldner is employed by the South Dakota Bureau of Information and Telecommunications and reports to BIT engineering manager Jeff Pierce. Together, they and other officials are working with FirstNet to help ensure that the planned emergency network works in the state.
Congress authorized to create FirstNet in 2012 as an independent authority within the U.S. Department of Commerce.
The Department just announced in late March that FirstNet will partner with AT&T to build the modern, LTE (4G) network. The $46.5 billion system will significantly improve the nation's hodgepodge system of public safety communications.
South Dakota is fortunate in that it already has pretty good AT&T coverage, Waldner says.
Nationally, the network will provide dedicated, priority communication routes so that law enforcement officers, firefighters and emergency medical services in different locations can talk and exchange data on mobile devices without getting caught up in electronic traffic jams.
FirstNet will help save lives and secure communities in several ways, according to the FirstNet website:
First responders currently rely on more than 10,000 separate, incompatible and often proprietary radio networks to communicate during emergencies. Sharing a single network will improve communications.
Reaching into rural America is a priority of the new system because emergencies don't just happen where people live.
The FirstNet system will allow the transfer of images and videos, in addition to voice, to enhance emergency communications.
Emergency communications will be priority transmissions and will enable responders to communicate without interruption.
FirstNet will enhance public safety by developing a reliable communications system designed to help before, during and after disasters.
The need for a better communications system grew out of challenges that first responders encountered during emergencies such as 9/11 and Hurricane Katrina. During the bombing at the Boston Marathon, for example, there were tens of thousands of mobile phone users concentrated within a few blocks, and they jammed the airwaves. Emergency responders at the site had trouble communicating.
"The ability to communicate seamlessly across jurisdictions is critical for law enforcement, fire, and emergency medical services," according to FirstNet. The new system "will modernize first responders' communications and deliver specialized features that are not available to them on wireless networks today."
Sioux Falls-based SDN Communications and its member companies across South Dakota have a potentially significant stake in FirstNet because they help national carriers provide broadband services.
SDN is a premier regional provider of broadband connectivity, cybersecurity services and related telecommunications solutions for businesses. SDN's 17 member companies are independent telecoms that provide services such as Internet, TV and phone services to residential as well as business customers in communities across South Dakota and into neighboring states.