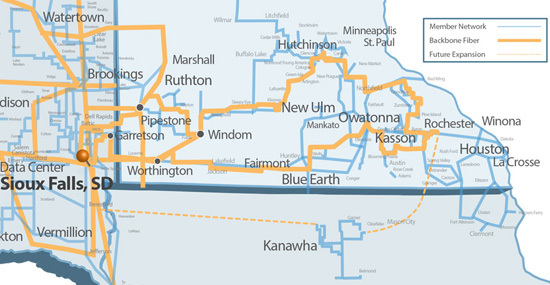 SDN Communications' recent network expansion across southern Minnesota might lack name recognition with some businesses in the region, but SDN's new broadband connectivity option has the advantage over larger carriers.
Eight telecommunications communications companies are united in a partnership under the southern Minnesota expansion, which gives prospective clients a single point of contact.
If, for example, a company wants to connect multiple branch offices scattered around southern Minnesota, the SDN-led network can do it with a minimum of territorial complications.
No telecommunications carrier—not even the well-known national carriers—have fiber everywhere, points out Ryan Dutton, an SDN account executive. Bigger companies often must make deals with smaller companies to serve clients. So, their clients – knowingly or unknowingly—often depend on the services of multiple local telecoms as well as the big provider.
The expanded SDN network can tie deals together with a minimum of nonaffiliated facilities in the southern Minnesota market, which reduces possible points of failure in network transmissions. Businesses using the expanded network, rather than a combination of companies, may save money as well because the more companies involved in a deal, the greater potential for markup, Dutton says.
"The more on-network components you have, the more efficiency and value you gain," he says.
The network is operated by a partnership of eight companies, including six from Minnesota and one each from Iowa and South Dakota. Sioux Falls-based SDN is the South Dakota participant and the managing partner of the group.
Other companies involved in the venture are:
Dutton is stationed in Blue Earth, Minn., in the middle of the expansion. The fiber extends from just south of the Twin Cities southward to Iowa, and east to west from Wisconsin to South Dakota.
The 800-mile network in Minnesota opened for business in early 2016. Dutton has been on the job for about seven months. He focuses on selling network connectivity to businesses and helping member companies in Minnesota provide technology services to clients.
Dutton knows the territory and has extensive experience in the telecommunications industry. He previously worked for about 11 years for a national consulting firm. Before that, he worked for about eight years in Blue Earth in marketing and sales for BEVCOMM, which is one of the partner companies in the SDN expanded network.
There's been a perception that businesses only had the choice of one or two national companies if they wanted to reach multiple parts of southern Minnesota in some areas, Dutton says. Now, those companies also have a local option.
Replacing current providers, who may be under a multi-year contract, presents marketing challenges that differ from entering underserved markets or assisting new clients who expand into an area. The challenge for the newly expanded network is spreading the word that the SDN's network in southern Minnesota is up and running smoothly.
SDN brings valuable experience to the project. SDN and its 17 member-owned companies in South Dakota serve about 80 percent of South Dakota's geography with business broadband connectivity and related services. In addition to helping member companies, SDN specializes in connecting, assisting and protecting businesses from cyberattacks.