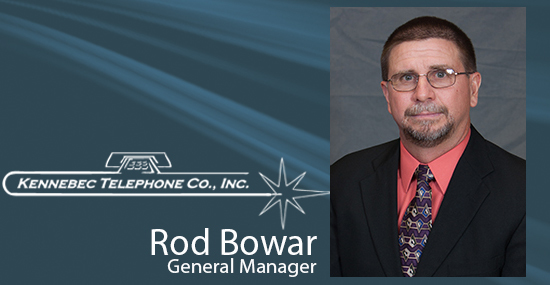 Kennebec Telephone Co. Inc. is one of the smallest phone companies in South Dakota. It's also the most diverse.
The company provides a seemingly weird mix of services. But when viewed in the historical context of the market, the business offerings make perfectly good sense.
In addition to local and long-distance phone services, high-speed Internet and cable TV, Kennebec Telephone Co. offers excavation and electrical services as well as computer, welding and auto repair. It owns a NAPA Auto Parts store in Chamberlain.
The company also sells security equipment for monitoring homes and businesses, which can be a difficult sell in a community where people are inclined to leave doors unlocked.
The diversity of Kennebec Telephone Company, or KTCI, is a reflection of Rod Bowar, president and manager. He admits that the company blends an odd mix of divisions into its operations, but not without reason. On multiple occasions, KTCI simply stepped in to fill voids left by service providers in the Kennebec-Presho area who closed their businesses.
"If a need arises, we see if there's an opportunity and move forward. We try not to compete with an existing business," Bowar says.
Keeping business services available is good for the phone company as well as the community, Bowar says. KTCI serves the rural communities of Kennebec and Presho and the surrounding area in south-central South Dakota. Kennebec has about 300 residents and Presho has 425.
KTCI is one of the 17 phone companies in South Dakota that own SDN Communications, a Sioux Falls-based company that provides broadband connectivity and related services to businesses and institutions across South Dakota.
KTCI and the Kennebec area currently are benefitting from a major business expansion. The South Dakota Wheat Growers announced last fall that a new, $39 million train-loading facility would be built in Kennebec. The complex also will include an agronomy center.
Construction is underway along an old stretch of railroad track that will be upgraded. The agronomy center is expected to open next winter; the grain-handling facility is scheduled to be ready for the 2016 harvest season.
"This is probably the closest we'll ever get to a gold rush," Bowar says of the economic activity the grain shuttle loader facility is producing for the area.
KTCI expects it will bring fiber optic connectivity to the few facility. The company also hopes to have a role in some of the other ground construction.
Company history
Bowar has worked at KTCI for nearly 40 years. He started in 1976 at age 14 when he sold two days of his services to the company as part of a school fundraiser.
"I must not have done a good job because I'm still here," he says, jokingly.
He started working for the company full time after he got out of high school in 1980. He had gone on to technical school with the understanding that upon graduating he would return to work for Lloyd and Delores Johnstone, owners of the phone company. Unfortunately, Mr. Johnstone was killed in a traffic accident a few months later, prompting Bowar to return to the company earlier than expected to assist Mrs. Johnstone.
Bowar and his family bought the business from Mrs. Johnstone in 1998. He now shares ownership with his wife, three of his children and longtime company employee Matt Collins, who has worked for KTCI for 26 years. Collins just joined the ownership group in January.
KTCI had only two employees when Bowar started working for the company full time. The company now has about 40 employees. It serves about 725 phone access lines. Excluding the school system, the phone company and Wheat Growers are the biggest businesses in town.
Bowar is active in both his industry and the community he serves.
He serves on SDN's Board of Directors and is the current president of the South Dakota Telecommunications Association. He also serves on the state boards of the Local Exchange Carrier Association and the Fiber Ring Revenue Pooling Association.
He also serves on the boards of the Mitchell Technical Institute and Dakota Prairie Bank. He also belongs to several community organizations, including the Kennebec Town and Country Club and the Presho Area Chamber of Commerce.
Gene Mertens, chairman of the Kennebec Town Board, calls Bowar an "outstanding asset" for the community.
"He does a lot for the town. He's a great town promoter. You can't find anyone better," Mertens says.