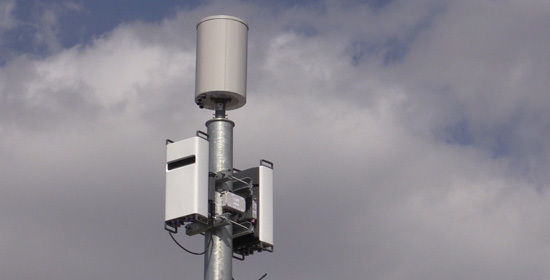 People in Brookings, including students, staff and visitors at South Dakota State University, can look forward to improved telecommunications in 2018.
As more people rely on connected mobile devices to stream video, browse the internet and communicate, the demand for bandwidth through cell phone macro towers also grows. Just imagine the demand during a well-attended university or community event, such as a packed football stadium or downtown celebration.
To enhance wireless services, carriers such as Verizon Wireless are deploying small cell networks in high traffic areas to boost connectivity for customers.
SDN Communications provides the infrastructure and connects the support poles to underground fiber for Verizon. The company put up 35 poles in the region this past year:
6 in Sioux Falls
8 in the Yankton area
9 in Aberdeen
12 in Sioux City
The new poles in Sioux Falls are at W.H. Lyon Fairgrounds, in the shopping area near The Empire Mall, and near SDN's headquarters in west-central Sioux Falls. [See video below]
The next community to get a boost? Brookings. The community will get a dozen poles in 2018: eight in the campus area and four downtown.
How it works
A steady rise in data generated by mobile technologies has increased performance burdens on mobile carriers. It also generates more work for service providers such as SDN, which provide backhaul services for wireless carriers to link the edges to the core of their networks.
Definitions can vary, but a small cell is generally a low-powered, radio-access node, or connection point, within a larger service footprint. Pole-like structures the size of street lights are placed in high-use areas to offload data traffic and reduce strain on voice traffic directed to the bigger towers.
Macro towers, which stand 200 feet or higher, might serve an area roughly as big as a county. Small cell poles are about 32 feet high and serve 750 feet around the pole, about the size of a city block, where demand for services is particularly high.
The poles are connected underground to a fiber network. Equipment to complement macro cell networks also can be installed on existing structures.
"More and more people are using cell phones for data use and less for phone use. That's what's driving the need for small cells. It's growing tremendously," said Jerry Andersen, outside plant engineering manager at SDN.
In addition to putting up poles for small cell services, SDN also did fiber-only connection projects during 2017.
The company is discussing and bidding on other possible projects for carriers.
Andersen expects work on small cell projects to become part of the work norm for SDN in the future.
---
Related Blog: For network building team, 2017 will be the year of small cell poles
Related Blog: Small cell technology helping improve wireless services
---
An economic impact
Vernon Brown, vice president of marketing and community relations for SDN, said the company is beginning to field inquiries from communities that want to know more about small cells and whether they need them.
"Communities are starting to see small cells not as a nuisance but as an economic driver," Brown said.
J.J. Anderson, wholesale account executive for SDN, hasn't seen a big jump yet in projects planned in areas such as southern Minnesota. But that might come as wireless carriers serving the region finalize their plans for 2018.
Verizon, a major carrier, focused much of its regional attention on the Twin Cities in 2017 in preparation for the Super Bowl, which will be held Feb. 4 in Minneapolis, he said.
"The conversations regionally and nationally are that small cells are going to be more predominant as the need for 5G and data offloads continue to grow," Anderson said.
5G is being developed globally as the next generation of wireless technology, and small cells will help deploy it. 5G and small cells will help improve services for an array of wireless devices used by business people, homeowners and consumers.
Read more about the efforts to help the United States lead the way in its deployment: 5G technology is in the works, and it will be a game-changer
---
Visit our Small Cell Resource Page
It includes:
Video: What they mean for you
Video: What they mean for public safety
Infographic
FAQ sheet