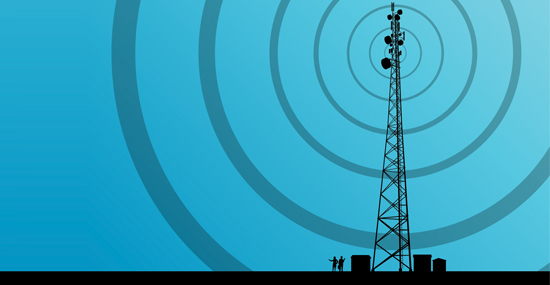 More so than many industries, the history of telecommunications has been filled with game-changing developments. Consider all that's happened in just the last couple of generations.
The breakup of the old Bell System in the early 1980s was big, for example. So was the commercialization of the Internet in the mid-1990s. Online phone calls started about a decade later.
Significant advances in telecommunications seem to come along every year or two, and every few years there's a substantial change.
The next game-changing development is on the way: the fifth generation wireless technology commonly referred to as 5G. The next-generation technology is expected to start becoming available in 2020.
4G – the present generation of mobile technology – has focused primarily on transmitting video. 5G will be about mobility and tying together smart devices that comprise what is often referred to as the Internet of Things.
"There are no standards yet for 5G. They're working on that so that everyone plays by the same rules," says J.J. Anderson, a wholesale account executive at SDN Communications in Sioux Falls. "It's a long, drawn-out process that takes years."
Anderson has been monitoring progress in the international race to develop and deploy of 5G. SDN, its members' companies, and other telecoms will have to adjust to the changes that come with 5G, just as they have adjusted to other advancements, he says.
Faster, more reliable distribution of electronic information to wireless devices would be enormously beneficial to public safety and emergency health providers, for example, Anderson says. Enhanced reliability also would greatly enhance machine-to-machine communications.
Billions of wireless devices are in use globally, and the total is steadily increasing, by most estimates. Meanwhile, U.S. businesses are competing with companies from around the world, particularly companies from Europe and Asia, to develop 5G. The economic consequences could be enormous.
Among those who want the United States to lead the way in the deployment of 5G is U.S. Sen. John Thune of South Dakota. He chairs the Senate Committee on Commerce, Science, and Transportation. Thune has been pushing legislation that will open up more spectrum to telecommunications companies to help develop 5G.
"Connectivity of the future is something we have to be prepared for, and we've got to get thinking about that today and plan for it," Thune said during a forum in April at Dakota State University in Madison.
A desire to help keep growing networks of interconnected devices secure is among the factors driving DSU's interest in 5G. DSU President José-Marie Griffiths wants the school and the state to be early adopters of 5G technology, and she'd like for South Dakota to become a national demonstration site.
Griffiths has been pursuing this goal in talks with government officials and telecom leaders. The project is called SD5G.
5G technology should be tested in rural locations such as the Madison area, Griffiths contends, not just in urban areas of the United States.
DSU is not working on the development of the technology, but "we see ourselves as being a very early, leading-edge adopter," she says.
Other early signs of the progression of 5G technology also are becoming evident in South Dakota, says Vernon Brown, vice president of marketing and community relations for SDN. The company is in the process of arranging for the installation of small cell poles in several South Dakota communities. Construction could begin within a few months.
Better tower coverage will be needed to keep digital communications advancing, especially in high-use areas such as fairgrounds, business hubs and college campuses. However, in many cases, 200-foot or 300-foot towers will not be necessary to provide the improved coverage. Small cell poles that stand 32 feet high will suffice.
Smaller poles will take some of the load off bigger macro towers by capturing and routing data directly to the tower's underground network. Helping wireless carriers such as Verizon with these so-called wireless backhaul services is among SDN's specialties.
SDN is a leading regional provider of broadband connectivity and cybersecurity services to businesses. For more information about the company and its services, see www.sdncommunications.com.