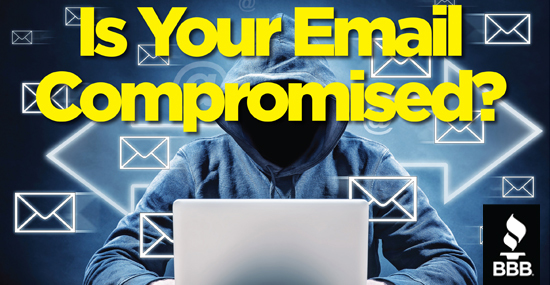 ---
Email scammers have bilked U.S. businesses and organizations out of more than $3 billion since 2016, according to the Better Business Bureau Inc., and the cyber thieves tried to get $23 billion more.
Business Email Compromise, or BEC, as law enforcement officials categorize email scams directed at companies, is a major threat to organizations of all sizes.
"This serious and growing fraud has tripled over the last three years, jumping 50 percent in the first three months of 2019 compared to the same period in 2018," according to a new study by the BBB. The study, titled "Is That Email Really From the Boss? A BBB Study of Business Email Compromise Scams," notes that 80 percent of businesses received at least one scam email during 2018.
The frequency and seriousness of email fraud have prompted organizers of the BBB's Seventh Annual Cybersecurity Seminar in Sioux Falls to focus this year's event on the problem.
"The theme of our conference this year is the No. 1 cyber business threat, Business Email Compromise," said Jessie Schmidt, state director for the BBB in South Dakota. "It affects businesses from large to small, from single-person shops to companies with thousands of employees."
The free seminar, which the BBB will host, will be held from 7:30 a.m. to 10 a.m. on Wednesday, Oct. 23, in Sioux Falls. It's at a new location this year: the Avera Pasque Place at 3901 W. 59th St. A continental breakfast will be available. The program begins at 8 a.m.

The seminar will be a great opportunity for representatives of businesses and other organizations to learn a lot in a short time about the threat of BEC and how to minimize risks.
The program will include three keynote presenters, plus the opportunity for audience members to ask questions. The speakers will be:
Jody Gillaspie, who works in consumer protection in the South Dakota Attorney General's Office.
Arica Kulm, a Dakota State University employee who works out of the Fusion Center in Sioux Falls.
Chris Aeilts, a sales engineer with SDN Communications in Sioux Falls.
The sponsors of the event are SDN Communications, Avera McKennan Hospital & University Health Center and the KELOLAND Media Group.
BEC typically begins with phishing tactics, such as sending deceptive emails to targeted people within an organization with the intention of tricking them to send payment or sensitive information.
Businesses need to be acutely aware of the threat of BEC and related crimes, such as extortion and wire fraud, Schmidt said.
"If they aren't, they are setting themselves up for losses. These aren't always things that you can insure against or that your bank will cover," she said.
The best way for businesses to protect themselves is to train employees at all levels to be aware of BEC threats, recognize fraudulent emails, and avoid engagement with suspected cybercriminals.
"Train, train, train incessantly, and then test," Schmidt said.
The BBB study also encourages businesses and organizations to take technical precautions, such as using multi-factor authentication for purposes such as email logins and other setting changes, as well as when verifying changes in information about customers, employees or vendors.
"There is a strong need for more international cooperation between law enforcement agencies," the study also notes.
SDN Communications is a regional leader in providing broadband connectivity and cybersecurity services to businesses in communities such as Sioux Falls, Rapid City, Worthington, and the surrounding areas.