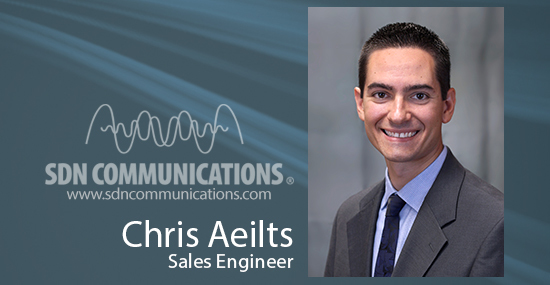 ---
SDN Communications takes a team approach in assisting businesses with complex cybersecurity needs, and Chris Aeilts has become an important part of the group.
Aeilts is a sales engineer—someone who helps bridge possible gaps in communication between the business professionals SDN serves and the technical experts SDN employs.
SDN offers a wide selection of cybersecurity solutions that their experts develop and deploy on the frontline. Account executives help their clients understand the right solutions to address their needs.
Because of the many cybersecurity services SDN offers, ranging from managed firewalls and DDoS protection to Remote Network Monitoring, one size does not fit all.
Cybersecurity services are customized to meet customer needs. And depending on the business, coming up with the best solution for a customer may require a small team of members who have a diverse mix of expertise.
"Where I come into play is in the coordination and integration of products we offer into the network as a whole, as well as fine-tuning solutions to meet the needs of the customer," Aeilts says.
Aeilts joined SDN in July 2015 as a commercial account executive. He became a sales engineer in January 2017. Transitioning to the job was a natural progression for him.
"Sales engineering is what I've always been part of. I've always been involved in the technical side," he says. "I like to get into the details."
He describes himself as an experienced technical solutions coordinator with a passion for integrating teams with effective communication. In other words, he tries to turn technical data into understandable and useful information to help projects get done.
He's earned several professional certifications including:
Level 3 Fortinet Network Security Expert
Certified IP Telecom Network Specialist (CIPTS)
MEF Carrier Ethernet Certified Professional (MEF-CECP)
When he initially joined SDN, he brought more than a decade of experience working with large electronics systems.
As a youth in Aberdeen, S.D., he played guitar and dreamed of becoming a traveling sound technician for a rock band. After graduating from Aberdeen Central High School, he studied electrical engineering for two years at the University of Minnesota. Then he began pursuing the electronic interests he'd been dreaming of.
He became an audio specialist at Wooddale Church in Eden Prairie, Minn., in 2002 and helped install, operate and troubleshoot audio-video systems at various campus locations that hosted corporate meetings and conventions as well as religious gatherings.
After three years, he moved on to Electro-Voice, which later was acquired by Bosch. He spent about nine years with the two companies in Burnsville, Minn. He was on the road much of that time, designing and troubleshooting concert sound systems and programming their computer-controlled user interfaces. He also taught corporate classes on how to install and use systems.
He served as the lead, on-site engineer for a project in New York that involved the expansion of the United Nations' conference facilities. The project took a year and a half to complete.
He also traveled for a year and a half as a technical trainer with TE Connectivity of Shakopee, Minn. He trained telecom operators on installing and configuring broadband wireless equipment.
Now he takes pleasure in working closer to home. He and his wife, Kristy, have two children: a daughter, Paige, and a son, Tucker.
Aeilts can be reached at 605-978-3538 or through email.
Updated 12/18