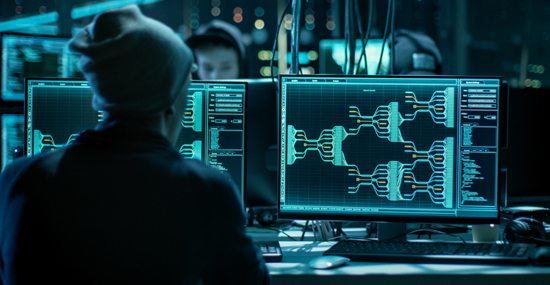 ---
Distributed denial-of-service (DDoS) attacks have become more sophisticated, which is forcing businesses in the region to deploy more advanced defensive strategies.
The upward evolution of DDoS risks is among the noteworthy highlights of SDN Communications' Cyber Threat Landscape Cybersecurity Intelligence Report for the second quarter of 2018. The report covers the three-month period from April 1 through June 30.
"Traditional DDoS attacks that focus entirely on volumetric disruption are no longer the industry standard," according to the report. "Mixing together variations of the three types of DDoS attacks means more sophisticated threats and, therefore, a need for more sophisticated security."
The report calls out three types of multi-vector attacks:
Volumetric attacks.
Protocol attacks.
Application-layer attacks.
DDoS attacks vary widely in size, duration and frequency. They're a popular weapon choice among cyber vandals and other online criminals.
Attackers typically band multiple, virus-infected, connected devices together and use them to send electronic signals to a targeted a website, email address or some other computerized program. The objective is to overwhelm and at least temporarily disable the targeted site.
These days, assailants don't have to be capable of designing and implementing computerized weaponry. They can purchase attacks on the Dark Web and carry them out over periods ranging from minutes to months.
SDN's quarterly report includes data collected in the delivery of SDN cybersecurity services, including Managed DDoS Protection and Managed Firewall. Businesses and organizations that don't subscribe to the free report by email are missing a good, regionalized roundup of threats and trends as detected, interpreted and reported by SDN.
The current report points out the volume of DDoS attacks in the region increased from the second quarter of 2017 to the same period in 2018, and 85 percent of them in the most recent quarter were multi-vector attacks.
In addition to data about DDoS attacks, the second-quarter report breaks down firewall threats and trends, including the high volume and types of malicious traffic and spam filtered out by firewalls managed by SDN for clients.
SDN's experience in helping businesses prevent DDoS and other attacks generally reflects national trends.
For example, Virginia-based Verisign, a prominent national company, reported in its latest DDoS Trends Report that 58 percent of the attacks from the fourth quarter of 2017 to the first quarter of 2018 used two or more attack methods. "Multi-vector attacks are the norm," according to the publicly traded company.
Financial services are the most frequently targeted business, reports Verisign, which promotes itself as a global leader in domain names and providing internet security. The company reported revenues of nearly $1.2 billion in 2017.
SDN is a Sioux Falls-based, regional leader in providing broadband connectivity and cybersecurity services to local businesses. Among other services, the company offers multiple levels of DDoS protection to clients. Depending on the level of service that clients prefer, they can receive alerts, round-the-clock support and scheduled reports.
For more information about cybersecurity services, call 800-247-1442 or visit that section of the website.