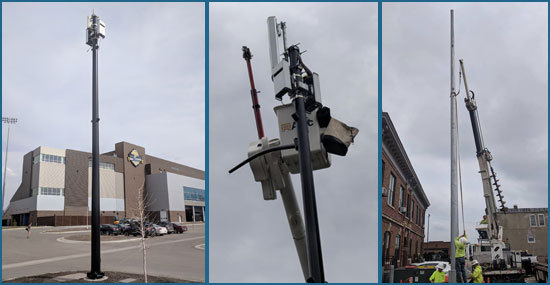 ---
Students and employees at South Dakota State University are among the places in South Dakota enjoying improved mobile phone coverage this new school year.

So are businesses and shoppers in downtown Brookings.
Crews installed a dozen new small cell poles in Brookings this year. Eight of them are on or near the SDSU campus, and four are in the downtown area. SDN Communications put up the communications equipment for Verizon service.
With the increased data usage on mobile devices, the public requires improved communications services. Small cell poles improve coverage in high-traffic areas by connecting underground to a fiber network within the larger service area of a bigger, macro tower. [Click the graphic below for a larger image]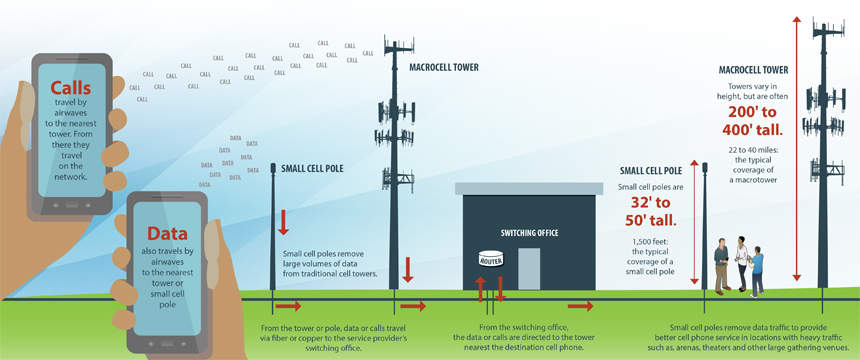 Brookings Municipal Utilities provides power to nine of the new small cell poles and assisted with siting issues. Russell Halgerson, manager of the BMU Electric Department, said the poles provide short-range, high-capacity coverage that should improve telecommunications services during events that draw big crowds to the downtown or campus areas.
"As people become more and more reliant on their cell phones, any improvement in coverage is good for everyone," Halgerson said. "But there will be challenges, such as right of way and siting issues."
As communications technology advances, the need for more poles, towers and other infrastructure will continue to increase everywhere. So, government agencies at the federal, state and local levels will have to work with communications companies to best serve the public.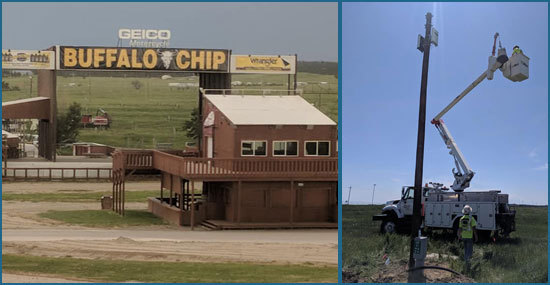 Brookings isn't the only community in the SDN region to benefit from the recent addition of small cell poles. Sioux Falls-based SDN added six units to the Buffalo Chip Campground near Sturgis in western South Dakota for use by Verizon. SDN also installed two Verizon-owned poles on the Western Mall campus in Sioux Falls.
Last year was busy on the small cell front, too. In 2017, SDN put up 35 small cell poles across the region, including six in Sioux Falls, eight in the Yankton area, nine in Aberdeen and 12 in the Sioux City, Iowa area.
Reliable wireless coverage is critically important to economic development, education and everyday living, and good coverage depends on high-quality infrastructure. Good infrastructure will become even more important as the region and the nation move from 3G and 4G communications standards to the coming 5G technology.
5G is being developed globally as the next generation of wireless technology, and small cells such as those in Brookings might help deploy it.
"SDN worked hard to make sure the local governments were satisfied with the location of the small cells," said Steve Meyer, executive vice president and general manager of BMU. "These small cells are probably a step toward 5G technology," he said.
Meyer's duties include overseeing Swiftel, the business branch of BMU. Swiftel, an SDN member company, is among the telecommunications providers that serve Brookings. In addition to providing telephone, TV and internet services to homes and businesses in Brookings, Swiftel provides Sprint wireless service along the Interstate 29 corridor from Sioux City, Iowa, to the North Dakota border.
Poles and towers can serve multiple service providers. Small cell poles installed by SDN typically are 32 feet high and serve a geographic area equivalent to a block or two. Macro towers, in contrast, might stand 200 or 300 feet high and serve an entire county.
"Installing wireless infrastructure at the precise location where it is needed improves the network and immediately benefits the community. To deploy these network solutions, a combination of existing infrastructure, and, in some situations, new pole infrastructure with the appropriate power and connectivity, are needed," according to a report by the Wireless Infrastructure Association.
"Attaching this equipment to poles involves close collaboration with local municipalities and utility companies. Local jurisdictions should make their infrastructure available for collocation so that multiple deployments can co-exist on one pole," according to the report.
SDN Communications is a leading regional provider of broadband connectivity and cybersecurity services for businesses. Learn more about small cells on SDN's informational page using the button below.