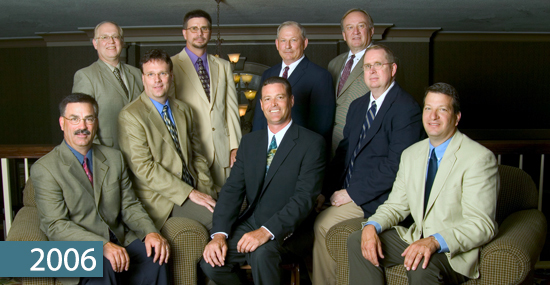 ---
Three decades of expanding services and market area have altered SDN Communications in a number of fundamental and obvious ways. One interesting, secondary change has been in how competitors perceive the successful company.
At some point during the past 30 years, SDN's regional status in the telecommunications industry subtly shifted from being a hunter to being the hunted.
"We've got a target on our back. We used to be the archers shooting at the targets. Now people are shooting back at us," said Bryan Roth, president of SDN's Board of Managers (pictured middle).
Operating as a target has made business a little tougher, Roth said, because Sioux Falls-based SDN can no longer sneak up on opportunities.
However, being monitored by other companies in the telecommunications industry is a good sign. Obviously, SDN and its member companies are doing something right.
Roth has had a front-row seat in the evolution of the company for two-thirds of its 30-year life. He has served on the Board for 20 years – the last 18 as president.
Roth also has been the general manager and CEO of TrioTel Communications in Salem for 20 years. More recently, he also became the general manager and CEO of Interstate Telecommunications Cooperative in Clear Lake.
ITC and TrioTel are among SDN's 17 member companies, which means they're part owners of SDN.
SDN got started in 1989 when some of the independent phone companies in South Dakota began connecting their networks to offer customers better long-distance service options. Today, SDN member companies provide a much wider range of telecommunications services to homes and businesses in the market areas.
The independent companies that are part of SDN today get along well, overall, because they have their own territories and don't try to steal customers from each other, Roth said.
SDN, meanwhile, serves as a centralized hub that helps member companies provide services such as internet connectivity and cable TV. SDN also has another role. It has become a regional leader in providing broadband connectivity and cybersecurity services to businesses.
"It would have been difficult for a company like TrioTel or ITC to get into the internet business without SDN. They were our connection to the world," Roth said.
In terms of geography, Golden West Communications in Wall is one of SDN's biggest member companies. Its market stretches across much of southern South Dakota, from the Black Hills to the Minnesota border. Long before SDN was formed, Golden West was the first company to stretch telephone lines across the remote plains of western South Dakota.
George Strandell was the general manager and CEO of Golden West from 2000 to 2008 (pictured top right). He served on SDN's Board of Managers during the same span.
His time on the board was a period of significant growth in business, recalls Strandell, who is retired and lives in Rapid City. He and his wife, Valois, spend their winters in Arizona.
"There were a lot of issues facing us in the future that had to do with regulations and competition. If we didn't kind of put our heads together and try to move down common pathways, we probably would get picked off (sold) one by one, as time went on," Strandell said.
Strandell said he has been out of the business too long to comment knowledgeably about current and future challenges and opportunities in telecommunications.
"With that in mind, I know the people who are there and some of the young folks, and they're really solid, forward-thinking people. Mark Shlanta (CEO of SDN) is an amazing guy, and some of these (local) managers are really good, too," Strandell said.
Roth also praises the work of Shlanta and SDN's current staff of about 140 employees. Shlanta and his predecessor, Rich Scott, were the right people to lead SDN, Roth said. Scott served as CEO from 1991 to 2000; Shlanta has been CEO since 2000.
Scott got the company off to a good start, and Shlanta has continued to elevate SDN, said Roth, adding that he's been honored to serve on the board for two decades.
Roth is not sure what the future will bring. The impact that advances in technology, such as 5G communications, might have on connectivity and service providers is not clear yet. But if past performance is a good indicator, SDN and its member companies should do just fine.
"It hasn't been all roses. We've had our ups and downs. But the ups have been more than the downs," Roth said.
SDN is a regional leader in providing broadband connectivity and cybersecurity services to businesses in communities such as Sioux Falls, Rapid City, Worthington, and the surrounding areas. Meantime, SDN member companies provide business and residential services across South Dakota and beyond.