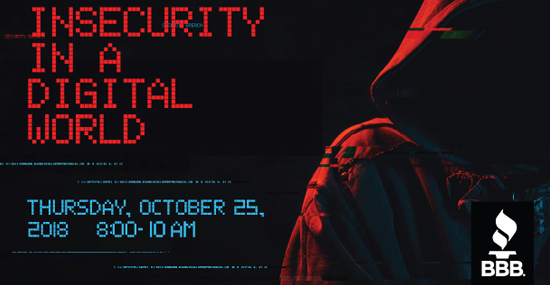 ---
Unfortunately, scams have become so common that a new rule of thumb has emerged for anyone solicited through electronic communication:
Unless you initiated the contact or know and have complete faith in a soliciting party, don't give out sensitive information or money. Hang up or ignore the link and move on.
If people want to follow up on a solicitation, whether for work or on their own, they should independently verify the electronic address or phone number of the solicitor and initiate communication themselves.
That's among the points that Chris Aeilts, a sales engineer with SDN Communications in Sioux Falls, is expected to touch on during a presentation at a free cybersecurity program designed for local businesses. The "Insecurity in a Digital World" event begins at 8:00 a.m. on October 25 at the Avera Prairie Center in Sioux Falls.
---
Event Follow-up Blog & Video of Presentations: DSU expert urges business victims to report cybercrime
---
While the seminar is free, registration is required. Use the button above to RSVP. A continental breakfast will be available, beginning at 7:30 a.m. Presentations will begin at 8 a.m. and wrap up by 10 a.m.
The Better Business Bureau Foundation is sponsoring the program in partnership with SDN Communications, Avera McKennan Hospital & University Health Center and the KELOLAND Media Group.
Aeilts is one of three cybersecurity experts scheduled to present. One of his main suggestions is less intuitive than cutting communications with possible scammers. He suggests that businesses watch for possible malicious intent rather than try to figure out what tactics scammers might use because cybercriminals' strategies change.
"Training for today's tactics or even surmising what tomorrow's tactics may be will fall short the day after tomorrow," Aeilts said. "The skill for the individual that is going to be most useful is the ability to realize the potential for malicious activity."
If businesses focus on recognizing areas with the potential to be abused and maintain some agility, they can prepare to address issues, regardless of the tactics they might be up against.
Other speakers will include Jared Ducommun, a risk management consultant with Howalt+McDowell Insurance, a Marsh & McLennan Agency LLC Company. Among the insights that Ducommun will share is survey information that highlights the gap between businesses' perception and understanding of cyber risks.
Ducommun says the data will provide business people insight into how their peers see the cyber world. It also will help them decide what they should or should not be doing.
Trevor Jones, the former South Dakota Cabinet Secretary for the Department of Public Safety, joined Dakota State University as part of the Madison Cyber Labs digital forensics, or DigForCE, lab on October 10th. He is the mystery guest who will talk about cybercrime in South Dakota.
This will be the sixth year the BBB has hosted a cybersecurity event. The program is specifically designed for businesses, which have an increasing need for information, said Jessie Schmidt, BBB state director for South Dakota.
"Business vulnerabilities continue to expand. The ways cybercriminals can infiltrate your business continue to change," Schmidt said. "What are things you can do to protect yourself? Taking two hours for an event like this is a valuable use of your time."
Collectively, the speakers at the BBB event will help business people identify possible vulnerabilities and devise training for employees to help stop hackers before they infiltrate company resources. That is very useful information, especially for small and midsize businesses.