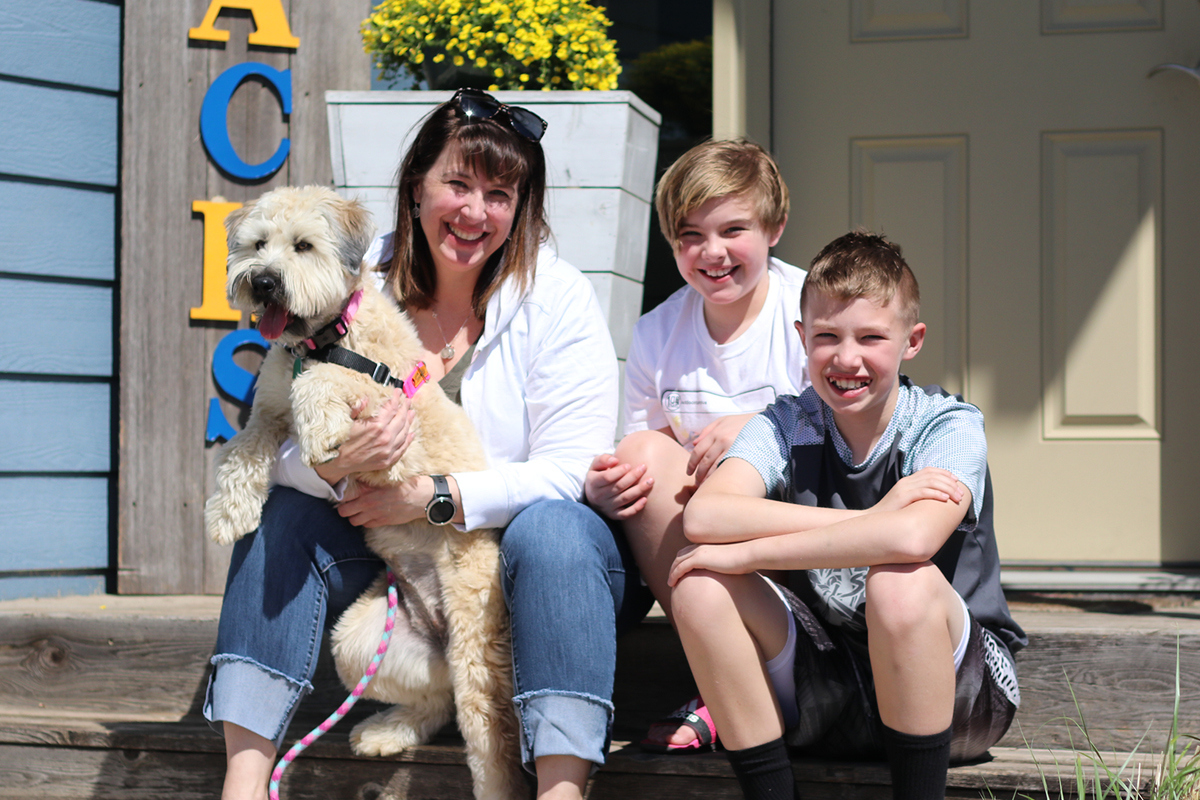 Please welcome Amy Bennett Smolik to SDN Communications' blogging team.

Amy is joining me as a writer and contracted service provider for SDN. Like me, she'll assist SDN's full-time marketing staff, which is led by Vernon Brown, the company's vice president of marketing and community relations. Vernon and other members of the marketing staff also contribute to the blog.
Sometime in the undetermined future, I'll fade into retirement from this duty to pursue new adventures. Amy will remain to help keep you updated on the latest news at SDN and telecom industry. She will be a great fit.
You might already know her. She's been a marketing and communications professional for 20 years in Sioux Falls, which she considers her hometown.
"I didn't move here by choice, but I've certainly stayed here by choice," she said.
Her father, who was in the hotel management business, moved the family to Sioux Falls from the Twin Cities when Amy was in high school. After she graduated from O'Gorman High School, she earned a degree in journalism from South Dakota State University in Brookings. Then she spent a year as the news editor at a weekly newspaper in Freeman, S.D.
She returned to Sioux Falls in 1999 to begin what would be 17 years in marketing and communications with the Sioux Falls Area Chamber of Commerce (recently re-branded as the Greater Sioux Falls Chamber of Commerce). From there, she joined the staff of Augustana University, where worked in marketing and communications for a year and a half.
For the past two years, she has been the Lake Lorraine community director for Friessen Development. Lake Lorraine is a lifestyle center in western Sioux Falls that includes retail and residential facilities. She will continue her work there as she takes on part-time duties with SDN.
Vernon looks forward to Amy helping tell SDN's story.
"Like Rob Swenson, Amy Smolik is known in the business community. For Rob, it was his long tenure at the Argus Leader and Sioux Falls Business Journal; for Amy, it's her considerable time marketing the Sioux Falls Area Chamber of Commerce," he said. "Amy is connected in the community and a good storyteller."
Amy and I first met in 1998 in the aftermath of a devastating tornado in Spencer, S.D. I was among the reporters who covered the disaster for the Argus Leader in Sioux Falls. She covered it for the Freeman Courier. It was a pleasure to continue to interact with her professionally during her years at the Chamber.
"I'm a jack of all trades, and master of none. But I've gotten good at asking questions," she said. "I look forward to working with SDN and its member companies. I look forward to helping tell their story."
She and her family live in Tea. She is the widowed mother of two children – an 11-year-old son and a 9-year-old daughter. A Wheaten Terrier named Sasha is also a treasured member of the family. Amy currently works mostly from home, as do many of our colleagues at SDN, and she helps educate her children.
Under normal conditions, she would enjoy driving her kids around to participate in sports and other activities. She also enjoys reading, traveling, live music, and yoga. Of course, the COVID-19 pandemic has altered life for everyone in the Sioux Falls area, at least for now. Many youth programs have been suspended, Amy's gym has closed, and her networking groups aren't meeting in person.
She looks forward to the day when we will be able to return to more social work and living environments. Regardless of the circumstances, she sees working for SDN as an opportunity to continue telling stories about businesses and people behind the scenes. I think she'll do great work.
SDN is a leader in providing business internet, private networking and cloud connectivity to businesses and organizations in communities such as Sioux Falls, Rapid City, Worthington, and the surrounding areas.