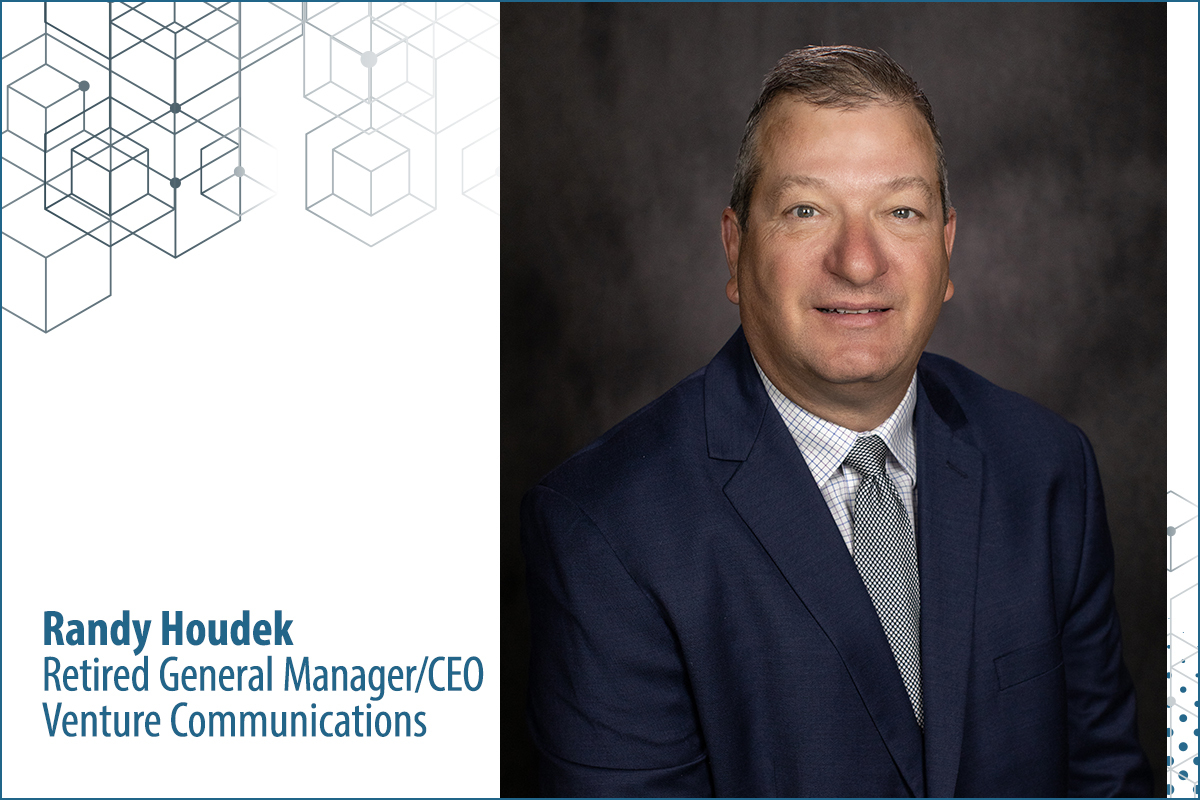 When Randy Houdek retired as CEO and general manager of Venture Communications Cooperative at the end of November - after 33 years with the company - the state lost a respected leader with deep influence in the telecommunications industry.
"Randy is one of the most gifted leaders I have ever met," says John Langer, current president of Venture Communications Cooperative Board of Directors. "His understanding of the tough issues and ways to work through them has been incredibly important to Venture and its board of directors."
Harry Thomas, who served on the Venture board for 40 years and was former president of the NTCA (national Rural Broadband Association), says Houdek's legacy is his leadership success in bringing connectivity not only to the Highmore area but the entire state.
"Randy kind of drew people to him," says Thomas. "He is very knowledgeable, and people respect him."
Thomas was a member of the Venture board of directors when Houdek was hired as a computer system manager directly out of college in 1986. At the time, Venture was known as Sully Buttes Telephone.
Houdek, a Highmore native, quickly rose in the company, taking on the role of general manager in 1997.
Thomas says Houdek's influence and commitment to the telecommunications industry didn't stop with Venture. His willingness to serve statewide and nationally on countless boards deepened his influence within the industry.
Houdek served on the South Dakota Telecommunications Association board for 23 years, serving as president, vice president and a member of countless committees. He's currently a member of the SDTA Executive Committee.
It doesn't stop there. He has been a member of the South Dakota Network since 1998, served on the Local Exchange Carriers Association, the Fiber Ring Revenue Pooling Association and has been a member of the NTCA Government Affairs Committee since 2013. In 2014, the NTCA awarded Houdek the Grassroots Advocate of the Year award.
Since 2005, he has served as a National Exchange Carrier Association board member, taking on the roles of chairman, vice chair and committee member on a slew of committees. And from 2005 to 2017, he was a member of the national Rural Telecommunications Cooperative board, serving as both chairman and vice chairman.
"He became very well respected on a national level," Thomas says. "He knows literally people from every state (that have telephone co-ops). He led by what he did because he was willing to put in the time and the effort."
Houdek gained a reputation for his willingness to do what it took to further the telecommunications industry statewide and nationally, says Shirley Bloomfield, CEO of NTCA.
"There was also no one more willing to sit around the government affairs table to not only serve, and then lead, but in addition to sharing his perspective and political instincts, he was always willing to make that hard call to Sen. John Thune on topics key to this industry, and I don't think many others in the industry realize just how much that South Dakota leadership from Randy, Denny and others helped to craft the certainty and support that the industry has today, particularly when it comes to universal service," Bloomfield says.
Ryan Punt, CEO of SDN Communications, couldn't agree more. "Randy has provided outstanding leadership and incorporated visionary principles that have positioned South Dakota as a leader in delivering fiber-based telecommunication services across the state of South Dakota," Punt says.
Venture Communications is one of SDN's 17 member companies.
Houdek has been an SDN board of managers member since Jan. 1, 1998.
SDN thanks Houdek for his years of dedicated service and leadership to the telecommunications community both in South Dakota and across the country. We wish him well in his retirement.
Randy Houdek has served on countless boards, committees and associations during his career, including:
South Dakota Telecommunications Association (SDTA):
Board Member: 1999 - Current
President: 2022 - 2006
Vice President: 2021 - Current
South Dakota Network (SDN):
Board Member: 1998 - Current
Vice President: 2021 - Current
Secretary/Treas: 1998 - 2021
LECA (Local Exchange Carriers Association):
FRRPA (Fiber Ring Revenue Pooling Association):
NTCA:
Government Affairs Committee: 2013 - Current
2014 Grassroots Advocate of the year
NECA
Board Member: 2005 - Current
Chairman: 2017 and 2022
Vice Chair: 2016
Committees: Audit, Average Schedule (Vice Chair), Budget & Finance, Common Line (Vice Chair), Compensation, Corporate Governance (Chair), Election Executive (Chair and Vice Chair), Subset 3 Nominating, Sub Committee (Chair), and Traffic Sensitive (Chair)
NRTC:
Board Member: 2005 - 2017
Chairman:2014 - 2016
Vice Chair: 2011 - 2014