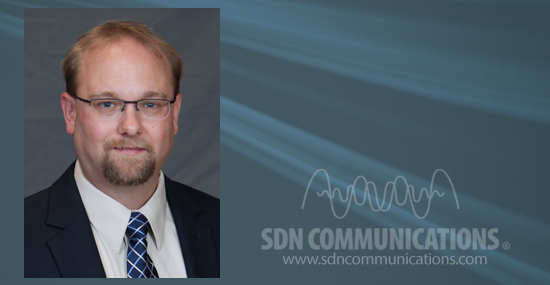 Theron McChesney has made a career largely out of compiling information and identifying the value in data.
As a business intelligence specialist at SDN Communications, he looks for ways to turn data into actionable information and put it to good use. His objectives include producing good market and product research and helping improve SDN's business processes through analytics to enhance the customer experience.
The former political consultant started with SDN in April 2014 as a marketing research specialist and in January 2016 became a business intelligence specialist. He joined SDN after working about for several years in the credit card business and more than a decade in political consulting.
"I cut my teeth in several different fields, but they all seem to center around information and data," he says.
Research skills are transferrable, regardless of whether a person is exploring public sources of information to help a candidate, organization or a company, he says.
"It's more about critical thinking and relating the data," he says.
The Sioux Falls native began his career doing campaign field work in 1998 after graduating from South Dakota State University with a degree in political science. He also has a degree in business information systems, which he earned in 2014 at Dakota State University.
McChesney spent 1999 to 2001 at the Citibank credit card center working in sales, customer service and supervisory work before he returned to political work for national candidates and officeholders in 2002. As a consultant in national elections, his duties included researching a candidate's opponent or the candidate's own public record.
From 2005 through 2010 he worked as consultant for Hildebrand Strategies in Sioux Falls and provided planning, operational and technical expertise to clients. In 2010, he cofounded Ground Game Inc., a Sioux Falls business that worked with businesses, nonprofits, political campaigns, and candidates.
Among the issues he worked on at Ground Game was the indoor pool in central Sioux Falls. He helped proponents of an indoor pool prevail in a citywide election. The campaign wasn't big and was executed mostly by volunteers, he says, but there was a challenge involved. To clear the way for the indoor pool, voters had to say no to plans for an outdoor pool.
The opportunity to continue to use his experience and expertise in research attracted him to SDN, a leading regional provider of broadband connectivity, cybersecurity services and other telecommunications solutions for businesses and institutions. SDN is always looking for ways to improve its processes and services.
Although his title has changed since he started with SDN, McChesney continues to do market research as well as business intelligence. A large, note-filled whiteboard and big sheets of white paper filled with more notes hang on the walls by his corner desk as SDN headquarters.
Among recent projects, he has been sorting through and making sense of data from one of SDN's newest cybersecurity services – Managed DDoS Protection, which provides mitigation for Distributed Denial of Service attacks. DDoS attacks from cyber criminals can disrupt business services such as Internet, email and websites.
SDN documented 4,230 high alerts, or likely DDoS attacks, on its regional customer base in 2016. And DDoS is just one of the cyber threats that businesses and institutions face every day.
Almost every business relies on the Internet or broadband connectivity is some way, McChesney says, and his job is to help them maintain a high rate of uptime without having to think much about it.
Away from work, he keeps his hands busy. He enjoys gardening and, recently, has taken a liking to woodworking. He and his wife, Jessica, who is a teacher, have three young children.
Get to know other SDN employees who often share their expertise with customers, organizations and through these articles in the employee section of this blog.