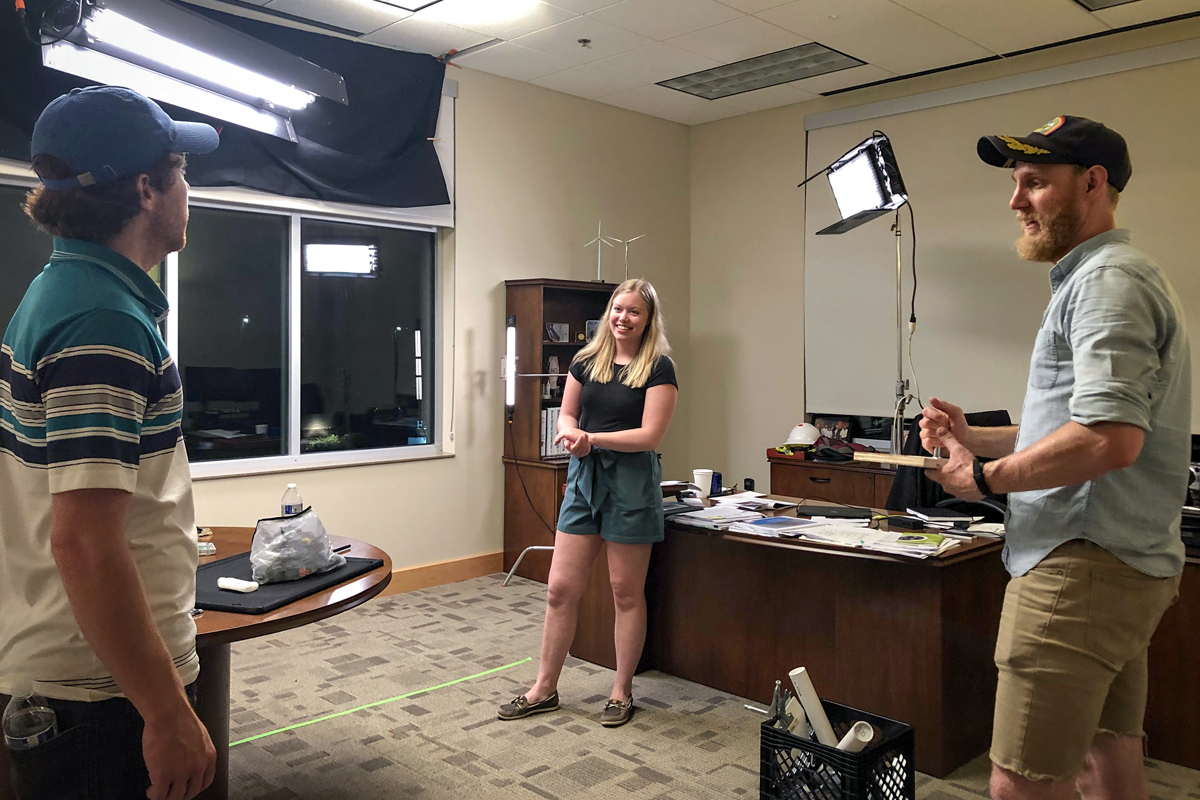 SDN Communications' Cybersecurity Awareness campaign, taking place throughout the month of October, is the product of two summer interns, working with the marketing department.

Kendall Fouts and Chandler McGrath were two of eight area college students who interned at SDN Communications in 2020, working in a variety of departments. This annual program is a win-win for students, who gain experience and sometimes college credit; SDN is able to create relationships with potential future employees or customers. 2020, however, provided some different challenges as many of the interactions that took place between students and supervisors were all done virtually.
SDN employees began working remotely in March. When interns joined the team, they rolled right into the remote work plan being used for all employees, said Vernon Brown, vice president of marketing and community relations at SDN.
"We had a number of our interns hired by the time the pandemic hit, and we felt an obligation to them, especially since some of them need internship credits to graduate," Brown said. "We knew it would be odd with no in-person contact, which is part of the learning and communications experience, but we still received good reviews from them."
A South Dakota State University senior studying advertising and Spanish, Fouts was grateful to have the internship experience despite the pandemic. Before working at SDN, Fouts was on the fence about whether she'd seek to join an advertising agency or to do in-house marketing for a company after graduation. From her experience this summer, she's leaning more toward in-house as she's able to dabble in many different areas.
Fouts extended her internship and is still working remotely from Brookings. This month she is part of the team executing the cybersecurity campaign she worked on over the summer.
Supervising interns was also different. Marketing Specialist Nikki Gronli supervised Fouts and McGrath in the marketing department.
"Managing the intern program remotely forced me to be more organized but also more nimble overall," Gronli said. "When handing off projects, I really paid attention to all the details. Since interns were no longer able to just turn around and ask questions I was trying to think ahead and avoid anything that might slow them down."
Being flexible also paid off when projects and events that past interns have been a part of the planning and executing evolved to a virtual setting or went away altogether, Gronli said.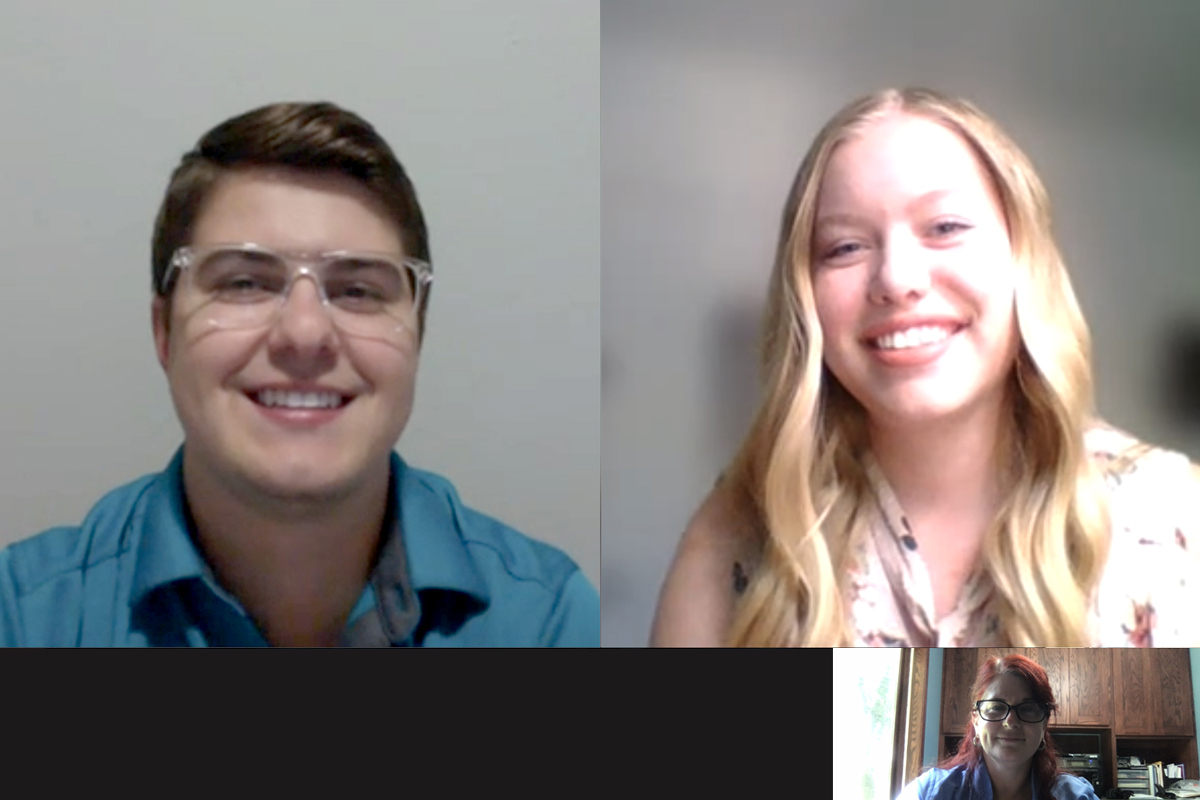 SDN staff relied on video conferencing and chat daily, Gronli said. Technology was key to sharing documents, visuals and presentations amongst team members.

"As someone who likes to teach during these internships, it was difficult to not be in the room with the interns. The way I taught this year changed to more verbal communication," Gronli said. "It is also a unique situation to not have the moments on Monday morning where you hear about their weekend, learn more about their life outside of work. Those organic conversations just don't happen in this new virtual world. I sometimes feel remote work leads to more focused work, but less relationship building for this reason. It isn't as personal."

Adapting to a remote internship was easy for Zurab Lomidze, who worked in the marketing department's business intelligence sector. He's studying business administration and computer information systems at Augustana University. Lomidze, who is from the republic of Georgia, said he wanted to intern at SDN because he's always been interested in how internet providers work.
"Remote interning was fun and it was less stressful for me, since I do not have a car," Lomidze said, "but I definitely missed out on meeting people face-to-face and networking myself as well as I wanted. I personally think remote working has affected my productivity in a positive way."
Lomidze found his work tasks to be enlightening.
"It was interesting for me to understand how industries are divided in the U.S., using SIC codes, and I think it will help me in the future," he said.
Lomidze isn't sure where he wants to live or work when he graduates in 2022, but hopes to be somewhere in Europe.
SDN sees internship benefits in many departments by creating a pipeline of future employees — several past interns have gone on to become full-time employees. While Brown has had interns in the marketing department for nearly two decades, the company's formal internship program has been around for nine years. Interns also help diversify the workforce, Brown said, and are treated as regular employees.
Lomidze would echo that based on his internship experience.
"Integrating myself in SDN was super easy for me because of my supervisors. We had picnics a few times while also socially distancing, and I was treated as one of them from the beginning," he said. "I would recommend SDN to anyone, not just students who are looking for an internship. People working there are super-intelligent and creative, and most importantly, friendly."
The 2020 summer crew of interns included eight college students. They're listed below with the department in which each worked and the school from which they came.
Kendall Fouts (Marketing). South Dakota State University in Brookings
Yeabsira Lemma (Software Development). Augustana University.
Zurab Lomidze (Business Intelligence). Augustana University.
Chandler McGrath (Marketing). South Dakota State University.
Michael Moore (Network Surveillance Center). Dakota State University in Madison.
Trevor Schmidt (returned to the Network Operations Center). Dakota State University in Madison.
Carter Thompson (Network Operations Center). Dakota State University in Madison.
Ben Young (Network Surveillance Center). Dakota State University in Madison.
Students interested in applying for internships with SDN Communications should monitor the Careers page for opportunities.