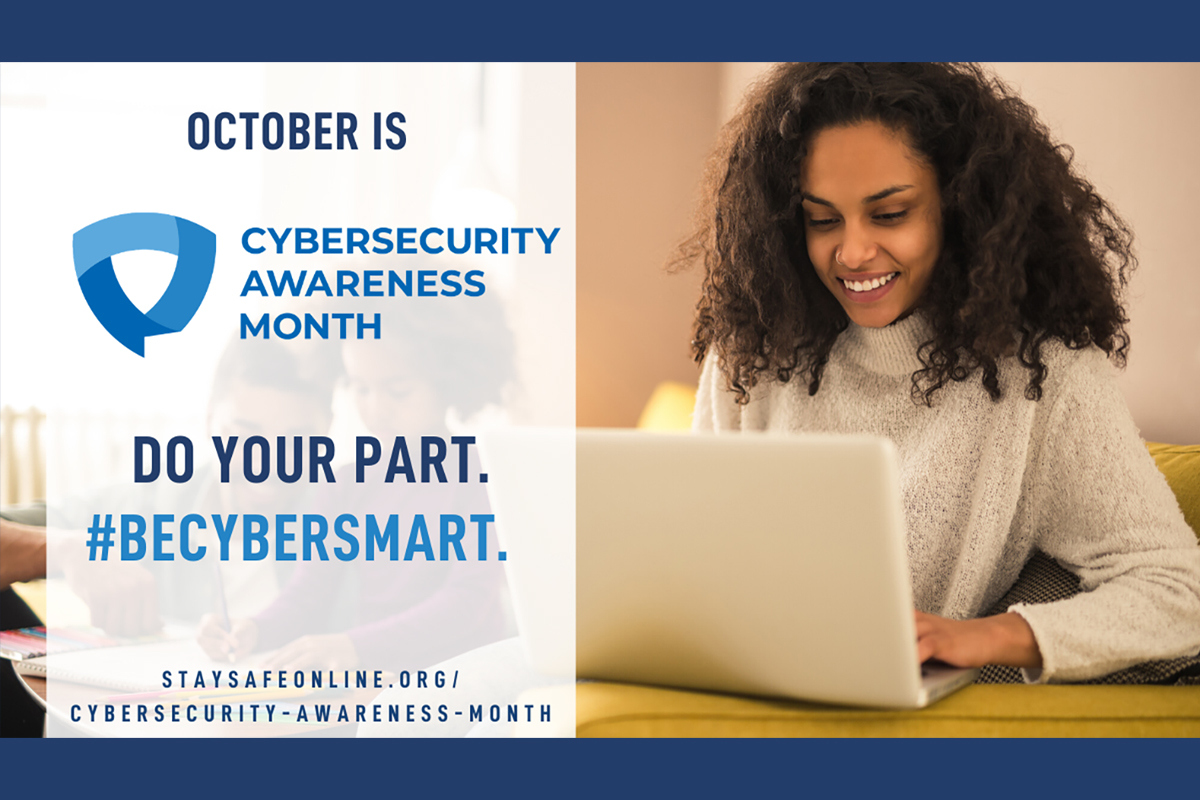 It's not an exaggeration to say that the integrity of the nation's networking infrastructure plays a huge role in the well-being of the U.S. economy and safety. The integrity of democracy, itself, depends heavily on secure forms of electronic communication.

That's why National Cybersecurity Awareness Month is a special observation in October that's very worthy of attention.
The public-information campaign is co-lead by the Cybersecurity & Infrastructure Security Agency (CISA), a federal agency that leads U.S. efforts to understand and manage risks to critical infrastructure, and the National Cyber Security Alliance (NCSA).
CISA works under the oversight of the U.S. Department of Homeland Security. Its National Risk Management Center works with the private sector and other stakeholders to identify, analyze, prioritize, and manage risks to vital infrastructure. That includes cyber as well as physical infrastructure.
Protecting infrastructure such as bridges and electrical grids are challenges that have been around for long time. In recent decades, the growth of electronic networking has increased such challenges.
CISA has a tough job.

The threats we face ­- digital and physical, man-made, technological, and natural ­­- are more complex, and the threat actors more diverse, than at any point in our history.
The overarching theme of this year's campaign is "Do Your Part. Be CyberSmart."

SDN Communications will participate in the campaign with a series of blog articles that include big-picture observations and cybersecurity suggestions from experts. Among the SDN experts who will share insights is Ryan Dutton, commercial & enterprise sales manager.
Dutton points out that businesses have a unique responsibility to educate employees about cybersecurity because workers comprise an organization's first and primary line of defense to cyber threats. Employees should be trained on how to react appropriately to suspicious emails or links, for example.
Dutton also encourages companies to foster an environment in which employees don't hesitate to direct security-related concerns or questions to their in-house or outsourced security experts.

An important step consumers can take is to exercise caution in selecting the devices they connect to their home networks, Dutton said. Conduct research. Look for sellers and manufacturers that have good reputations regarding cybersecurity.

"If they've never heard of them and the price seems too good to be true, I'd be hesitant to put that kind of device in the home," Dutton said.
In a column that will wrap up this special series of articles, Dutton will talk about the future of connected devices and technological advancements.
To lead it off, Chad Pew, manager of IT at SDN, will review some important steps people should take to keep their devices protected.
In another installment, Jake VanDewater, vice president of engineering, operations and IT, will talk about securing devices at home and work.
I'll cover additional topics in columns during the special month - we hope you find value in the information.
Participating in the public-awareness campaign is a way that SDN, as a company, can help the increasingly interconnected region and world become a little bit safer and more resilient.
SDN is a leader in providing business internet, private networking and cloud connectivity to businesses and organizations in communities such as Sioux Falls, Rapid City, Worthington, and the surrounding areas.