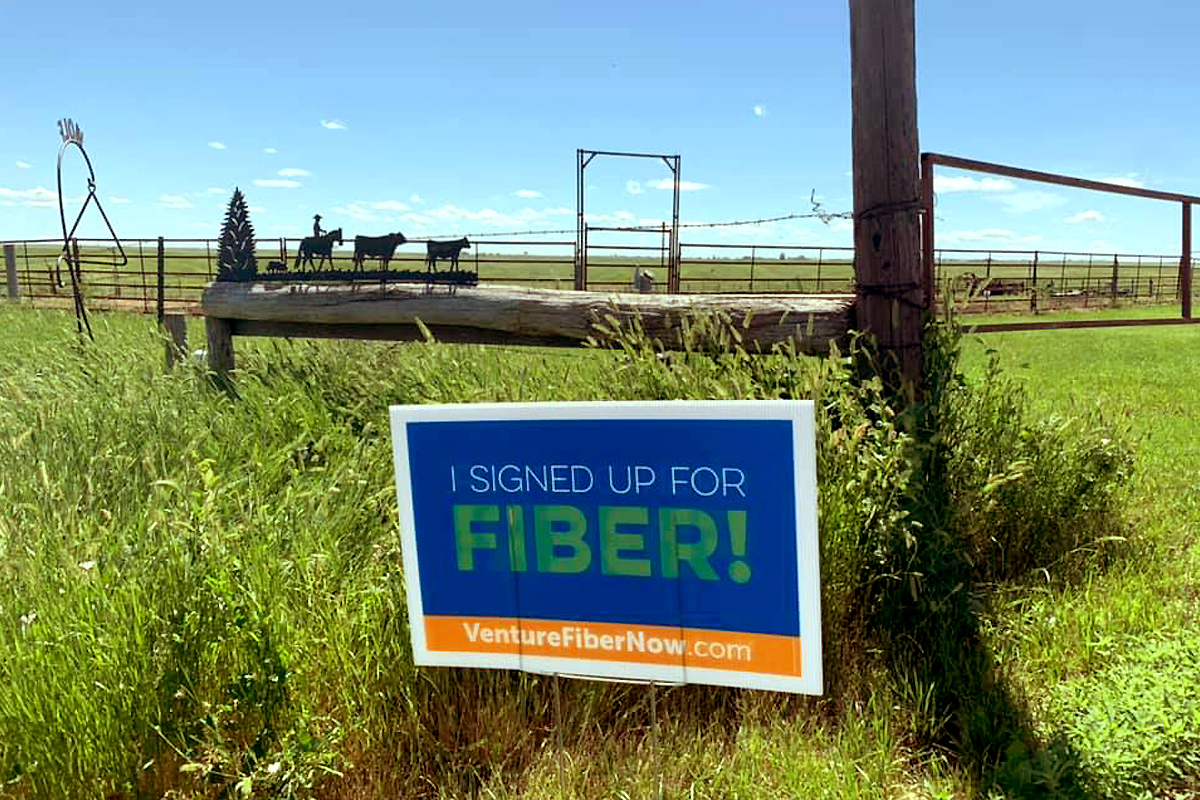 The past few months have underscored the importance of good, broadband connectivity to everyday life in South Dakota and beyond.

With COVID-19 lurking nearly everywhere, access to high-quality internet has enabled a lot of people to work from home. When schools closed, good connectivity helped students stay in contact with teachers and classmates. Good connectivity also has been a valuable pathway to emergency information and entertainment for locked-down families.
It's extremely important that the state and telecommunications industry continue to close gaps in connectivity that have left some rural areas of South Dakota underserved. A second round of grants from the Connect South Dakota broadband program will help plug some of the holes.
Earlier this year, Gov. Kristi Noem and the South Dakota Legislature approved investing $5 million to help businesses improve broadband services in underserved areas that are costly to reach. The state money will be combined with $6.5 million in pandemic relief funding from a federal program to more than double the grant fund.
In addition to the $11.5 million in grant funding, telecoms in South Dakota will invest approximately $18.5 million of their own money in grant projects. That will result in broadband improvements totaling roughly $30 million.
Noem announced in late June that grants were being awarded for 14 projects across South Dakota.

Overall, the grant results reflect the strong desire of SDN member companies, affiliates and other companies to keep improving access and the quality of broadband services in South Dakota.

Venture Communications, an SDN member company, received this year's biggest grant – more than $2.8 million. It will be paired with a company investment to keep expanding and improving broadband services in northern and eastern Hughes County, near the state capital of Pierre.
Venture, which is based in Highmore, also received the largest grant in last year's Connect South Dakota program – more than $2.7 million. That funding also was used to improve services in rural Hughes County, where a lot of the growth in central South Dakota is happening.
"It's exciting to move into more of a growth area. Some rural areas are losing population. So this is fun and exciting for us," said Randy Houdek, CEO and general manager at Venture.

Pre-installation work for this year's project could begin in early August, Houdek said.
Venture currently serves more than 30 communities in central and northeastern South Dakota with high-speed internet, digital cable TV, and phone service. It has more than 9,000 broadband customers and nearly 6,000 video/cable customers.
Alliance Communications of Garretson is among the other SDN member-owner companies and subsidiaries that received a grant this year as part of the governor's broadband initiative. Alliance will receive $766,800.
Ross Petrick, general manager and CEO at Alliance, said this year's grant will help improve connectivity and services in areas around Rowena area and east of Renner.

"We don't have service in those areas today, but in many cases, we're across the street," Petrick said. "We're happy to provide the service."

Work to connect new customers is expected to begin in August or September. Most of the new customers are expected to be hooked up over the winter.
The biggest challenge to the timely completion of the project might be getting supplies, Petrick said. That's because of the manufacturing and distribution issues the pandemic has created nationally.
Last year, Alliance received a grant for $269,428 to help improve services in other rural areas near Sioux Falls.
Following is a list of the other telecoms that have been awarded grants from the state this year. Also listed is the project area and amount of the grant.
Beresford Municipal Telco. Beresford. $988,000
Faith Municipal Telephone. Faith. $493,163
Midco Communications. Belle Fourche. $190,620
Midco Communications. Sioux Falls. $286,474
Northern Valley Communications (NVC). Mina. $933,832
Northern Valley Communications (NVC). Redfield. $1,472,831
Santel Communications. Rural Davison County, Phase 1. $983,533.50
Santel Communications. Rural Davison County, Phase II. $1,056,533.50
Valley FiberCom. Flandreau. $455,648.50
Vast Broadband. Rapid City. $295,595
Vast Broadband. Flyger, Monroe and Volin, Yankton County. $605,755.
West River Cable Television. McIntosh. $187,250
All of the recipients except Midco and Vast are affiliated with SDN, which has 17 member companies in South Dakota. SDN member-owner companies collectively serve about 76 percent of South Dakota's geography with a variety of residential and business telecom services, including high-speed internet.

SDN's statewide fiber network helps connect member companies to the rest of the world. In addition, SDN provides business-class services to major enterprises, government agencies and wireless networks in South Dakota and neighboring states.
SDN is a leader in providing business internet, private networking and cloud connectivity to businesses and organizations in communities such as Sioux Falls, Rapid City, Worthington, and the surrounding areas.