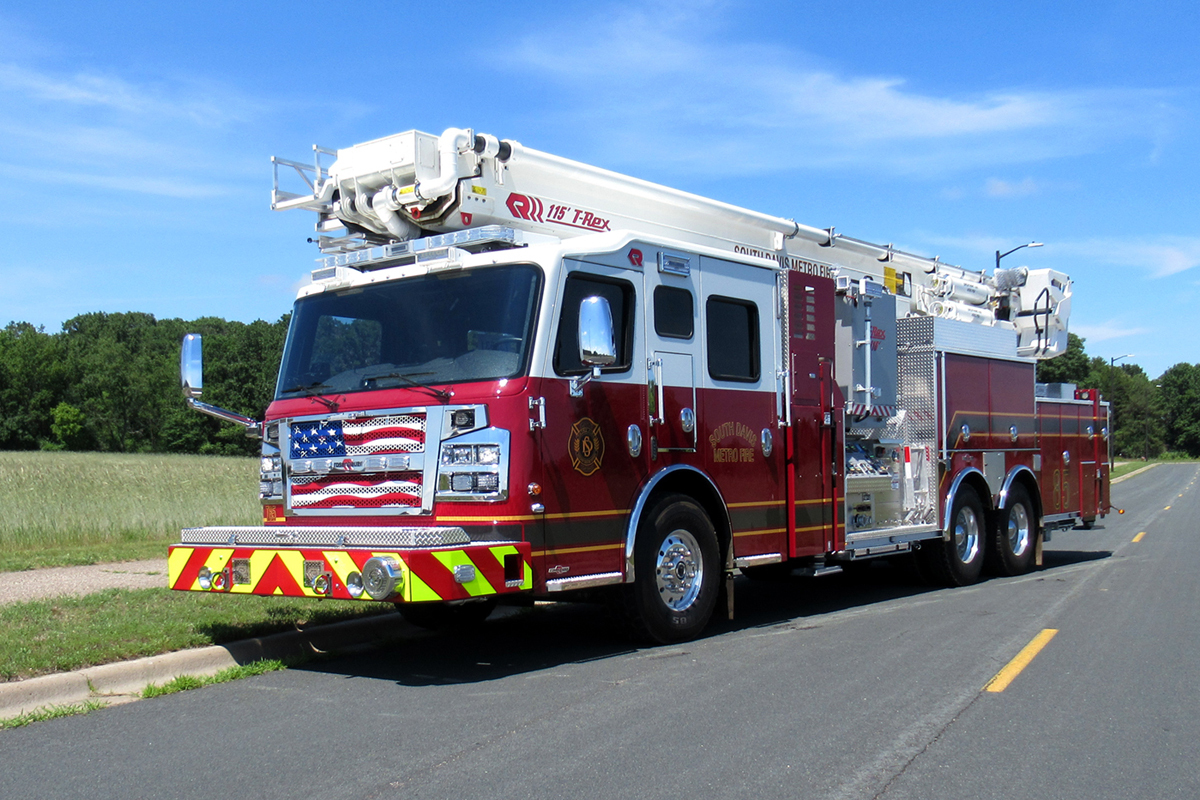 The impact of technology deployed and maintained by SDN Communications and an SDN member company, Alliance Communications, reaches far beyond their corporate bases in South Dakota, Chris Blackwelder points out.
People around the world rely on electronic information that Sioux Falls-based SDN and Garretson-based Alliance help Blackwelder's employer move and protect.
Blackwelder is the IT director for Rosenbauer America, a leading global producer of fire trucks. He is based at Rosenbauer South Dakota, which is in Lyons and is one of Rosenbauer's four companies in the United States. Two of the others are in Wyoming, Minn., and one in Fremont, Neb., Rosenbauer America also has about 45 dealerships.
SDN and Alliance have effectively provided Rosenbauer South Dakota with telephone, internet and related communications services for decades, and the company's need for networking services continues to expand.
Blackwelder says SDN helps Rosenbauer effectively manage its growth and that relationships like that are important in business.

SDN and Rosenbauer have that kind of relationship.
Blackwelder first visited Rosenbauer America in 1999 as a consultant. In 2006, he became the company's first, full-time IT staff member. He now oversees an IT staff that totals six and a half positions, including his job.
Rosenbauer America employs 900 people in North America, including approximately 350 in Lyons, which is 12 miles from Sioux Falls. Most of the members of the IT staff are based at the South Dakota and Minnesota sites.
An affiliated company has extensive business operations in Europe. Rosenbauer International is based in Austria. So Blackwelder has to keep in touch with his IT counterpart in Austria, too.
Rosenbauer America provides firefighting vehicles to customers ranging from small communities to large fire departments.
"Our fire trucks are sitting in fire stations across the Middle East, across South America, all the way across North America. We have dealers that are depending on us for data and information across the globe," Blackwelder said. "So this SDN technology we're using, whether it's SD-WAN, Managed Firewall, VPN connections, this is truly bringing the world of Rosenbauer together far beyond the reaches of Sioux Falls."
In 2014, Rosenbauer explored the need for Managed Services to keep its routers up to date and running smoothly. Other local and national companies were considered, but Rosenbauer went with SDN. It knew SDN could be trusted to do good work and would provide good advice, Blackwelder said.
If Rosenbauer is experiencing trouble or is worried about a problem, Blackwelder likes being able to call experts at a local company that he trusts and not have his calls routed to unknown locations, especially when cybersecurity is a concern.
When speaking last October at the Siouxland IT Symposium in Sioux Falls, he advised companies that are evaluating managed service providers to assume nothing and do their homework. Ask for detailed information, for example, and ask for proof of claims.
SDN has done that to Rosenbauer's satisfaction, and Rosenbauer continues to expand the services it receives from SDN and Alliance.
Rosenbauer expanded from SDN Managed Router Service to Managed Firewall Service, to more extensive firewall protection, to MPLS and SD-WAN solutions. MPLS is short for Multiprotocol Label Switching, which is an advanced information-routing technique. SD-WAN is short for software-defined, wide area networking.
SD-WAN is an architecture that can be deployed quickly and managed efficiently. Rosenbauer installed its first SD-WAN site, with help from SDN, in late 2019 to connect a new building in Minnesota. It plans to expand the use of the service in the future by replacing some less efficient networking systems.
Services such as Managed Firewall have given Rosenbauer the flexibility to expand more easily, Blackwelder said. SDN takes care of equipment on an ongoing basis, which would be a big job for Rosenbauer's relatively small IT staff. SDN also constantly monitors Rosenbauer's network for signs of trouble.
If Blackwelder had to assign a member of his staff to monitor the company's network, the person could only cover eight hours a day. In contrast, crews at SDN's Network Surveillance Center remotely monitor clients' systems around the clock, every day of the year.
Blackwelder's goal is to always have a solution in place before a problem arises, he said, and partnering with SDN and Alliance for communications needs have helped him reach a high degree of confidence on that front.

"Even though here in Lyons we don't have a 24-hour shift, our dealers and our fire trucks are in operation 24 hours a day. Our firewall needs to be working, SD-WAN needs to be working. Our hardware needs to be ready at all times. Because of SDN, we're capable of doing that."
SDN Communications is a leader in providing business internet, private networking and cloud connectivity to businesses and organizations in communities such as Sioux Falls, Rapid City, Worthington and the surrounding areas.