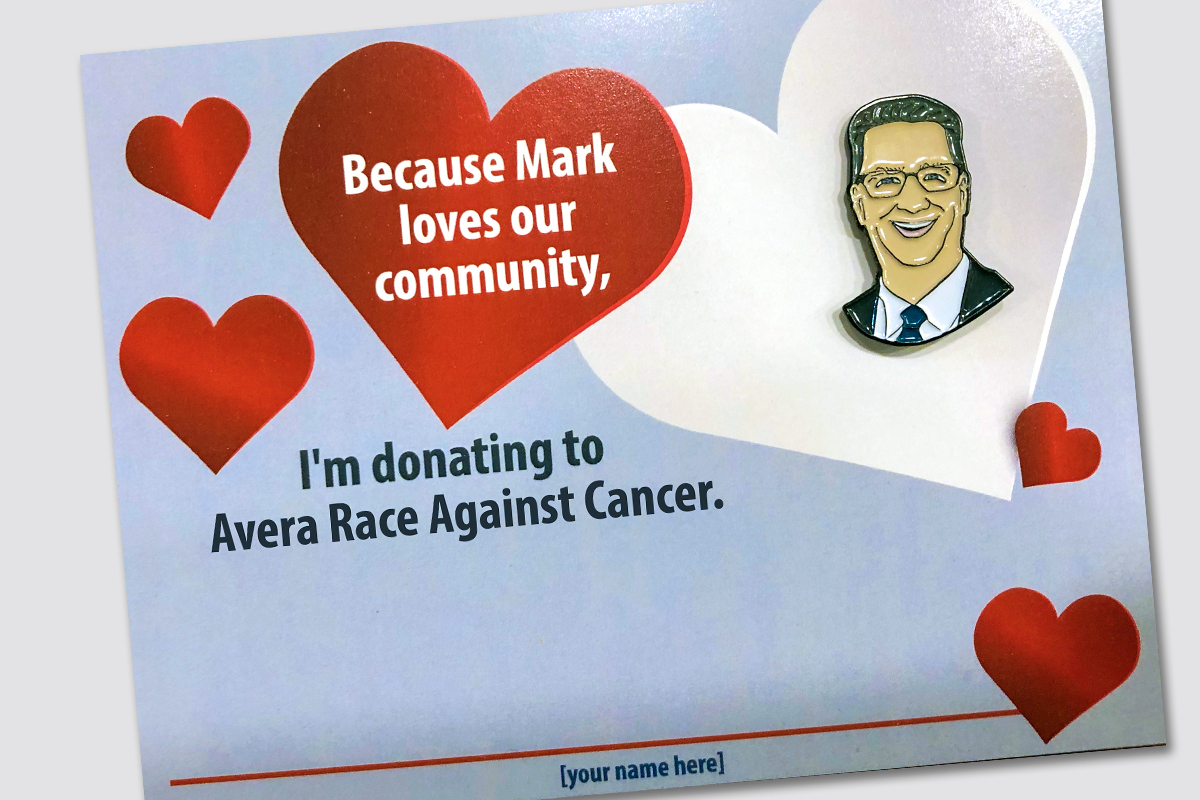 Bookstores and libraries devote entire shelves to the topic of servant leadership, but what designates a leader's success?

At SDN Communications, Mark Shlanta's leadership recognition is literally pinned to employees.
A grassroots employee idea resulted in a caricature lapel pin of SDN's CEO attached to a valentine saying: "Because Mark loves our community, I'm donating to the Avera Race Against Cancer."
The race is a favorite charity of Shlanta and his wife Peggy; Mark has participated multiple times. Plus, the Valentine's Day theme worked to honor the Shlantas, who share a Feb. 14th birthday.

Marketing specialist Nikki Gronli created Shlanta's likeness for the pin.
"The glasses, the hair, always in a suit. His look came together easily," Gronli said. "When I started showing employees, the reaction helped me confirm I captured Mark in style and personality."
She shared it with leaders of SDN's employee action group, the Great Ideas Group, or GIG. The fundraiser grew enthusiastically from there.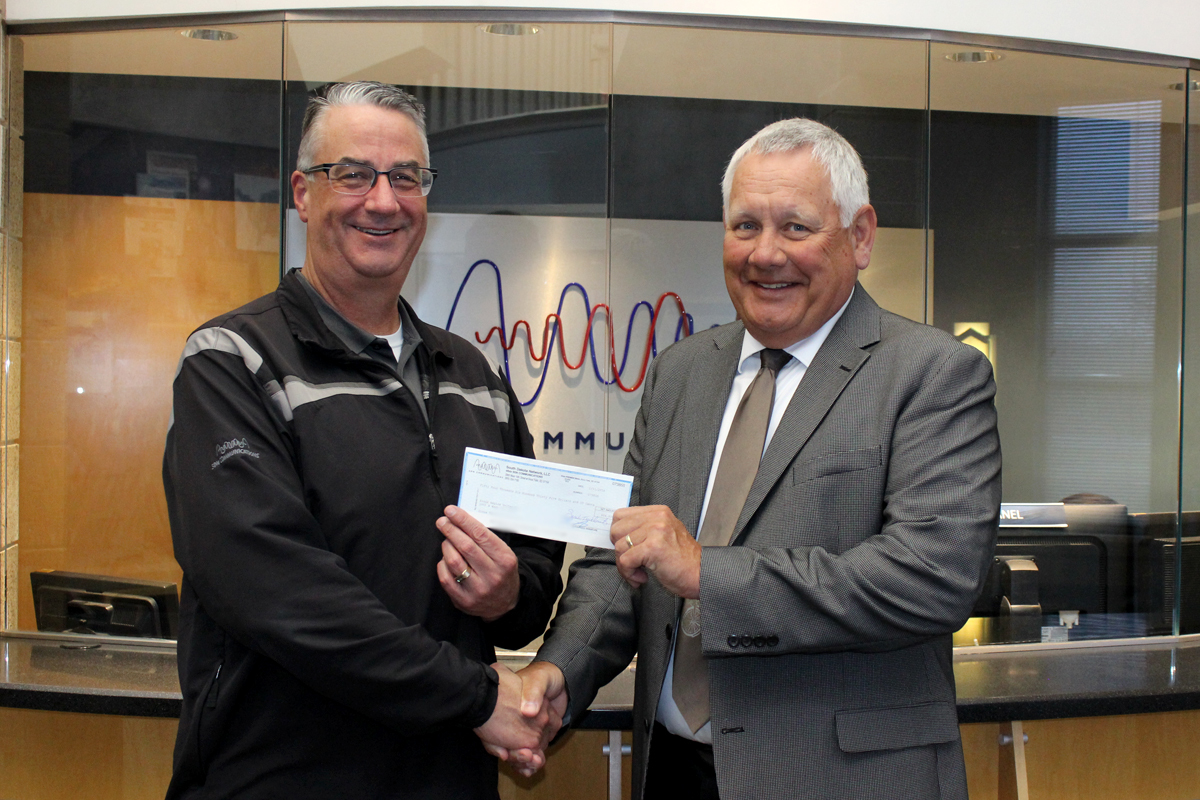 "Mark models community involvement for all of us," Gronli said. "His encouragement to not only take care of our community but also our families, especially during COVID, resonates with us. We wanted to honor his leadership."

The pin idea came from a conversation between vice presidents Jake VanDewater and Vernon Brown. They, along with Gronli, presented the final product to Shlanta last week.
"He was speechless. Almost," VanDewater joked. "Anyone who knows Mark knows he's never entirely speechless, but it was fun to see how touched he was by the employee gift."
"I really didn't know what to say," Shlanta said. "When you lead an organization, you hope you positively impact employees every day, but for employees to offer their talents and dollars in my name to a cause I care about, that's proof I'm the beneficiary of their positive impact on me."
The Deeper Appreciation Behind the Gift

This isn't the first time employees have banded together to celebrate Shlanta's leadership. They've surprised him on birthdays and work anniversaries before, but this effort and its timing demonstrate a deeper appreciation.
Years after his first involvement with Avera's Race for the Cure, Shlanta faced his own cancer diagnosis in December 2019. Currently, he spends one day every other week receiving chemotherapy to stave off a malignancy.

A non-smoker, he was first diagnosed with a small tumor in his lungs that spread to spots in his bones causing him significant back pain. That symptom prompted a medical appointment that found cancer, which has since been defined as a form of intestinal cancer.
It's not in Shlanta's nature to widely broadcast news about himself. However, he has been transparent with employees about his diagnosis and treatment. In fact, he shared it with all of the SDN employees within days of finding out himself.
"One thing I've learned from leadership: If you don't communicate, people leap to the worst conclusion," Shlanta said. "They could see I was in pain and not as mobile as I should be. I felt like employees would do better with the difficult truth than wondering 'What's up with Mark?'"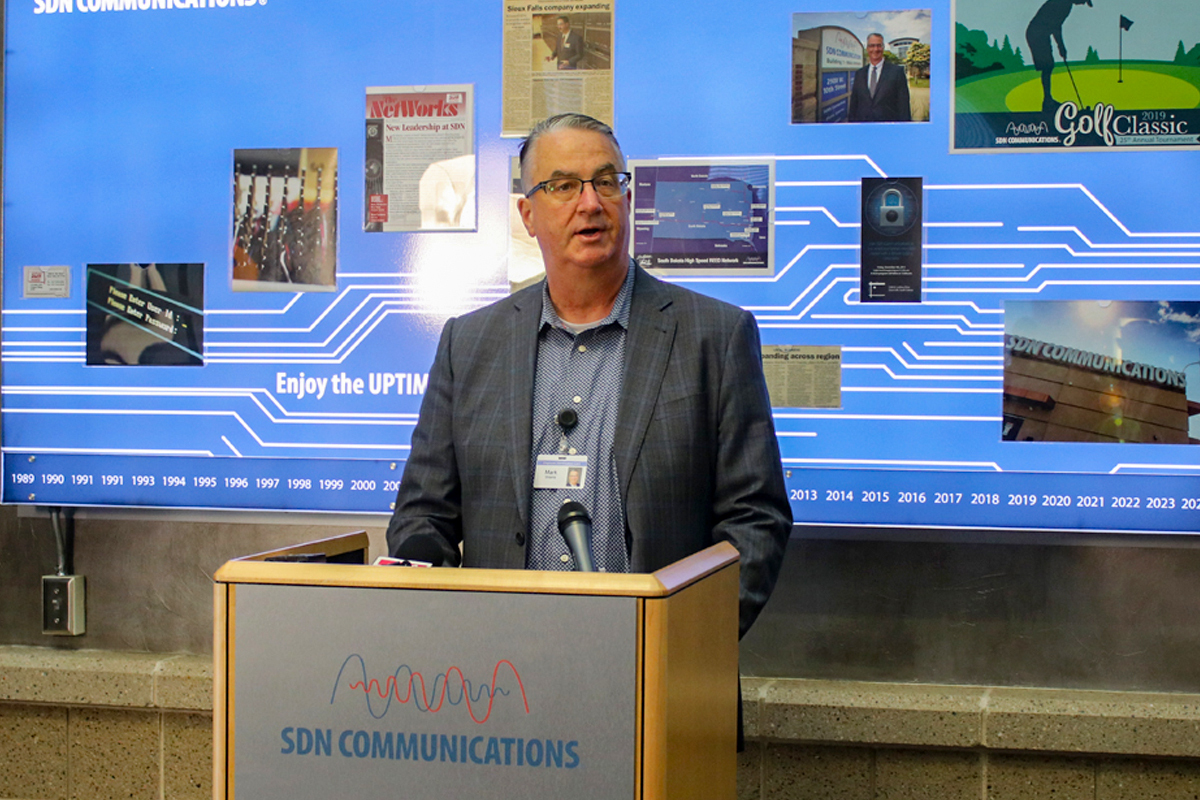 Within six weeks of his diagnosis, he started improving and was back to work full time and has kept up that pace since. He times his chemotherapy, so his downtime comes on weekends and he's back to work Monday morning.

"I love to work. Always have. Some of my best therapy is moving SDN forward and being around employees. They bring me energy," he said.
That doesn't mean cancer hasn't changed his outlook.
"Travel is a big interest of mine. Peggy and I try to take short trips monthly in a COVID-safe way."

Over the summer they met their goal to bike the length of the Mickelson Trail in both directions over the course of a couple of Black Hills trips. They also make it a point to travel to see their three older sons – two in Minnesota and one in Washington, DC. Their youngest son attends Augustana University.

"Family has always been important to me, but a health diagnosis, like mine, makes anyone pause and appreciate what you have," Shlanta said. "I am taking time to appreciate Peggy and my four sons with more mindfulness, and I do now take things one day at a time."
Shlanta is hoping for warmer days ahead so he can get in shape one day at a time for Avera's Race. The fundraiser has already brought in hundreds of dollars. Shlanta sys he'll feel a little extra skip in his step knowing his employees stand strongly behind him.