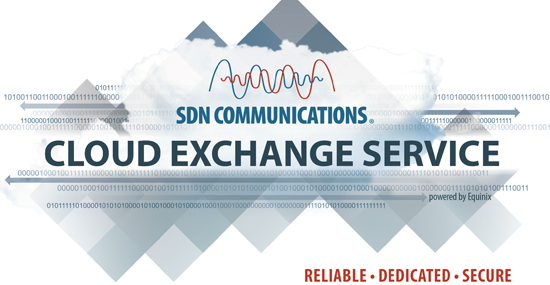 Increasingly, businesses are moving their data center operations to the "cloud," which, despite its relaxing name, is becoming a very busy place.
Cloud computing essentially means that companies are storing electronic data and programs somewhere beyond their own walls. Rather than build their own high-tech warehouse areas that employees can see, touch and hear, a growing number of companies are making use of virtual data centers to store, protect and move expanding volumes of important electronic information.
The route a company takes to reach these off-site servers, or the cloud, might go along the public internet, other lines or some combination of pathways. The security and speed at which the information travels probably varies from turn to turn, depending on the quality of each stretch of the pathway.
SDN Communications launched a new service at the beginning of 2018 to help companies more efficiently and securely access their cloud-based data centers and applications. It's called SDN's Cloud Exchange Service Powered by Equinix.
The service can provide client companies with direct and efficient connections to cloud services such as Amazon Web Services, Microsoft Azure and the Google Cloud Platform.
Sending important and sensitive information to a storage site using the public internet might not always be the most secure or efficient route, said Dan Eich, manager of service delivery at SDN.
"Cloud Exchange Service solves those problems. It enables enterprise customers to access their business-critical applications in a more secure, more robust way," said Eich, who championed the new service for SDN. "It allows customers to set up direct access with their application service providers."
The new service essentially carves out a direct, private communications tunnel in fiber routes to improve the flow of information. Subscribing to the service means clients no longer have to expand their own data-storage capacities or take unnecessarily high risks in moving information to cloud services.
The new service also enables clients to focus more of their attention on their core business operations and leave the challenge of accessing high-performance transportation avenues to the experts at SDN and Equinix.
Sioux Falls-based SDN is a premier regional provider of business broadband connectivity, cybersecurity services and other telecommunications solutions for businesses. SDN also operates two local data centers to help clients securely store equipment and information.
Equinix Inc., which is one of SDN's vendors, is a California-based company that specializes in enabling global interconnections for businesses and organizations. Equinix operates data centers in a dozen of the nation's largest cities and metro areas.
The main benefits that SDN's Cloud Exchange Service offer include:
Increased speed to multiple cloud connections.
Improved performance because of direct connections to cloud service providers.
Increased security because applications within a local area network can be deployed.
Equinix promotes similar benefits but also points out that affordable, high-performance connections are scalable through a single portal, agile to deploy, and give users more control in deciding how and where connections occur.
Jon Scarbrough, SDN's director of IT, expects the new service to be popular with SDN clients who have moved part or all of their data center to the cloud. Scarbrough is a veteran computing and networking executive who has worked with businesses and organizations across the United States.
"With the Cloud Exchange, you're putting in a direct pipeline, a direct connection. You bypass the public internet and have a direct connection to your virtual data center," he said. "It's a pretty cool offering."
For more information about SDN's Cloud Exchange Service Powered by Equinix, reach out to an account executive online or at 800-247-1442.