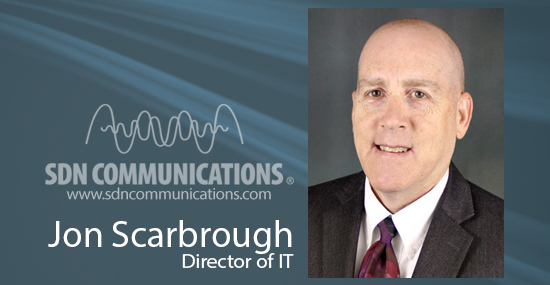 An attraction to the region lured Jon Scarbrough from the Chicago area back to Sioux Falls, where he had attended college. A job that is an excellent fit for his skills and experience happened to become available after his return.
Scarbrough, a veteran computing and networking executive, is SDN Communications' director of information technology, or IT. He started in the new position Nov. 13.
When changes unfolded in 2016 at the digital marketing company where Scarbrough worked, he and his family decided to move to Sioux Falls rather than follow a job opportunity to California.
Scarbrough was familiar with the region. He grew up in the Twin Cities but attended college at Augustana University in Sioux Falls. His father, mother, and two uncles and their wives had attended Augie. His dad was from Spencer, S.D., and his mom was from Windom, Minn.
He was a backup guard on Augie's basketball team in the late 1970s and early 1980s and earned a degree in mathematics.
"I was all set to be a high school math teacher and coach basketball until I did my student teaching," he said, chuckling. He decided instead to pursue coaching at the collegiate level. He landed a position as an assistant coach at Indiana State University, where he also earned a master's degree in computer science.
His experience at ISU led to a head coaching job and his entry in the computer profession at Lake-Sumter Community College in Leesburg, Flor. He became a computer science instructor there. He worked at the community college from 1985 to 1990, which was a time of significant growth for the computer industry.
From Florida, he moved to the Chicago area, where he served as associate vice president for information technology at Oakton Community College, a school slightly smaller than South Dakota State University.
From 2000 until 2016, he continued to work in high-level technology positions in the Chicago area with Group Arnold, which operated a chain of manufacturing plants that made magnets; Career Education Corporation, a for-profit company that operated 81 colleges; and Brandify, a digital marketing company.
Before joining the staff of SDN, Scarbrough worked for six months as senior director of software engineering for DocuTAP in Sioux Falls and also did some consulting work.
His experience in corporate IT and application development seemed to be a good fit for the SDN job, he said.
"There seemed to be a lot of matches with my background and experience," he said.
As director of IT, Scarbrough oversees the internal corporate network and application development. The manager of IT, manager of application development and a support services team report to him.
In addition to vast experience, Scarbrough brings to SDN a passion for cybersecurity, which is an increasingly important issue in telecommunications.
People who fear that their personal information could be stolen from a company's electronic files have a legitimate concern, he said. The good news is that tests and remedies are available to help businesses keep data safer, he said.
Individuals can fight cybercrime through means such as using strong passwords, not falling for online trickery and keeping antivirus protection on their computers up to date. Vulnerabilities in software that take time to discover and repair present even greater risks that are more difficult to control, he said.
"That's the real, deeper problem," he said. "And it doesn't lend itself as well to the evening news."
SDN is fortunate to be able to attract professionals such as Scarbrough, who return to South Dakota after doing impressive work in other states, Human Resources Director Amy Preator said.
"Jon brings a wide variety of IT and network-security experience that will be very valuable to SDN, and not only on our corporate IT network," she said. "He also adds extreme value to our overall cybersecurity practices and to our customer network."
Away from work, Scarbrough enjoys road cycling. His wife, Marian, is a Chicago native. Their daughter, Lauren, is a junior at Brandon Valley High School.