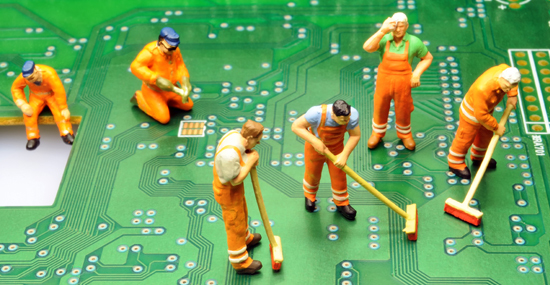 ---
I'm kind of a pack rat. As a longtime journalist, I've saved way too many old newspapers, magazines, reports, and bits and pieces of memorabilia.
A couple of years ago, I struggled to throw away 20-year-old tax and banking records. I still haven't managed to get rid of a bunch of old VHS recordings, which contain snippets of musical performances and interviews from old TV shows. I've still got the tie I wore for my senior picture in high school and other pieces of clothing that I haven't worn for decades.
Unfortunately, my hoarding tendencies carried over from my personal life to digital life. My cyber storage spaces are as cluttered as closets in my home.
I've tried ­- with limited success - to separate the business and personal elements of my life. So I have multiple email accounts, and hundreds of old messages in each account are waiting to be saved or deleted. I write for a living, so I also maintain dozens of computer files to store notes, copies of columns and stories, photographs and charts. Those records also need to be cleaned.
National Clean Out Your Computer Day, which is the second Monday of every February, is a perfect observation for people like me.
I hadn't realized that such an observance existed until Andrea Leesch, the digital marketing specialist at SDN Communications, suggested it to me for a blog topic. She might not have initially realized how relevant the topic was for me. Now I have a professional reason to devote a few hours to clean out computer files.
There are more than 1,500 special days in the United States, according to the website NationalDayCalendar.com. Keeping up with them all is not practical, so we pick and choose. For me, going forward, National Clean Out Your Computer Day will be a keeper.
National Clean Out Your Computer Day was initiated in 2000 by the Institute for Business Technology. The NationalDayCalendar suggests you observe the day by, for example, organizing files and folders, and deleting duplicates or information that is no longer used.
Security companies such as Norton by Symantec, a division of Symantec Corporation, have embraced the observance. Norton by Symantec, based in California, specializes in products and services related to digital security. It also offers advice on computer hygiene.
"When you 'clean' your computer, you don't just dust off the keyboard and wipe fingerprints from the screen. You also pay attention to the state of the hard drive, updating software and removing old programs," Norton says on its website.
In addition to exterior practices such as flipping over and gently shaking your keyboard to dislodge food crumbs, Norton offers suggestions for cleaning inside your computer. Back up important data, for example, and use antivirus software to reduce the potential for computer harm caused by malware.
Chad Pew, manager of IT for SDN, stresses the importance of removing software that is not being used. "Sometimes those applications on startup can slow down the performance of your work station. They're using resources that could make other applications faster," he said.
Not using and failing to update software also can create security vulnerabilities, Pew said.
The website SecureThoughts.com says that keeping a computer clean benefits the operator, too. "If your home screen is uncluttered and all your files are neatly stored, you will work better and faster," SecureThoughts says.
That's even more incentive to clean out my files.
If cleaning out your computer isn't really your thing, you have alternatives. For instance, Feb. 12 is National Plum Pudding Day. Maybe that's more to your liking.
SDN Communications is a regional leader in providing broadband connectivity and cybersecurity services to businesses in communities such as Sioux Falls, Rapid City, Worthington, and the surrounding areas.