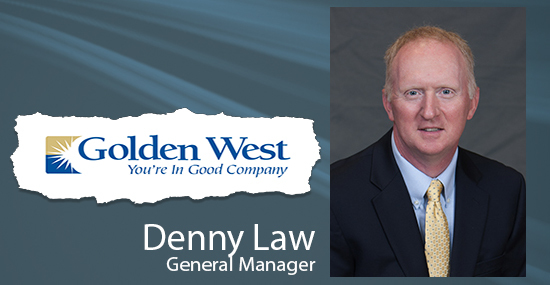 Denny Law, chief executive officer of Golden West, jokes that his cooperative doesn't convene many all-employee meetings. The gatherings would require employees to drive too much.
Golden West Telecommunications Cooperative, which is based in Wall, serves a geographic area that extends across much of southern South Dakota, from the Wyoming border nearly to Minnesota. The area covers about 25,000 square miles, which is roughly the size of West Virginia.
The area includes countryside, towns and American Indian reservations - about a third of South Dakota's landmass. It spans from Edgemont in the southwest corner of the state to Dell Rapids in the southeast and to the rural Faith area in the northwest.
In addition to being the CEO and general manager of Golden West, Law serves on the Board of Directors of SDN Communications. Golden West is among the 17 independent phone companies in South Dakota that own SDN, the premier regional provider of broadband connectivity and related communications services to businesses and institutions.
SDN members companies such as Golden West serve residential as well as business customers. Golden West provides telephone, internet and Cable TV, among other services. The company has about 35,000 subscribers and 360 employees.
Its holdings include Golden West Technologies, a wholly-owned subsidiary based in Rapid City. Golden West Technologies specializes in providing managed services, networking, phone and security systems to businesses.
The large geographic size and diverse nature of Golden West's overall service area give the co-op a strong foundation, Law says. The high-tech communications services provided by Golden West help customers eliminate barriers in economic development, educational opportunity and medical service, Law says.
"Investing, maintaining and deploying those technologies is both our biggest challenge and our biggest opportunity," he says.
Golden West started modestly in 1916. It was the first company to stretch phone lines across the plains of western South Dakota. It became a cooperative in 1952.
"Golden West initially grew by solving the communication needs for people living in very rural areas of South Dakota. It continued to grow through acquiring exchanges from companies who chose to divest their interests in several rural communities," says Greg Oleson, director of member services, communications and governmental affairs for Golden West.
Now the company is among the largest communications co-ops in the region, based on the market area and customer base. However, the size of the organization isn't what really matters, Oleson says.
"It's not about being the biggest. It's about serving our customers as effectively as we can," he says.
Demand for residential and business services continues to grow, primarily because of increasing data-transporting needs, Oleson says.
"We're working very hard to upgrade all of our exchanges to fiber to the home," he says.
The company is in the middle stages of upgrading its 64 exchanges. It laid 771 miles of fiber last year and plans to lay 471 miles this year. Dell Rapids is among the service areas that will be upgraded this construction season.
The fiber upgrade has been going on for more than 10 years and might continue for another decade, Law estimates.
"Golden West has a strong commitment to South Dakota, specifically rural South Dakota. We continue to be aggressive in investing in our technology systems and people to make sure that we're not only relevant today but in the future," he says.
Staying vital in customers' lives and remaining relevant in today's changing world are priorities for Golden West. Membership in the co-op gives members access to the company processes as well as services.
"We understand that customers need reliable technology and outstanding customer service. We also understand that customers want input into the services that affect their daily lives," Law says.
For more information about the company, visit the Golden West website.