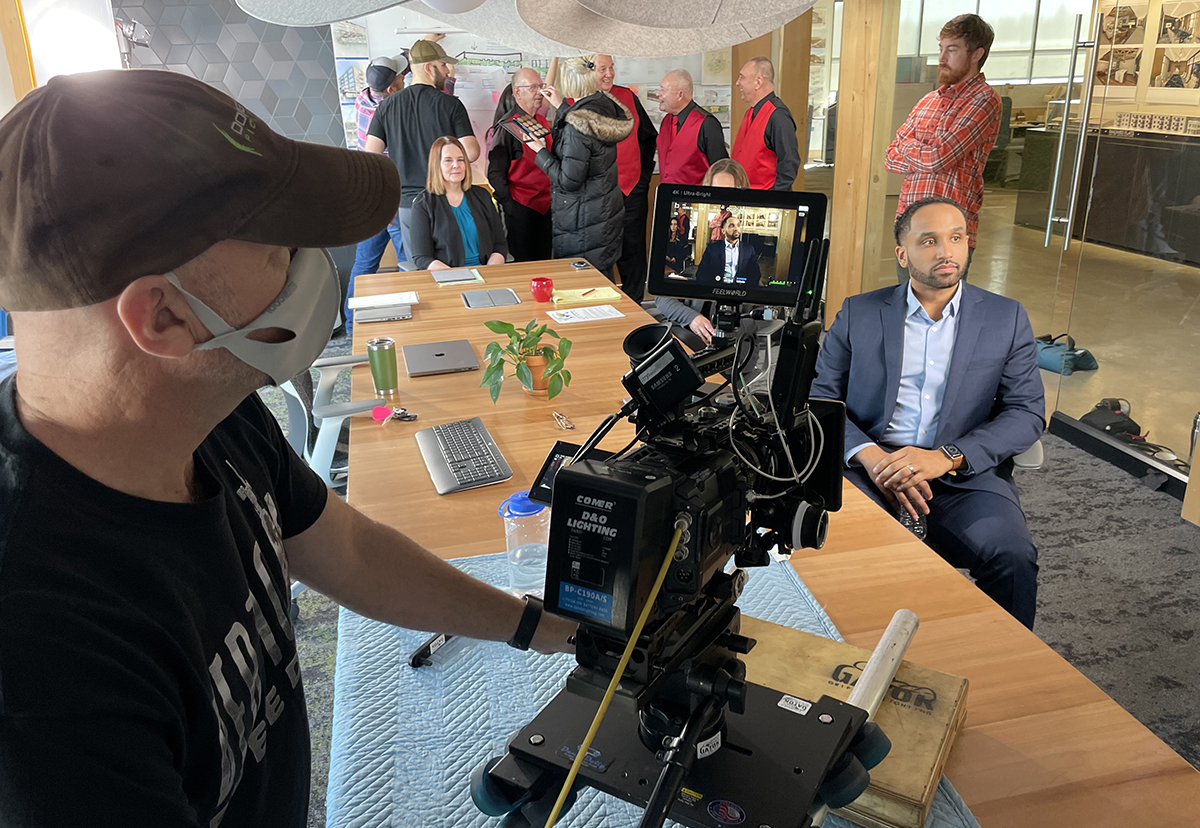 How does a company advertise its services if what it sells can't be seen?
That's the constant question SDN Communications faces every year when preparing its commercial advertising strategies with Fresh Produce.
SDN Communications sells business internet services and prides itself on reliability and customer service. "Enjoy the UPTIME" is more than a slogan at SDN – it's a mindset.
But that's not easy to visualize, it turns out.
For more than a decade, SDN Communications has produced a few commercials a year, with one spot premiering during the NFL's championship in February.
The 2023 spots focus on the "dream state" that companies experience when they realize they don't have to worry about one of their most important tools – their internet.
To visualize that, Fresh Produce pitched situations where employees were too distracted by enjoying the "UPTIME" of SDN's reliable Internet that they didn't realize what was happening around them – a barbershop quartet singing "Happy Birthday" during a meeting and a coworker burning food in the break room, for instance.
"No one's ever going to be impressed by the physical thing," Fresh Produce creative director Kyle Jameson said. "They don't really know what to make of it. So everything kind of starts with, 'What's the story and what's the key insight?'"

SDN Communications' 2023 theme: The dream state
The commercials in 2022 highlighted the pain points that can happen when a business lacks reliable service and vendors, SDN's Marketing Manager Andrea Leesch said. One spot shows a doctor struggling with unreliable internet during an e-visit with a patient, while another portrays a worker being bombarded by vendors in a hallway.

"This year's commercials focus on the relief companies can have when they have reliable business internet service," Leesch said. "So, last year we saw the scary part — the nightmare — and now this is the dream come true."
Once Fresh Produce worked with SDN Communications to develop the theme, the agency's creative team got to work developing ways that the commercials' main characters could get in a dream state in an office setting.
Business Internet: Find out more about SDN Communications' services
"We made a long list of like, 'what are the motifs — if you're watching a movie or a TV show where somebody's dreaming, what do you see?'" Jameson said. "It might be the music. You might see clouds, it might be light. The color might be different. And then we had to say, 'OK, how many of these can we pull off?'"
The team ended up with three ideas. In one, an employee is so transfixed at a good internet connection during a video conference call that he misses a barbershop quartet singing "Happy Birthday." In another, a manager is daydreaming while looking out at her office, and the heavenly light from the ceiling turns out to be an electrician installing a light fixture.
"There's always an opportunity for levity with that message," Jameson said. "As a space to kind of breakthrough, it was, how can we show that moment while having fun with it? But nonetheless, you can expect this kind of peace of mind with SDN's service."

Filming an ad? Expect the unexpected
Fresh Produce scheduled production for the first week in January, with one commercial being shot every day over three days.
It was always going to be a jam-packed schedule, but a snowstorm slammed the region, dumping 14 inches of snow on Sioux Falls, clogging roads and driveways across the city.
"We had a grip (a camera technician) coming with equipment from Minneapolis, but we were able to make it work," Jameson said. "We worked a little bit longer on day one because we couldn't get started on time, but that was mostly because even local people couldn't get out of their own driveways. We had to pull some audibles for casting. One of the guys on the crew ended up being in the shot."
It helped that two of the commercials were filmed in the same building, so crews didn't have to load out all the equipment.
But commercial shoots always have little challenges that pop up.
During the commercial where smoke from burnt food fills a break room, the building's HVAC system proved to be too good. The fog that was being used wasn't lingering in the room long enough.
"I think 101 of filming is just be prepared to adapt and just be ready to help in any way you can," Jameson said. "You know, we couldn't have anticipated just how great the HVAC system was in that room and it was really, really good at eliminating the fog we were putting in."

Commercials give SDN employees a time to shine
Here's a secret about the SDN commercials: Most of the cast aren't actors. Not surprisingly, the barbershop quartet featured in the spot that aired during the Big Game is a real barbershop quartet. The man looking at the conference call screen in awe of the quality of the video? That's Commercial Sales Manager Jon Clayborne. The person being sung to? Director of Corporate Operations Sarah Tuntland. Leesch and several other employees are on the video call, and others are sitting at the table.
More employees are featured in the other two spots.
"When people can connect with your employees, too, and they recognize them, then that adds a connection for people who aren't even our customers, and then they get to know the brand even better," Leesch said. "So, whether it's behind the scenes or one of the main characters, it's fun to get the employees involved because they enjoy it, too."
Jameson said using SDN employees isn't just done out of convenience. When it comes to smaller roles, non-actors can provide better performances.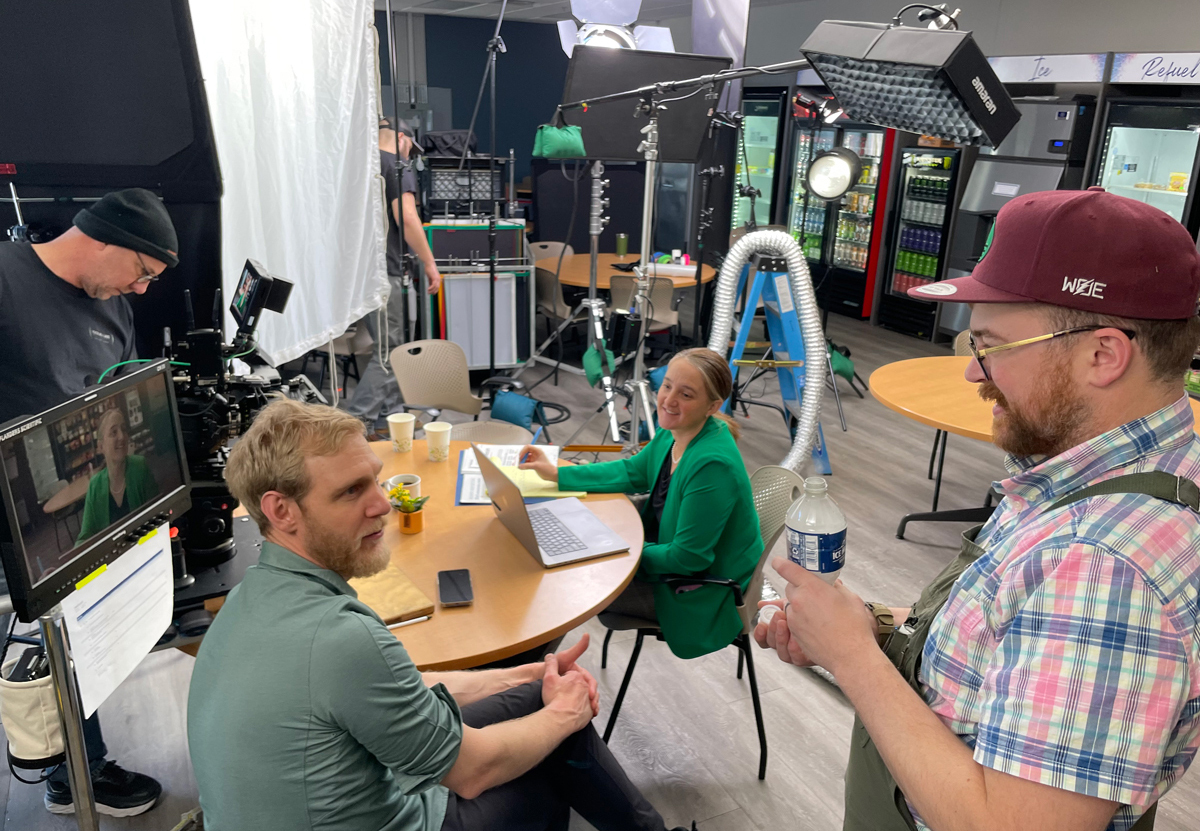 "We've really found that when you don't need people to say anything on camera, then you're always best to cast non-actors," Jameson said. "I think everyday people kind of forget the cameras are around once they get comfortable. They're just better at acting naturally in a way that's not distracting on camera. … There's been such great buy-in from SDN that there are always people ready and willing from every department to be part of the ad, and it makes it so much more fun."
Leesch said it also helps to have SDN employees featured because it establishes them as experts in the industry and gets them exposure.
In the end, the biggest reason to do the commercials is to make SDN Communications recognizable as a premium provider of business internet and managed services.
"The commercials can be a first impression and an ongoing impression," Leesch said. "And in order to keep the message and the brand strong and consistent, they're extremely important. SDN is a premier provider, and so everything we do, whether it is our commercials or merchandise and clothing or hiring and treating our employees well, we always try to rise to that premier level. And we hope that shows through the ads as well."