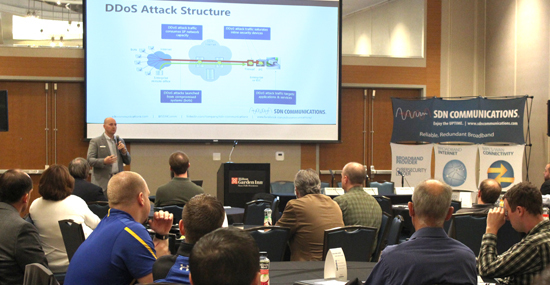 ---
SDN Communications detected more than 540 DDoS attacks – an average of six per day - on clients' networks during the first quarter of 2017. The average attack size was 1.27 gigabits per second, which is potentially enough to temporarily take down most online services.
Overwhelming online services with a flood of electronic traffic from multiple services is the objective of Distributed Denial of Service, or DDoS, attacks.
To help area businesses and other interested parties monitor the regional, cyber threat environment that DDoS attacks and other forms of malware present, Sioux Falls-based SDN has begun publishing a free quarterly Cyber Threat Landscape Cybersecurity Intelligence Report.
The seemingly encouraging news about DDoS is that the attack volume for the January through March period dropped 28 percent from the same quarter in 2016, according to the report. However, that might be a deceptive quirk of timing, says Theron McChesney, business intelligence specialist at SDN.
"I don't want that to give people a false sense of security," McChesney says "The threats are still out there, and they're big enough to take down any internet connection."
McChesney was among the cybersecurity and broadband technology experts who spoke recently at SDN's Uptime University presentations in Sioux Falls and Sioux City.
The sessions, titled "Harnessing the Power of the Network," took a detailed look at cyber threats and business options for combatting risks.
In addition to McChesney, speakers from SDN at the Uptime University presentations included Jake VanDewater, director of network operations and Chris Aeilts, sales engineer.
They discussed the findings in the Cybersecurity Intelligence Report for the first quarter of 2017 in depth. One of the most telling statistics in the report is the high volume of malicious traffic and spam that typically flows toward business networks.
SDN'S Managed Firewall service flagged 28 percent of traffic to the devices during the first quarter as being malicious or unwanted and filtered it out. That's more than a fourth of all incoming traffic.
SDN experts advise companies to take a layered approach to protect their networks. That includes deploying on-site equipment as well as an off-site cloud service to reduce the threats of ransomware and other malware.
McChesney outlined several specific steps that businesses should take to protect themselves:
Train staff regularly. Most network infections are the result of human error.
Patch operating systems regularly.
Deploy "next generation" firewalls to screen electronic traffic.
Use end-point protection to scan every device.
Segment networks, limit network privileges to people and block unused network ports.
Develop and implement plans to backup data and continue business in times of trouble.
SDN offers several products and services that help businesses protect their networks and stay in operation. Among them:
SDN Communications is a regional leader in providing broadband connectivity and cybersecurity services to businesses. Connect with SDN by calling 800-247-1442 or fill out the form on the Contact page.