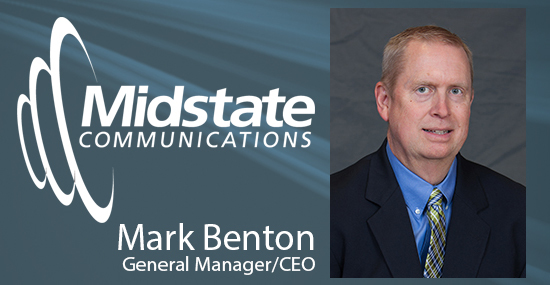 Community service is encouraged by example rather than by mandate at Midstate Communications in Kimball, S.D.
Marketing manager Chad Mutziger, for example, doubles as the mayor of Chamberlain. He's served as the city's part-time chief executive for more than a year.
Mark Benton, Midstate's CEO and general manager, served on the City Council and on other community boards when he lived in Kimball. In 2006 he moved to Chamberlain, where he currently serves on the city's Zoning Committee and on the Lake Francis Case Development Corporation.
Fay Jandreau, assistant general manager, used to serve on the Kimball School Board.
Benton and Mutziger downplay their civic involvement, pointing out that nearly all of Midstate's 24 employees are involved in their communities, whether by fighting fires, coaching children or being active in churches or other organizations.
The cooperative values community involvement, but employees are not pushed into service, Benton and Mutziger say. It's more of a byproduct of having a good workers who instinctively want to contribute to their communities.
"In a small town, you have to wear many hats, and everyone has to do their thing. It's a cultural thing," Benton says.
In addition to his duties with Midstate and his home community, Benton serves on the Board of Directors of Sioux Falls-based SDN Communications.
Midstate is one of 17 independent, family-owned or tribal phone companies in South Dakota that own SDN, which is the premier regional provider of broadband connectivity and related communications services to businesses and institutions. The owner companies, also known as member companies, serve 80 percent of South Dakota's geography.
Midstate serves a cluster of small towns in central South Dakota with state-of-the-art telecommunications services.
Co-op's past and future
Kimball-based Midstate is a cooperative that was formed in 1952. It services nearly 5,000 access lines in 11 exchanges.
In addition to Kimball, Midstate serves the communities of Fort Thompson, Chamberlain, Oacoma, Pukwana, White Lake, Stickney, Platte, Geddes, New Holland, Delmont, Academy and Gann Valley. The company has a satellite office in Chamberlain, which sits prominently along the Missouri River about 20 miles west of co-op headquarters in Kimball. With about 2,500 residents, Chamberlain also is the biggest town in Midstate's market.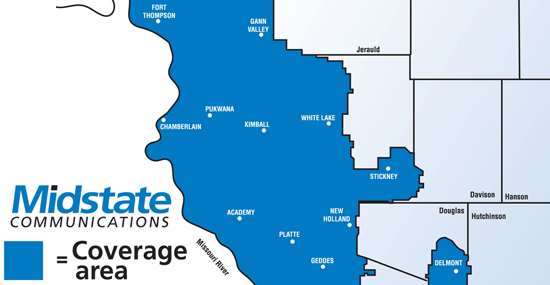 The co-op operates on the simple but sound philosophy of providing high-quality services at an affordable price to residents and businesses.
In addition to offering basic telecommunication services, including Internet, telephone and TV, Midstate provides computer and networking services. In addition, it recently started offering automation products and services for homes, farms and businesses.
Midstate provides smart products and services through a relationship with Clear2there, an innovative, national vendor. Such products enable a user to remotely control equipment such as lights, locks, thermostats and security cameras on a smart phone or some other connected device.
The new offering is proving to be popular, Benton said. The challenge is getting enough workers into the field to deploy the services. The spread of fiber optic connectivity has made such services viable in rural areas as well as cities.
Midstate certainly has been doing its part to improve networking possibilities in rural South Dakota by building out its fiber network. The co-op has been replacing copper lines with fiber since 2007. Fort Thompson is the only community in its service area that hasn't been updated yet, and it's on the construction schedule for 2016.
The co-op looks forward to the completion of its fiber buildout.
"That is a big deal," Benton said. "It kind of future-proofs the network and allows us to provide services today and tomorrow that haven't even been thought of yet. It gives us the ability to provide whatever our members need down the road, which is very exciting."
Learn more about the company and its services through the Midstate website.
---
Editor's note: In the weeks following this article's release, Midstate and Venture Communications, which is also a member of SDN Communications, announced plans to consolidate the two cooperatives.
"This combination creates a company that will continue to deliver great opportunities for both our employees and for our customers," Benton said. "This consolidation will allow us to accelerate the pace of innovation and the ability to continue to offer the products and services our customer-owners need today and into the future."