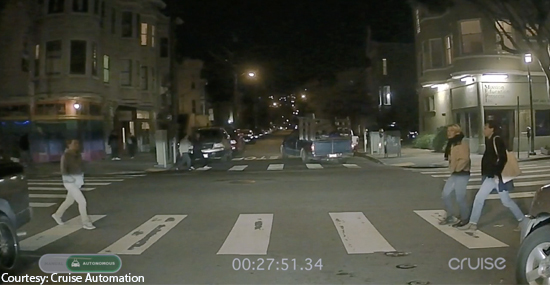 Companies have been experimenting with driverless cars for decades and progress is grabbing attention, especially during the past few years. Developers are testing self-driving cars every day on American streets, as companies race – albeit, at slow speeds – toward the consumer marketplace.
Cruise Automation of San Francisco is among about 250 companies working on the development of autonomous cars. Rebecca Mark, the head of public affairs and government relations for Cruise Automation, was among the featured speakers at the recent South Dakota Technology Showcase in Sioux Falls. Her presentation was among the highlights of the conference, which showcased technological advancements being made by companies in and beyond South Dakota. [Cruise presentation]
Other speakers included executives from Xcel Energy, who talked about the company's use of drone technology to maintain the electrical and gas transmission facilities. It, too, was interesting, as were other presentations. [Xcel Presentation]
A speaker from Sioux Falls-based Raven Industries explained how broadband connectivity and advanced agricultural equipment are helping farmers increase food production for countries around the world. [Raven presentation]
Technology also is helping BSNF Railway Company improve train efficiency and safety. Speakers during other sessions addressed topics that included cybersecurity, public safety, education and workforce development. [BNSF presentation]
Sioux Falls-based SDN Communications was one of the sponsors of the conference. The other two sponsors were AT&T and the South Dakota Chamber of Commerce & Industry.
U.S. Sen. John Thune of South Dakota, who chairs the Senate Commerce, Science and Transportation Committee, helped conference organizers attract an impressive lineup of speakers.
Cruise Automation is a startup that recently was acquired by General Motors. In addition to its home base of San Francisco, Cruise is testing driverless cars in Detroit and the metropolitan Phoenix area. The company believes that for consumers, getting into a driverless car will someday be as common as getting into their own car or a shared ride.
"We're very excited about the rapid ascension of the technology and how soon we believe it will be provided to consumers," Mark said.
Driverless vehicles operate with a combination of technologies, including radar sensors, video cameras and computer analysis. The first public uses of the specially made cars are expected to be in be in traffic-congested urban areas.
Transportation needs and local regulations will be among the factors that determine where the technology goes first.
Mark showed a video that was taken from a driverless car traveling the streets of a business area in San Francisco (below). The car stopped where it was supposed to stop and automatically slowed down when necessary to avoid dangers such as other cars or people. Nothing out of the ordinary happened. Which, Mark said, is precisely the point. Seeing and riding in self-driving car eventually will become routine, she said.
Factors such as driving costs and dangers are among the factors encouraging the development of driverless cars. Mark pointed out, for example, that 96 percent of a typical car's lifespan is spent immobile. In addition, 96 percent of car accidents are caused by human error, she said.
Statistics underscore how risky traveling by auto can be. From 2003 to 2012, 537 people in South Dakota were killed by drunk drivers. That's more people than live in the South Dakota communities of Aurora, Veblen or Dupree.
Mark assured the Sioux Falls audience of more than 100 tech-minded people that the driverless-car industry is taking concerns such as cybersecurity seriously.
The Technology Showcase provided fascinating glimpses of several emerging, high-tech products and services. The availability of fast, dependable, broadband technology is one of the communications tools that is helping fuel the development of many of these developments. SDN is among the companies stepping up to meet the challenge.
SDN in a regional leader in providing broadband connectivity, cybersecurity services and other telecommunications solutions to businesses.
Get to know SDN's experts, products and services better by signing up to receive this blog via email. Use the button below to subscribe.