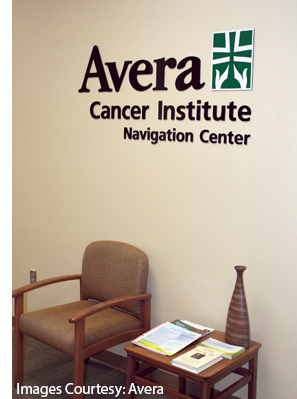 Jamie Arens and her staff take pride in the first-year achievements of the Avera Cancer Institute Navigation Center.
The Navigation Center, which opened March 1, 2016 in Sioux Falls, is an oncology call center, but staff members also serve walk-in traffic. The trained navigators answer questions, assist with appointments and even offer emotional support.
It's free and available to patients, their family members and others throughout Avera's regional footprint, regardless of whether it involves an Avera patient.
During its first year of operation, the center addressed 511 barriers to health care. People from 165 zip codes called with questions about cancer, treatments, medical facilities, scheduling issues or other concerns. Callers included 180 active cancer patients, 65 cancer survivors and 42 undiagnosed people. Other callers included caregivers, family members, friends, and medical and nonmedical professionals.
The first year of operations was fulfilling for staff members. Arens, the Navigation Center director, says they sensed they had made a real difference in people's lives.
"Looking back at the last year, I'm very proud," she says. "I'm proud of Avera for being willing to do something different, to step out of the box and provide a service that affects all our communities. I'm proud to be part of a service that helps so many people."
The center is on the first floor of the Prairie Center at 1000 E. 23rd St. on the Avera campus in central Sioux Falls. But it's designed to serve patients at all six of the Avera Cancer Institute's regional centers. The other five are in Aberdeen, Mitchell, Pierre, and Yankton as well as Marshall, Minn.
Navigation services are available from 8 a.m. to 8 p.m. every business day. But the public can reach the center by telephone 24 hours a day, seven days a week, by calling 605-322-3211 or 888-422-1410. Staff members follow up with late-night and off-day callers the following business day.
Although walk-in traffic is welcome, the Navigation Center provides most of its help by phone. Arens estimates that walk-in traffic only accounts for about 10 percent of the center's business.
Avera has employed navigators in the past to assist some patients of some diseases. Today, the Cancer Institute Navigation Center operates under a unique, community based model.
Jim Woster co-chairs the Avera Rural Cancer Advisory Board. He says the Navigation Center provides an invaluable service.
"The Avera Cancer Institute Navigation Center is a wonderful asset for health care in rural communities in our region. The opportunity for a cancer patient living in a rural community or on a farm or ranch to have immediate, 24/7 access to a cancer specialist is truly special," Woster says.
The Navigation Center is funded philanthropically. Sioux Falls-based SDN Communications is a major corporate sponsor.
SDN is the premier regional provider of broadband connectivity, cybersecurity services and related telecommunications solutions for businesses and institutions in the greater Sioux Falls region. The company supports the Navigation Center because the business footprint of SDN member companies is generally similar to Avera's regional service area.
SDN is owned by 17 independent phone companies that serve much of South Dakota and parts of neighboring states. Arens greatly appreciates the support SDN and its member companies provide.
To meet increasing demand for cancer-related services, the Navigation Center's staff was expanded during the past year from five to nine. Arens wants to keep expanding the reach and impact of the Navigation Center, especially in rural areas of South Dakota.
Services are based on the needs of the people served, Arens says.
"We're trying to get our word out beyond Sioux Falls because we think there's a lot of need out there," she says. "We intend to continue to grow, year after year."
You can learn more on Avera's Cancer Institute Navigation Center's website.
Read more about how SDN and its member companies are supporting the community in our related blogs.