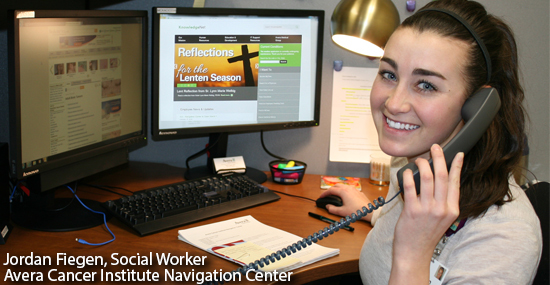 Lenee Gaddis remains grateful for all the comfort and assistance a healthcare navigator provided her while she was being successfully treated for breast cancer at Avera Health.
A navigator is a personal guide who answers questions, helps with appointments and offers emotional support.
"She'd stop in and see me at appointments," Gaddis recalls. "That was very comforting."
Gaddis, an eight-year cancer survivor, is a major account service coordinator at Sioux Falls-based SDN Communications. She's helped pay back the kindness of her navigator by representing SDN on a steering committee that helped create the Avera Cancer Institute Navigation Center, a new office that is expanding navigation services in the healthcare system.
SDN, which provides broadband connectivity and related telecommunications services to businesses in the region, is a corporate sponsor of the program.
Avera has employed disease-specific navigators for several years. The new Navigation Center is designed to provide information and support to cancer patients, their family members and other people throughout Avera's regional service area.
The Navigation Center, which opened March 1, serves patients from all six of the Avera Cancer Institute's regional centers, which are in the South Dakota cities of Aberdeen, Mitchell, Pierre, Sioux Falls, and Yankton, and in Marshall, Minn.
The center is on the first floor of the Prairie Center at 1000 E. 23rd St. in Sioux Falls. It is primarily a call center that provides information from registered nurses and social workers. However, it also serves walk-in traffic.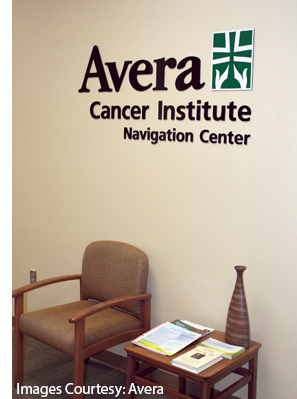 Navigation services are available from 8 a.m. to 8 p.m., but the center can be reached by telephone 24 hours a day, seven days a week, by calling 605-322-3211 or 888-422-1410. Staff members follow up with night callers the following business day.
Services are free, and access is not limited to Avera patients and their supporters, says Jamie Arens, director of the center. Anyone is welcome to contact the center for information.
Avera's experience with disease-specific navigators, such as the woman who assisted Gaddis with her breast cancer journey, helped the system appreciate the value of such services, Arens says.
Getting through cancer from diagnosis and treatment to, ideally, recovery and survivorship can be a complex ordeal for patients and their loved ones. Numerous appointments and medical experts might be involved. Identifying potential resources near small towns in South Dakota also can be difficult.
The center's staff can help people with questions about on topics ranging from the location of services to the availability of emotional support and managing symptoms.
"We're here to walk with people through their journey with cancer as much or as little as they want us to," Arens says. "Our goals are to overcome barriers to care, reduce burdens of cancer and improve access to quality care as we connect people back to resources that are close to home."
Arens is grateful for supporters such as SDN for their support of the center and its mission.
"SDN was a huge part of us being able to start something like this," she says.
SDN is contributing $100,000 in financial support. Payments are spread are spread over five years.
Avera's regional market was an attraction for SDN, says Vernon Brown, vice president of marketing and community relations for the Sioux Falls-based company. Like Avera, SDN serves communities across South Dakota and western Minnesota.
"Avera is in many of our member companies' markets. This is a good way to offer their customers support with their cancer issues," Brown says. "We're all touched by someone who has been through cancer. We know how difficult the path is."
Gaddis, who continues to monitor her health and help others fight cancer, is thrilled that the Navigation Center is open and that more people will have access to good information.
"I was very excited when I heard this was coming about," she says.
You can receive the blogs to your email on a weekly basis. Just sign up using the button below.